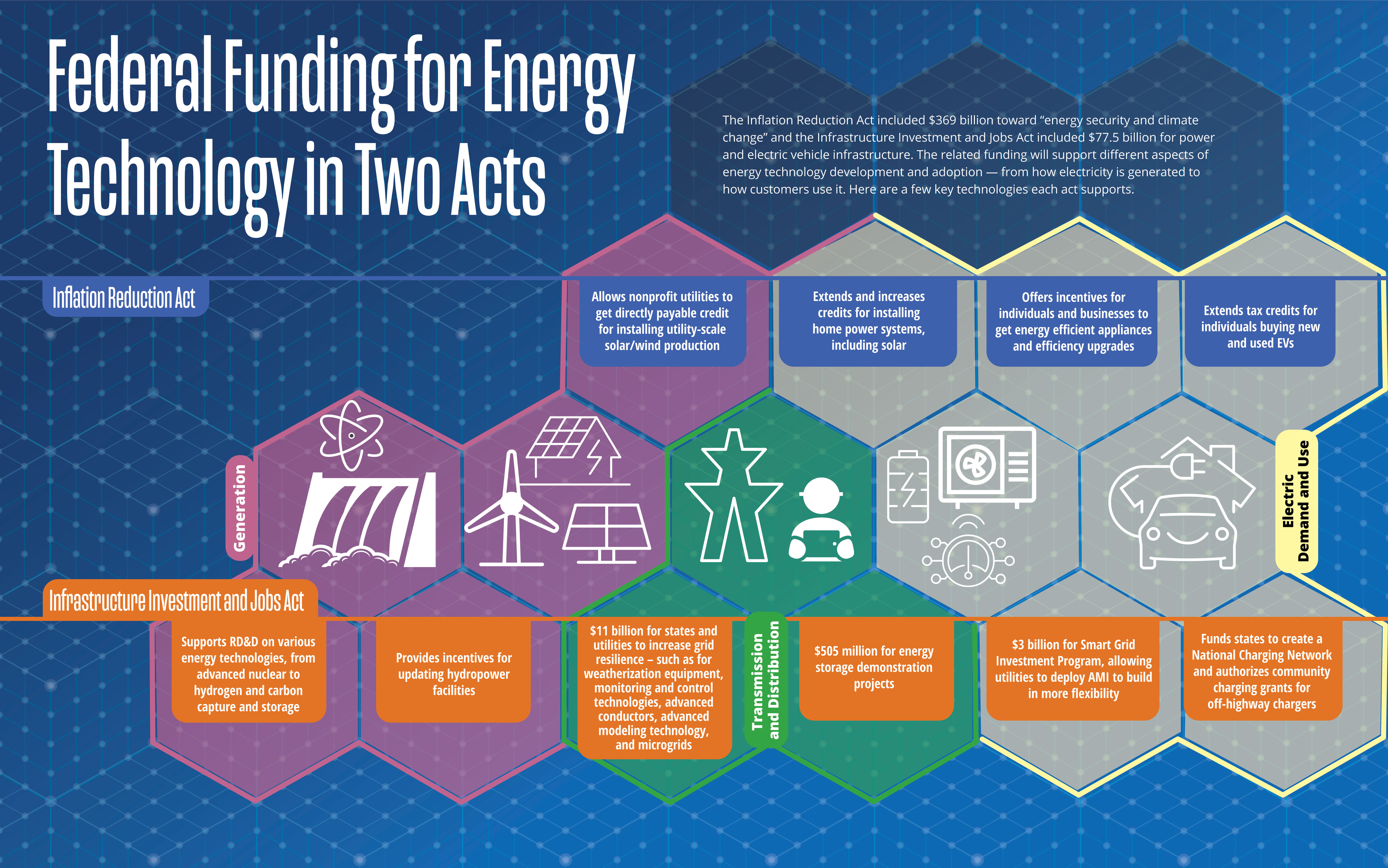 The Inflation Reduction Act included $369 billion toward "energy security and climate change" and the Infrastructure Investment and Jobs Act included $77.5 billion for power and electric vehicle infrastructure. The related funding will support different aspects of energy technology development and adoption — from how electricity is generated to how customers use it. Here are a few key technologies each act supports.
Generation
Allows nonprofit utilities to get directly payable credit for installing utility-scale solar/wind production (IRA)
Supports RD&D on various energy technologies, from advanced nuclear to hydrogen and carbon capture and storage (IIJA)
Provides incentives for updating hydropower facilities (IIJA)
Transmission and Distribution
$11 billion for states and utilities to increase grid resilience – such as for weatherization equipment, monitoring and control technologies, advanced conductors, advanced modeling technology, and microgrids (IIJA)
$505 million for energy storage demonstration projects (IIJA)
Electric Demand and Use
$3 billion for Smart Grid Investment Program, allowing utilities to deploy AMI to build in more flexibility (IIJA)
Extends tax credits for individuals buying new and used EVs (IRA)
Funds states to create a National Charging Network and authorizes community charging grants for off-highway chargers(IIJA)
Offers incentives for individuals and businesses to get energy efficient appliances and efficiency upgrades (IRA)
Extends and increases credits for installing home power systems, including solar (IRA)
Learn more on our federal funding opportunities page.