The American Public Power Association offers a range of resources to help municipal electric utility board and council members — as well as the utility staff that work with them — better understand the public power business model, fulfill governance responsibilities, and help their utilities succeed.
Start with Get to Know Public Power (an e-book you can read right on your screen in under 15 minutes) for a quick overview of public power basics and benefits.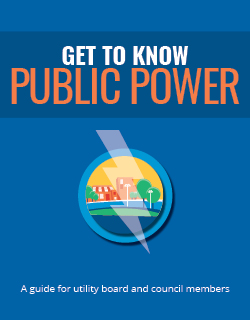 Order your print copy of Governing for Excellence, the complete guide to governance responsibilities, procedures, and how board and city council members can drive change management and help utility leadership prepare for future success.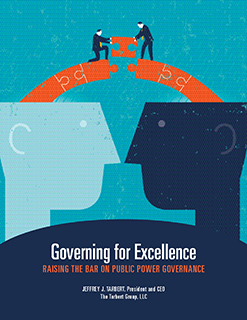 Learn and Network
Legislative Rally: Show Congress the power of your community. Join public power leaders from across the country for a federal advocacy update. Visit your elected representatives in Congress and meet with regulatory agencies.
National Conference: Attend the largest gathering of public power leaders in the nation to benefit from multiple learning sessions, be inspired by world-renowned motivational speakers, and network with your peers and industry vendors.
Webinars: Register for our webinars on popular topics like Electric Utility 101, Utility Governance, and Strategic Planning. Attend live or access webinar recordings to review at your convenience, individually or with a group.
Custom In-House Trainings: Learn all about governance models, strategic planning, and the duties and responsibilities of the governing body with in-depth courses at Association conferences. Or ask how we can bring the trainings to your location and tailor courses to your utility and governance team's specific needs.
Governance listserv: Participate in this online peer community to find answers to your questions and exchange ideas on the role of governing boards, ethics, strategic planning, and more.
Engage Your Community
Communication templates: Find an annual communications plan for your utility, learn social media basics through quick tutorial videos, and find shareable resources on a variety of topics and for each month of the year.
National awareness campaign: Download and share social media content, videos, infographics and more to explain the benefits of public power to your customers, policymakers, and stakeholders.
Public Power Week: Get everything you need to celebrate this annual event in the first full week of October every year – logos, videos, social media content, proclamations, press releases, coloring sheets, and more.
Keep Up with the Latest
Public Power Current: Scan our daily news for quick updates on what's happening in Washington DC and other public power communities like yours across the country. Subscribe to get the e-newsletter in your inbox every morning.
Public Power Magazine: Browse our bimonthly magazine (in print and online) for deep dives into current industry issues, case studies, and wisdom from public power leaders and experts. Subscribe to get a print copy or a table of contents alert via email.
Policy Issues: See how federal policy decisions impact your utility and region. Browse the American Public Power Association's policy positions and issue briefs. See how you can be involved in national policy leadership.  
Dive Deeper
Public Power Statistical Report: Get the latest stats and facts on public power  – electricity generation sources, electricity rates, sales, revenues, customer counts, community contributions, rankings, and data by state.
Public Power Pays Back: See how public power utilities contribute to their state and local governments in the form of taxes, payments in lieu of taxes, transfers to the general fund, and free or reduced cost services.
Public Power Salary Survey Report: Benchmark your utility's salary structure for 27 management and 25 non-management positions. Salaries are summarized nationally and broken down by revenue class, customer size, and region.
Public Power for Your Community: Understand how public power benefits communities. Learn the steps to municipalization or forming a new public power utility. Examine case studies and the history of public power.
Positioning Your Community to Succeed in a Sellout: Learn how to assess threats or offers to take over your utility and learn what you can do to retain community ownership or to evaluate potential offers and communicate with stakeholders. Contact [email protected] to request a copy.
Electric Utility Basics: Understand how electricity is produced, bought and sold, and distributed to homes and businesses everywhere.
A Neophyte's Guide to the Changing Electric Utility Industry: Learn how the electricity industry operates in a complex system of technical, market, and regulatory requirements.