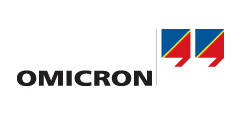 OMICRON, a leading worldwide supplier of power system testing solutions, announces the 4th Annual North American IEC 61850 Tutorial & Workshop will be held May 25th-27th, 2021. This live and interactive event is part of OMICRON's initiatives for virtual knowledge sharing to the industry and its community. Experts will share practical examples highlighting aspects of IEC-61850-based protection, automation, and control systems, including cybersecurity.
"Regardless of where you are in your IEC 61850 journey, this event has something for everyone" said Jackie Peer, Head of Strategic Business Development and event moderator, OMICRON. "Last year, we had over 600 attendees for a one-day event. There was a strong interest in expanding the program, and we did just that. Now, for three days, we offer an optional day of introductory topics and a full day of workshops. Also new, a cybersecurity panel that brings some of the who's who in cybersecurity to the discussion and a keynote address that is sure to be a treat."
This year's keynote is from Dr. James Merlo, Vice President of Operational Excellence at Knowledge Vine, a company that provides Human Performance training and consulting. Dr. Merlo leads Knowledge Vine's efforts in helping companies around the world leverage Human Performance Improvement technologies to reduce the frequency and severity of errors.
 "As digital systems become increasingly complicated, the requirement for good human factors, human-centered processes and checks, and purposefully designed tools to test, troubleshoot, and commission are more important than ever for our engineers and technicians. Our human capital is, and always will be, the most important part of the system." Said Dr. Merlo, Vice President of Operational Excellence, Knowledge Vine.  
This event is for those in communications, SCADA and protection engineers, design engineers and system integrators, commissioning and maintenance staff, cybersecurity staff, and anyone interested in learning more about IEC 61850 applications.
The event starts at 10:00 am and ends at 3:30 pm Central Time with breaks. The event cost is $195 for the main event and an additional $50 for the optional day of introductory sessions.  
May 25, 2021 – Optional introductory sessions
May 26, 2021 – Keynote, presentations, and special cybersecurity panel
May 27, 2021 – Workshop break-out sessions
Additional event details and registration is found on OMICRON's site: https://events.omicronenergy.com/na-iectw.
IEC 61850, the established standard for communication in substations and power utility automation systems, has become the international core standard for smart grids and lays down the prerequisites for a future-proof design and the frictionless interoperability of products from different manufacturers. OMICRON offers protection and control engineers a set of advanced testing and cybersecurity solutions in IEC 61850 environments. The individual tools complement one another and cover a wide range of requirements.
Company profile OMICRON is an international company serving the electrical power industry with innovative testing and diagnostic solutions. The application of OMICRON products allows users to assess the condition of the primary and secondary equipment on their systems with complete confidence. Services offered in the area of consulting, commissioning, testing, diagnosis and training make the product range complete.
Customers in more than 160 countries rely on the company's ability to supply leading edge technology of excellent quality. Service centers on all continents provide a broad base of knowledge and extraordinary customer support. All of this together with our strong network of sales partners is what has made our company a market leader in the electrical power industry.