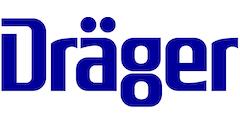 Lübeck, Germany – Concentrations of hazardous substances in the ambient air at the workplace should not exceed specified limit values. Monitoring these sometimes very low values is a demanding task. The focus of the Dräger X-act 7000, in combination with the Dräger MicroTubes for different gases and vapors, is to measure carcinogenic and toxic substances in the lower ppb range. The range of gases to be measured is being constantly expanded. The measurement-sensitive system of the X-act 7000 is based on colorimetric chemical sensor technology and measures even the lowest ppb concentrations. It can replace conventional laboratory analysis and delivers exact reliable results directly on site. False-positive measurement results and false alarms can be largely reduced. This saves time and costs and is easy to use.
Ex-protected and ready for use
The RFID tags applied to the Dräger MicroTubes contain all the calibration data that is valid for the typical period of use of one year. Complex functional tests and manual calibration procedures are no longer necessary. All possible temperature and humidity influences are already taken into account during factory calibration. The analyzer is explosion-proof and certified in accordance with ATEX/IECEx for zone 0. In addition, the system is IP54 protected against dust and splash water. It also meets the requirements of electromagnetic compatibility according to EN 61326-1.
Easy to use
After an automatic self-test, the X-act 7000 analysis system is immediately ready for use. The user controls the measurement task via the 3-button operation unit and the 2.4-inch color display. The measurement result, location and time can be stored in the internal data logger and read out with the Dräger CC Vision software. Power is supplied by five easily replaceable batteries. The battery capacity is sufficient for more than ten hours of measuring and is indicated on the display. The Dräger X-am pump can be adapted to the X-act 7000 by a connecting piece. This makes it possible to measure carcinogenic and toxic substances in the ppb range possible even in inaccessible locations such as canals, ducts or tank facilities up to a distance of 45 meters. Since the X-am pump also has explosion protection certification for zone 0, it is ideally suited for these applications.
The X-act 7000 is manufactured by Dräger
Dräger is an international leader in the fields of medical and safety technology. Our products protect, support and save lives. Founded in 1889, Dräger generated revenues of around EUR 2.8 billion in 2019. The Dräger Group is currently present in more than 190 countries and has more than 14,500 employees worldwide. Please visit www.draeger.com for more information.
Note: Not all of the products named in this press release are available worldwide. Equipment packages can vary from country to country. We reserve the right to make changes to products. Up-to-date information is available on the Dräger website of your country or from your Dräger representative.