The American Public Power Association (APPA) is pleased to introduce the first in-depth, three-part Public Power Current newsletter series this week, on small town revitalization. Thank you to all the small utility systems across America who were eager to share their stories towards promoting economic development initiatives (Part 1), employee recruitment and retention efforts (Part 2), and beautification plans (Part 3).
Part 1 of our series provided an overview of the types of projects and programs small utility systems have undertaken to promote economic development – or redevelopment – in their communities. 
In part 2 of the series, public power utilities discuss their retention and recruitment strategies.
The difficulty utilities have in hiring qualified employees has been well documented.
In a 2020 survey, about 84 percent of energy sector employers reported difficulty hiring qualified workers over the last 12 months, a seven percentage point increase from 2018 and 14 percentage points higher than in 2017.
These concerns can be even more pressing for smaller public power utilities that may lack the recruitment and training resources of larger utilities. Several public power utilities are taking action, however, with a variety of programs aimed at attracting and retaining qualified employees in a variety of job functions. Among the tools they are using is offering more flexible schedules, employee cross training, and partnerships with local schools and colleges – including customized internship programs.
Paducah Power System - Paducah, Kentucky
Three years ago, during its strategic planning process, Paducah Power System highlighted the importance of cross training in retaining and promoting employees.
"We were already doing a considerable amount of cross training because of a unique work schedule we have," Andrea Underwood, Director of Human Resources and Community Relations at the utility, said, explaining that Paducah employees have every other Friday off through an alternative work schedule.
"Strategic planning crystalized the need to cross train in the wake of pending retirements in key positions," Underwood said. "We regularly train employees in other positions and allow employees to shadow other workers to test their interest in other jobs within the company. We also try to plan long term training for in-house promotions."
For example, as the payroll administrator was nearing retirement, the public power utility knew they wanted to hire a replacement in-house. So, "we selected her replacement one year in advance and allowed the person selected to train regularly with the payroll administrator during the year prior to her retirement," Underwood said. "That ensured a seamless transition and successful transferal of institutional knowledge upon retirement."
Paducah Power System now uses that same strategy for other difficult to fill positions. "We've started the training for their replacements three to six months in advance," Underwood said.
In addition, for many positions, the utility has created a handbook, or "Bible," for those jobs. "The book details all of the duties of that job, how to do those tasks and when they are typically done during the calendar year," Underwood said. "Those Bibles are invaluable to the people stepping into those jobs."
The utility also uses a 30/60/90 form for newly promoted or hired employees. On the form, the employee and their supervisor document the tasks the employee is expected to know at the end of 30 days, 60 days and 90 days. "It keeps both the employer and the supervisor on task with training and makes clear to the employee what the company's expectations are of that employee in those early days," Underwood said.
For customer service representatives (CSRs), Paducah Power System, once a month, takes them off the front line and holds one-hour training sessions with them. The sessions cover mandatory topics, such as robbery response, as well as topics chosen by the CSRs.
If there are new employees in the group, the session could include a review of policies and procedures and the chance to shadow employees in other departments. Paducah recently had some CSRs ride along with service department crews for part of the day.
"The sessions give CSRs time away from the hectic pace of the front line to talk about what they do and learn new customer service techniques," Underwood said. "It's also a safe space for them to talk about the skills they feel they are weak on and ask for help in understanding all parts of their job."
Electric Department – City of Forsyth, Georgia
Another strategy for recruiting and retaining employees is to raise the economic opportunities in the surrounding area.
Forsyth has been working on several development projects with Michael Cahill, Project Retail Manager at Electric Cities of Georgia, a membership organization representing the 52 electric utility communities of Georgia.  Those projects include the creation of marketing flyers for different locations within the city to help reach retail and restaurant developers. Cahill recently worked on a community flyer to help with this process.
Tammie Pierson, Economic Development Director for Forsyth, is also working with the local Work Force Development Center to provide a central location for job postings for new and current businesses in Forsyth and Monroe County.
Sevier County Electric System - Sevier, Tennessee
The Sevier County Electric System in Tennessee also looks to wider economic development to help boost its recruitment and retention efforts and has formed working relationships with Sevier County Economic Development (SCED), Sevier County Government, and the Tennessee College of Applied Technology (TCAT).
Working with SCED and other local businesses, the utility provides scholarships to graduating high school seniors, who can earn a two-year degree from Walters State Community College and go on to Eastern Tennessee State University to earn a four-year degree.  It is called the "Partners in Progress" program.
"The goal is that students can graduate debt-free, have multiple job opportunities and never leave the county," Allen Robbins, General Manager and CEO of Sevier County Electric System, said. "We did this because we found that students were leaving for college where they had more job opportunities and were not necessarily coming back. We were losing a large segment of our talent pool, which is why we developed this fund."
Sevier County Electric System also supports the TCAT, which has a six-month power line construction and maintenance program that prepares students to work in the electric utility industry as electrical linemen.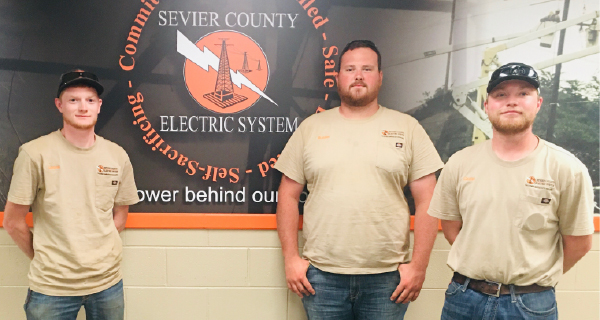 The public power utility also participates in the Southern Hospitality Internship Program, which was created in response to the county's labor crisis. "A study revealed 93 percent of businesses interviewed said their company was dealing with employee staffing challenges, and that the top three issues related to employee availability are adequately qualified candidates, attendance, and commuting distance," Robbins said.
The goal of the program is to help students and recent graduates acquire hands-on work experience in the hospitality industry. "We believe that only so much can be learned in the classroom, and internships are the perfect opportunity to challenge students and prepare them for a career," Robbins said. So far, 68 students have been hired through the program, which began in July 2020.
Gallatin Electric Department - Gallatin, Tennessee
The Gallatin Electric Department has tweaked some of its employee policies to help retain existing employees. For linemen, the public power utility used to require them to live within 15 minutes of its office but has since expanded that to 20 miles. "This allows our linemen to live where they want to and still work here," Mark Kimbell, General Manager of the city's electric department, said.
Gallatin Electric Department has also built more flexibility into their linemen's work schedules. The utility went to a 9-hour workday for linemen on 2-week pay periods and gives them every other Friday off. And, in the summer, Gallatin allows linemen to start their day at 6 am rather than at 7 am, giving them "more time in the afternoons to do what they want," Kimbell said. "They like that flex schedule."
For front office employees, Gallatin allowed them to pick a day off – with the longest tenured employees picking first – so there is one of the utility's 10 customer service representatives out each day. "They love that new schedule," Kimbell said. "That's 26 more days per year they're not working that they can take care of personal things without having to take time off."
Benefits are also key to retaining staff, Kimbell believes. "We're always talking to the Board to offer the best benefits package we can – health insurance, life insurance," he said. "It's always an ongoing process for us." In that respect, Kimbell said it is important to keep a good relationship with the mayor or whoever is going to make appointments and decisions. "You can find linemen and front office staff, but the more you can do to keep them, the better off you are, so I think retention is very, very important," he said.
A high turnover rate among linemen can slow down getting the lights back on in a timely manner because they don't know the system as well as a more experienced lineman. "I'd rather pay a little more to keep my employees then have constant turnover," Kimbell said.
A low turnover rate also has other potential benefits. Gallatin recently had a job opening for a lineman. "I don't even need to advertise now," Kimbell said. "It's all word of mouth, and we'll have multiple applications come in." 
Gallatin also has found more success in hiring locally. "If we find someone from the area who has been to climbing school, we have better luck keeping them," Kimbell said. He says he prefers linemen candidates who graduated climbing school. "If you can't get through climbing school, you won't make it as a lineman," he said, noting that the utility does not have "groundmen" on staff.
"We like to train them ourselves," Kimbell said. "We hire first or second year apprentices and train them up from there."
ElectriCities of North Carolina
The challenges of recruitment are not new for public power. "From career awareness challenges to strong local competition, recruiting can sometimes be an uphill battle even here in North Carolina," Melissa Miranda, Vice President of Human Resources at ElectriCities of North Carolina, said.
A small utility does have certain advantages, though, she said, noting that an employee of a small utility has a greater potential to make an immediate difference than they would at a large utility. And, from the employer's side, a small utility can often have the latitude to offer employees flexible work schedules, shorter commute times, and cross-training as a professional development and retention tool.
Public power also has a culture of pulling together to solve problems, Miranda said. One of ElectriCities' members, the Town of Benson in Johnston County, N.C., was facing pending retirements, vacancies, and few options.
The "post it and they will come" strategy just was not working to attract experienced talent into public power, Miranda said, so Benson decided to "grow their own." Benson reached out to three other public power communities in Johnston County: Clayton, Selma, and Smithfield.
Within weeks, the city managers and utility directors for all four utilities were at the table collaborating with Johnston County Public Schools; Johnston County Industries, a community-based organization that provides vocational training and employment programs; and ElectriCities of North Carolina.  Together, they developed the Johnston County Electric Lineworker Pre-Apprenticeship Program, which provides high school seniors the basics of linework, an understanding of the public power business model, and hands-on experience through a summer internship program.
The program includes classroom and field training over ten Saturday sessions throughout a student's senior year. At the end of the program, students can interview for a summer internship, funded by Johnston County Industries, at one of the four Johnston County public power utilities. Students can then decide to enter the workforce directly or to continue with their training through Nash Community College's Electric Line Construction Academy or one of the ten other North Carolina community college lineworker programs.
In May, Benson hired their newest lineworker, Cody, who, after completing the classwork during his senior year, completed a nine-week internship with Benson in the summer of 2020, graduated from Nash Community College's Electric Line Construction Academy this spring, and then elected to take a job with Benson's utility.
Career development coordinators from Johnston County's seven high schools have been the "star cheerleaders and recruiters" of the program and have encouraged a diverse pool of students to consider applying, Miranda said. So far, 33 percent of the students completing the program have been students of color. One woman has also completed the program.
For the 2021-22 school year, "we are looking to add four job shadow days to the program schedule to further the students' understanding of the profession and the full value of public power," Miranda said.
Sheffield Utilities - Sheffield, Alabama
In Alabama, Sheffield Utilities is also working closely with schools. Working with the local school system, the utility has created the Strategic Energy Management Cohort for the 2021-22 school year. Participating schools will be joined by 50 other schools across the Tennessee Valley to learn about energy management, collaborate and share best practices to engage students and the community, and much more.
Sheffield started with their elementary, junior, and high schools. If the program does well, it will be expanded to the county schools as well, Steve Hargrove, General Manager of Sheffield Utilities, said.
The initiative is part of the Tennessee Valley Authority's program to develop and implement a continuous and self-sustaining energy management improvement process focused on behavioral and operations-and-maintenance improvements. Success is measured by tracking energy savings in kilowatt hours per square foot through use of the Energy Star Portfolio Manager platform.
In addition, to its school initiative, Sheffield Utilities also provides cross training as a professional development tool for its employees, tuition reimbursement for in-field job-related courses and training, and encourages attendance at training seminars and conferences.
Harriman Utility Board – Harriman, Tennessee
The Harriman Utility Board (HUB) in Tennessee also works with its local high school. In 2019, the public power utility launched an initiative to bring area high school students into its work force. The goal of the program is to provide exposure to career opportunities in public power utilities and to provide students experience that can be helpful in their future careers.
Recently, high school students spent a semester working alongside HUB employees in their field of interest. One shadowed Joshua Gillespie, HUB's Director of Communications.  Another student who wants to be a lineman, worked in the electric department, and a third, who wants to be an electrical engineer, worked under the direction of Dick Hall, an engineer and former general manager of HUB. 
Tomorrow, Part 3 of our series concludes with efforts to beautify America's small towns and the roles public power utilities play.
Learn more about small town revitalization in the other articles in the series: promoting economic development initiatives (Part 1) and beautification plans (Part 3)