Seattle City Light has taken two recent steps to facilitate the adoption of electric vehicles.
On Dec. 17, City Light unveiled its latest public electric vehicle fast chargers in Seattle's SODO neighborhood. City Light also unveiled a new time-of-day (TOD) fee structure for the public EV fast chargers.
City Light views new rate design as a strategic tool to help it meet its transportation electrification goals. "TOD rates incentivize shifting the charging of EVs to less costly off-peak hours, mitigating impacts to the utility's distribution system and reducing operating costs for EV owners," Victor Couto, City Light public EV pilot program manager, said.
The recently implemented TOD fee structure encourages EV drivers to use City Light-owned public fast charging stations during less popular times, increasing the overall use of the station, and creates a signal to drivers to consider charging outside of hours with higher demand on the grid, Couto said.
Under the new plan, the daytime cost-to-charge runs Monday to Saturday from 7 a.m. to 7 p.m. The "All Other Hours" cost-to-charge is all day Sunday and from 12:00 a.m. to 6:59 a.m. and from 7:01 p.m. to 11:59 p.m. Monday to Saturday.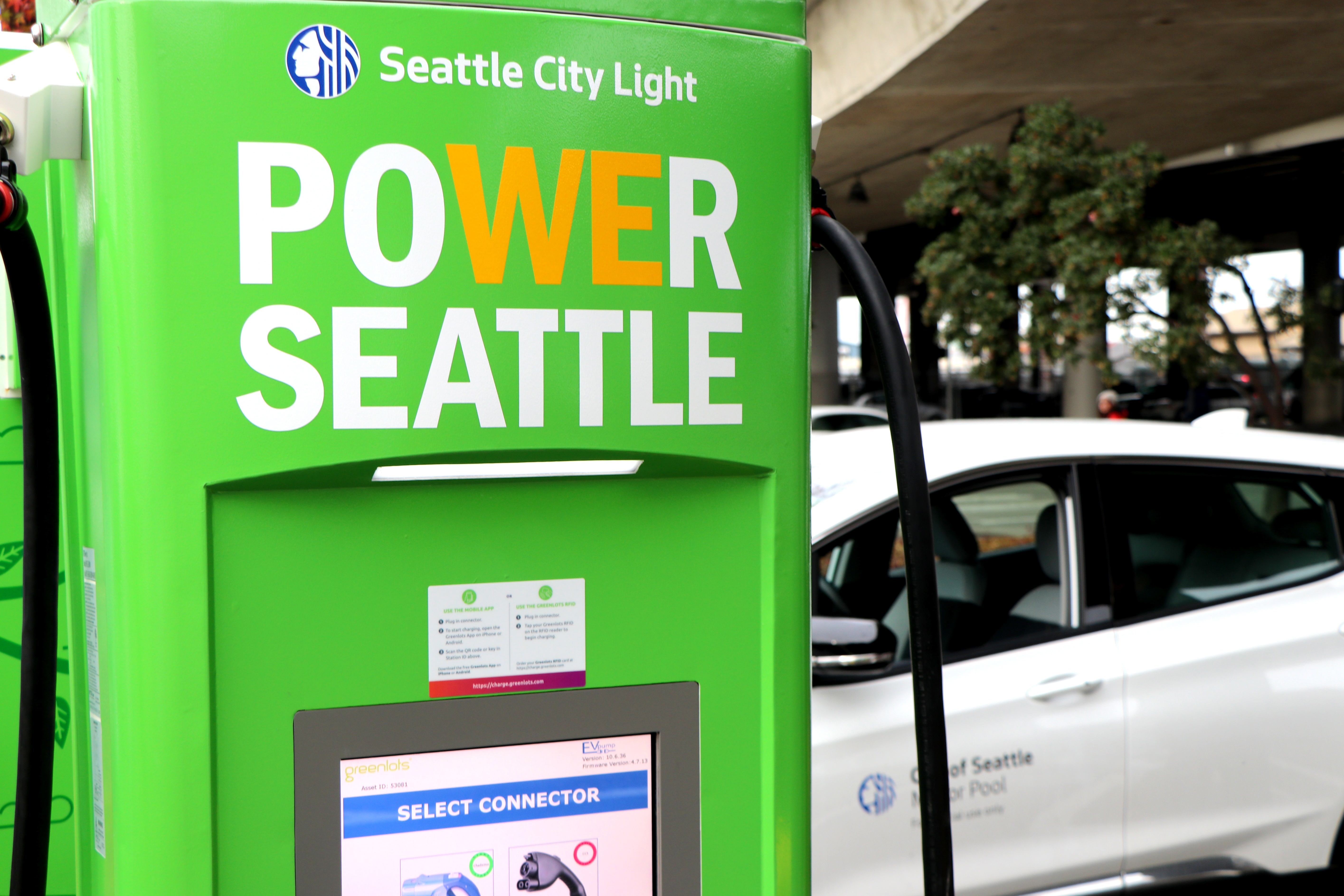 For fast charging stations, the daytime fees are $0.3175 per kWh. For all other hours, the fees are $0.1737/kWh. For Level 2 chargers, the all-hours fee is $0.1702/kWh. The fees, which are subject to City Light's two-year review cycle, are designed to recover both the cost of the charging station and the cost of delivering power, Couto said.
The new TOD fee structures are aimed at making "public charging more feasible for our customers and as a way to shift some DC fast charging load to hours of lower demand on the grid," Couto said.
In addition to the new fee structure at City Light-owned public chargers, the utility is also designing two TOD rate pilots that are expected to be implemented in 2020, one for commercial EV charging and the other for residential customers.
The new chargers in the SODO neighborhood include four fast chargers and a dual-port Level 2 charger. Depending on the vehicle, the fast chargers can dispense upwards of 165 miles of range per hour of charge time, while the Level 2 chargers can dispense up to 30 miles of range per hour.
As part of a larger transportation electrification strategy, the new fast chargers "will allow us to leverage our clean electricity and reach the city of Seattle's goals of reducing carbon emissions by 2050," Debra Smith, general manager and CEO of City Light, said in a statement. Road transportation represents two-thirds of Seattle's carbon dioxide pollution. "This pilot will help us understand the impacts of EV charging on the electrical system as we lay the groundwork to support electrifying all modes of transportation, from passenger vehicles to buses, the Port of Seattle, heavy-duty vehicles and ferries," Smith said.
The public power utility aims to have a transportation electrification strategic investment plan approved by the Seattle City Council by mid-2020.
City Light plans to install 20 publicly accessible fast chargers throughout its service area by mid-2020 in order to make EV charging accessible to all customers, especially in areas where the private sector is not installing such infrastructure.
The goals of the public EV charging pilot program are to remove barriers for customer adoption of EVs, to make EV charging readily accessible (particularly in areas with inadequate public charging and poor air quality), to fill a niche where the private sector is not investing, and to better understand the impact of EV charging on City Light's distribution system.
For residential charging, City Light is piloting a Level 2 charger installation option for customers with the goal of installing 200 residential Level 2 chargers, Couto said.
Under H.B. 1512, which took effect in July 2019, utilities in Washington received assurance that their support of transportation electrification is not in violation of state law prohibiting the gifting of public funds for public entities. The new law allows a public power utility or a public utility district to adopt a transportation electrification plan as long as it does not increase net costs to ratepayers by more than 0.25%.
A representative from Seattle City Light will discuss its transportation electrification strategies to members of the American Public Power Association's Electric Vehicle Interest Group on January 30. Association members interested in joining the discussion can email Patricia Taylor for more information.