One of the many things that makes public power utilities unique are the strong bonds that they have forged with their communities.
People who work at public power utilities are always ready to pitch in and help in any way they can when their community needs them. Job descriptions don't matter. It's all about going above and beyond to help out.
An example of this can be found in the City of Purcell, Okla., where three of the Purcell Public Works Authority's linemen also serve as volunteers for the Purcell Fire Department.
On July 22, Brian Morris, a Purcell Journeyman Lineman, changed into his firefighting gear to help put out a fire.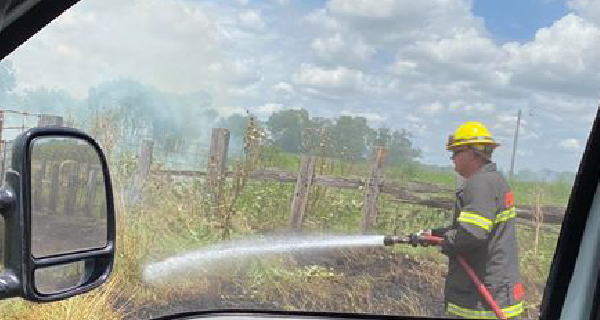 Trey Phillips, Electric Supervisor for the City of Purcell, noted that a tractor bailer burned up a bearing and caused hay in a field to catch fire.
When asked to detail what kinds of fires Purcell typically sees during this time of year, Phillips said that most of the time its grassfires and wildland fires and maybe fires that are controlled but get out of hand.
"We also respond to wrecks if they need us for traffic control or whatever the captain and chief decide. We are trained to respond in the same way as we do our lineman duties," Phillips noted.
The Purcell Fire Department "also helps our department out by responding to electric lines down and also being ground hands during storms," he said.
Purcell Fire Department Chief Greg Cypert "is always out when we are during the storm season assisting us as well as the Emergency Manager Kevin Rhodes."
In Purcell, Phillips said that "it takes all departments working together to keep our city great."