Residential and commercial buildings account for 30% of energy consumed in the U.S., according to the Energy Information Administration. About half of this energy is consumed as electricity.
These buildings contribute about 12% of the carbon dioxide and other greenhouse gases released into our atmosphere, according to data from the U.S. Environmental Protection Agency. The emissions come from the use of fossil fuels, primarily natural gas, for heating, cooking, and other uses.
As homeowners and businesses are growing increasingly conscientious about reducing their carbon footprint, public power utilities have the opportunity to recommend that customers choose electric options — from heat pumps to stoves and more. Utilities can offset stagnating load growth while helping customers save money and reduce emissions.
Increasing efficiency, declining load
EIA's 2019 Annual Energy Outlook predicts a 22% decrease in annual delivered energy use per household from 2018 to 2050. As technology continues to get more efficient, the demand for electricity for lighting, appliances, and air conditioning is expected to keep going down, despite the expected proliferation in use. The EIA predicts that with increased use of light-emitting diodes and compact fluorescent bulbs, lighting will have half the demand in 2050 that it does today.
On the flip side, there is potential for growth through increased electrification.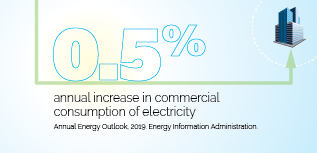 According to the Electric Power Research Institute's National Electrification Assessment, about 15% of residences and 9% of commercial buildings use electric heat pumps as their main source for space heating, with an additional 19% of residential and 17% of commercial buildings using electricity for space heating. The report sees electric heat pumps as a big opportunity for increased efficient electrification in the U.S. Electric heat pumps use one-third to one-half as much energy input as heaters using natural gas, without the direct emissions.
Bringing it home
The extent of cost savings and environmental impact of using electricity versus natural gas for residential end uses changes from region to region. For example, a recent economic study by the National Institute of Standards and Technology found natural gas to be a more cost-effective and environmentally friendly option for its Net-Zero Energy Residential Test Facility, a prototypical single-family suburban home located in Maryland.
On the other hand, a study commissioned by the Los Angeles Department of Water and Power, the Sacramento Municipal Utility District, and Southern California Edison found that electrification could reduce greenhouse gas emissions in single-family homes by 30% to 60% in 2020, compared with a natural gas-fueled home.
California has a goal of reducing greenhouse gas emissions 40% by 2030, which the study said means that emissions from buildings will have to fall by 40% or more over the next decade.
To do its part, in fall 2018, SMUD debuted its Smart Home program — a first-of-its-kind initiative in which the utility teamed up with nearly two dozen developers to build more than 2,000 all-electric homes in several neighborhoods in its service territory.
The homes feature electric water heaters, heat pumps for heating and cooling, and energy efficiency built in through products like induction stoves. There's also a circuit in the breaker box for Level 2 electric vehicle charging.
SMUD built EV charging into its incentives package to builders to make EV purchasing easier for homeowners, said Ray Nalangan, senior architect for the utility and head of the utility's building decarbonization initiative. "What we're really after is lowering incremental barriers that make it more difficult for a homeowner to go all-electric."
The program incents builders to choose electric by offering up to $5,000 for new single-family homes and up to $1,750 for new multifamily units that include all-electric appliances and EV charging infrastructure. Customers who own existing homes in SMUD's service territory can qualify for up to $13,750 for converting household appliances from gas to electricity.
SMUD already taps non-carbon-emitting resources for half of its power supply. When people give up their gas stoves and furnaces, that 50% non-emitting power compounds the emission reduction. "As the power gets cleaner, the home that you electrified in 2019 is going to be a better performer in 2020, 2025, and onward," Nalangan said.
Energy and cost savings aren't the only long-term aspects of this program. "When a builder is going to build a thousand-unit subdivision, that may take five years to do, and maybe even longer," Nalangan explained. That's why the utility signs builders up for multiple years of program participation.
To get builders interested in participating, SMUD hired a third party that handles marketing. "They're out there going to events from trade groups like the Home Builders Association," Nalangan said. SMUD's own outreach team also contributes to the recruiting efforts of both builders and home buyers. The team also verifies that homes are built with the required all-electric appliances.
"Lack of familiarity with the technologies has been a challenge," Nalangan said. "Most people don't care where their hot water comes from, but things like cooking and fireplaces have an emotional component, and it's something we can't ignore." SMUD has created materials to teach cooks about induction stoves, developed a loan program that lets people try induction cooktops, and beefed up advertising to support electrification.
Savings through energy efficiency are a big selling point. Customers with all-electric homes in SMUD's service territory typically shave some $400 off their annual energy bills compared to homes with gas appliances for heating space and water.
The SMUD Smart Homes initiative will help meet the utility's aggressive commitment to reach carbon neutrality by 2040.
Changes today, results tomorrow
The town of Belmont, Massachusetts, a Boston suburb with 26,000 residents, has ambitious goals to slash greenhouse gas emissions 80% by 2050. Decarbonizing the entire town's power supply is a key piece in ensuring a feasible pathway to the 2050 goal, and Belmont Light, the town's community-owned electric utility, is actively adding long-term power agreements with renewable generators to their supply portfolio, said Energy Resources Manager Becca Keane.
Belmont will need citizens to chip in, too — as many people's heating, cooking, and driving rely on fossil fuels. "The two biggest sectors for emissions are transportation and heating," said Belmont Light General Manager Chris Roy. "That's the biggest driver for our investments."
Specifically, Belmont Light is promoting heat pumps for heating and cooling. "A heat pump will save you up to 60% on your carbon footprint, and this number will only increase as we continue toward a 100% renewable power supply," Keane said. She added that operational costs for electric heat pumps tend to be lower than oil heating and are comparable to some natural gas systems.
Still, getting people interested takes effort. Keane said utility staffers are out spreading the word at the local farmers market and public events, such as one coming to a local school. "We're holding a technical workshop so people understand the equipment and why they should choose the heat pump over the fossil fuel-based system." The utility offers as much as $3,500 in rebates for those who switch from lower cost fossil fuel heating systems to electric.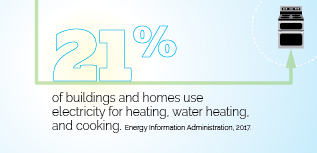 Education seems to be paying off. Halfway through a six-month campaign focused on heat pump installations, the utility is on target to meet adoption goals. Belmont Light ran a heat pump program five years ago, and this year's campaign will more than double the annual adoption and rebate awards the utility saw in 2014.
The timeline on heat pump promotion is important, Roy notes, because furnaces are big-ticket items that last a long time. "I just replaced my oil furnace that lasted 40 years," he said. "The programs we run today will impact us 30 or 40 years from now. Changes we make today will determine whether or not we meet our goals tomorrow."
Belmont also has promoted EVs and it was the No. 1 EV-adoption ZIP code in the state in 2016, 2017, and most of 2018. During those years, Belmont's EV adoption quadrupled. Now, Belmont Light pushes smart EV chargers so the utility can see when people are charging their cars. The utility offers a $10 monthly bill credit for people who charge during off-peak hours at least 75% of the time. People enrolled in the program are 99% compliant.
Revenue potential
Belmont Light works with Sagewell, a consulting firm, to use data from the town's advanced metering infrastructure to analyze load from electrification initiatives.
Pasi Miettinen, Sagewell's CEO, sees electrification as an important factor in combating flat or declining load growth. Technology such as heat pumps, he explained, can contribute significantly to marginal revenue. "Marginal revenue is high in fixed-cost businesses," he said. Marginal revenue equals the additional revenue generated by increasing product sales by one or more units. He used the soda business as an example. "The cost of making that next can is very small. If you're Pepsi or Coca-Cola and you get 1% extra market share, it could mean hundred of millions of dollars in extra revenue."
As Miettinen often shares during conference presentations, the operating leverage in the electric utility business is so significant that the marginal profitability of extra kilowatt-hours sold during off-peak hours has huge impacts. He has calculated these effects for one typical utility and found that a 5% increase in off-peak sales would double the utility's income.
Because the utility Miettinen was modeling was community-owned, it could give back savings to customers in the form of lower rates. "In the case of this utility, a 5% increase in sales would allow them to reduce their electric rates by 0.6 cents per kilowatt-hour. A 10% increase in off-peak sales could reduce kilowatt-hour rates by 1.1 cents," Miettinen said.
"The economic benefit of electrification becomes real to utilities because it allows them to give money back to their customers in lower rates or use the money to invest in infrastructure without having to increase rates," he added, noting that some utilities he speaks to see electrification programs as a way to avoid rate increases.
Even more, though, many utility staffers see electrification as an environmental imperative. "We are the foundation for addressing climate change," said Belmont's Roy, who explained that a gas-fueled car or oil-fueled furnace will be emitters, but their electric equivalents have options to use clean power resources.
"We are the only energy platform that can source from renewables," he said. "Electric utilities have to be the foundation for clean energy to meet our climate objectives in society."