The American Public Power Association concludes our second three-part newsletter by highlighting public power systems that demonstrate a commitment to local communities, ongoing innovation, and resiliency. We conclude the series by exploring how discussions about municipalization and community choice aggregation efforts have touched local communities. 
Public Power's Local Commitment
Mason County PUD 1 is the first and oldest operating public utility district in Washington State, formed by Washington State Initiative No. 1 in 1934 and began operations in February of 1935. Mason PUD 1 serves water, power and wastewater services to just over 8,300 meters in Mason and south Jefferson Counties along the beautiful Hood Canal. With a lean staff of just 25 total employees and an operating budget of about $11.8 million, Mason PUD 1's team wears several hats and has a knack for making equipment and infrastructure last as long as they can, which helps reserve budget for prioritized projects.
The PUD has a throwback customer service model; one that is rare to find in 2021 in any industry. While the utility has expanded its digital platforms and presence, especially during the pandemic, the employees still have a special personal connection with their community. Customers knit hats for the workers during the winter months, bake cookies and holiday snacks to drop off to the crews, and can identify the customer service representatives by the sounds of their voices over the phone. Linemen still rescue cats out of trees and hang banners for local service clubs. Many of the utility's employees grew up in the area and have deep ties in the community.
This special relationship with the public helped Mason PUD 1 navigate some tough challenges at the beginning of the pandemic. Supply chain issues caused shortages for things like PPE, supplies to conduct water system testing, and even basic office supplies to keep the offices open. While the PUD prides itself on its commitment to spend public funds locally whenever feasible, this supply chain interruption had them looking internally toward local vendors and community members to help bridge the gaps. Thanks to newly forged and existing partnerships, homemade masks were donated by community members and hand sanitizer was made by the local distillery who kept bottles just for first responders like the PUD.
Arrangements were made for the fleet to fuel up at small local gas stations along the highway. Local restaurants that were limited to take-out only during the statewide shutdown started delivering lunch to the office each week. The local Costco store took orders for toilet paper, paper towels, and bleach wipes and held them off to the side to be picked up for the office. The community stepped up to help the men and women who always came through for them during storms and outages all year long.
The Mason PUD 1 administrative team also worked tirelessly to secure CARES Act funding for customer bill arrearages, having to go to great lengths to convince statewide county leaders that sharing the funds with public utility districts was not only an allowable use of the funds, but the proper intent of the Act to support households struggling financially due to the pandemic. The PUD also partnered with several community organizations to connect customers with financial assistance for utility bills, rent and food. Thanks to their efforts, they were able to apply over $57,000 in CARES Act funds to customer bills in addition to thousands of dollars of assistance through community action councils and other private and nonprofit agencies.
To celebrate their 85th anniversary of public service in 2020, they reimagined their annual customer appreciation BBQ into a drive through event to stay within the parameters of the statewide restrictions on gatherings. The PUD typically hosts 300-400 customers during this annual event, but in 2020 they had nearly double the number of visitors drive through their campus for the free PUD gift bags, burgers and hot dogs, conservation kits and to show their support during public power week. Many customers thanked the PUD for not giving up on the event, saying it was the first time since the pandemic started that they had ventured out of their homes for anything other than doctors appointments or to pick up groceries. The volume of visitors was a reflection of the high esteem in which the community held their public utility district and the value of the PUD to Mason County. The employees and commissioners of Mason PUD 1 felt the same way about the customers they serve.
Public Power Systems Are Innovative
CDE Lightband offers electricity, internet, video and voice services with speed and superior performance and the convenience of 24/7 local support to the City of Clarksville, Tennessee. The service area, consisting of 100 square miles within the municipal boundaries, includes 971 miles of power lines and 1,045 miles of fiber optic cable. Their world-class fiber optic network keeps electric costs low and allows CDE Lightband to deliver exceptional products and constant innovation. As a result, the network provides savings of over $10 million annually in operating costs and over $5 million annually in income for electrical grid improvements, resulting in half as many large-scale power outages compared to peer cities.
Currently, CDE Lightband has 65,594 residential electric accounts and 8,760 commercial electric accounts while broadband has 24,679 residential accounts and 1,857 commercial accounts.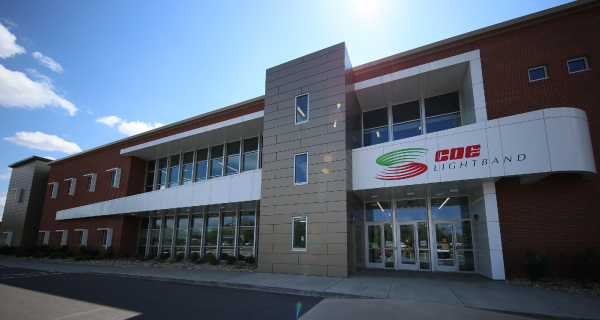 Additionally, access to a nationally recognized network increases home values by 3% (or an average of over $5,000) according to the Fiber to the Home Council. Based on access to the superior digital products provided by CDE Lightband, Clarksville has been designated as a first 50 "Next Century City." 
CDE Lightband staff includes over 200 full-time employees, a management team with over 100 years of combined industry expertise, and governance provided by a board of five local business leaders.
CDE Lightband built a robust fiber-to-the-premise network in early 2007 to develop and expand their meter data management system, remote meter management and their SCADA system for improved electric service reliability, faster restoration, and for operational efficiencies. Also, in 2007, CDE Lightband entered the broadband business, delivering high-speed Internet, voice over IP phone services and IPTV services, all via the active Ethernet fiber to the premise network.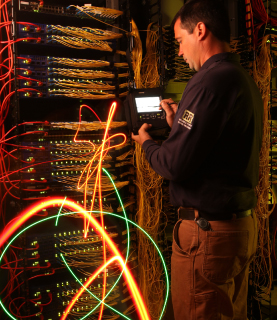 From its inception, the broadband division of CDE Lightband faced a great many challenges in access to capital, technology restrictions, and growing pains as they worked to get the network performing and the customer base growing. To foster the needed growth and capital-intensive equipment needs, the broadband division borrowed $17 million from the electric division with a loan agreement requiring annual payments and interest charges.  
The management and staff at CDE Lightband put an "all hands on deck" approach to developing and growing the broadband business. A focus on product development, marketing, sales training and incentives for sales staff helped to grow the business and the customer base exponentially. Further focus on processes, equipment and product offering changes, and a significant focus on the network itself, fostered the development of a network and product offering unsurpassed in the region. CDE Lightband has been recognized nationally and within the state as one of the top three fastest Internet providers. CDE Lightband has risen to the position of being one of the most competitive service providers, offering speeds from 250 Mbps up to 10 Gig, a new streaming product for video services and phone services for businesses that provides premier products in Hosted PBX services. 
As the electric division of CDE Lightband owns and maintains the fiber network, the broadband division must pay annual lease payments, loan payments and shared cost allocations totaling upwards of $10 million annually. This has allowed the electric division to build and/or upgrade six substations for a total of $29 million plus an over $16 million campus upgrade and remodel, all out of cash funds rather than take these large investments to the bond market. Other electric grid improvements funded by broadband include grid automation, AMI and right-of-way for a total of $10 million annually.  
Fourteen years later, CDE Lightband broadband boasts a penetration rate over 30% within the market with over 25,000 customers and growing. They are the preferred primary provider for two local governments, the school system, hospital and university along with many other enterprise level customers and small businesses.  The revenues driven by solid residential and business growth over the past years have positioned CDE Lightband broadband ahead of many peers in achieving financial independence from their electric brother to include a complete pay-off of the $17 million interdivision loan 17 years earlier than projected. This initial investment has paid huge dividends to the electric division with a calculated return on investment over the life of the loan of over $74 million. A solid investment decision that led to success for both entities and a leap of faith that helped CDE Lightband soar. Now, with the successful launch of Smartband, powered by Plume, CDE Lightband offers customers a revolutionary home WiFi system, bringing in over $28,000 a month in additional revenue.
This high level of performance has not gone unnoticed. The energy services team recently received two major awards from the Tennessee Valley Authority's "EnergyRight" program: Top Performer and Innovator of the Year. CDE Lightband was also designated as APPA's Smart Energy Provider, one of only two utilities in the Tennessee Valley Authority territory to receive this designation, and received the highest achievable Reliable Public Power Provider (RP3) designation once again, the Diamond Level, for providing reliable and safe electric service. CDE Lightband joins over 275 public power utilities nationwide that hold the RP3 designation.
Public Power Communities Are Resilient
The public power business model has embodied an American tradition deeply rooted in local communities. In our small town revitalization series last week, Colin Hansen, Chair of APPA's Board of Directors and Executive Director of the Kansas Municipal Utilities, spoke to one of the defining characteristics of public power utilities: resiliency. Or just plain grit
At the 2021 APPA National Conference, he shared an example from Kansas with attendees. It embodies the spirit of public power dating back to 1881: local communities coming together to provide an essential service, rather than go without. Even in modern times. 
Greensburg, Kansas is a small town. At 9:45pm on the night of May 4, 2007 it was struck by a violent, 1.7-mile wide EF-5 category tornado. It killed 11 people, injured 63 others, and destroyed 95% of the town. It left 90% of Greensburg's 1,383 residents homeless and had caused some $250 million in damages. 
Hansen said, "It was on that day that this small town was quite literally blown off the face of the earth."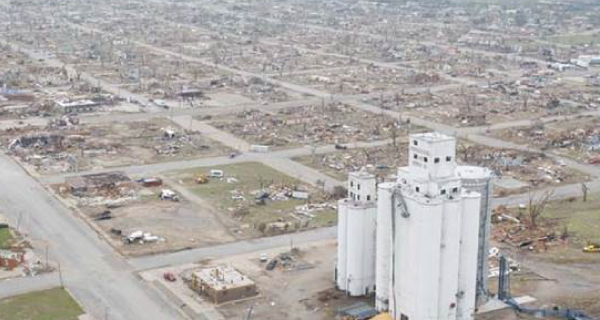 But public power mobilizes when tragedy strikes. Even with an outpouring of public power assistance arriving on scene, "we quickly realized that…there was simply nothing left to connect to," he said. 
Undeterred, the City of Greensburg found the grit to reinvent itself.  Hansen said they "put the 'green' in Greensburg. They created the nation's first model green community from the ground up – 100% renewable wind energy, first city in the U.S. to use all LED streetlights, and home to the most LEED buildings per capita in the country." This resiliency and rebirth later collected numerous awards and recognition, including from both former Presidents George W. Bush and Barack Obama.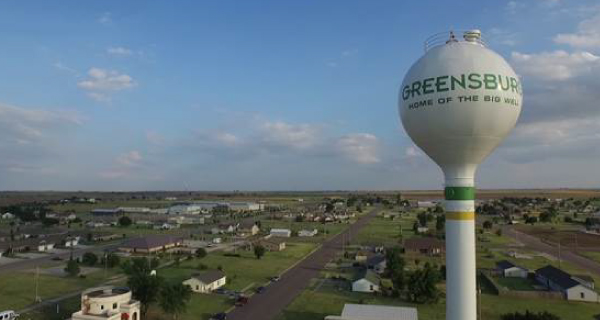 Municipalization
Early municipal utilities were built on public power's core values — affordability, reliability and sustainability. Today, these values are prompting other communities to explore what it would take to transfer ownership of the electric utility to the community from an incumbent shareholder-owned utility. Known as "municipalization," this long and arduous process often involves perfect timing, dedicated communication with stakeholders, and a delicate balancing act with the demands of the incumbent utility.  
Many communities have and continue to float the idea of becoming public power and while some have tabled or abandoned their efforts, 88 communities have successfully municipalized since APPA began tracking this data in 1973, including 20 since 2000.
The reasons communities explore the public power or the municipalization option vary from year to year and amongst communities. Ultimately, it's about having local control over a community's energy future. Communities pursue public power to reduce rates, increase reliability, or to provide better customer service.
In recent years, many communities have pursued public power to have more environmentally friendly options — such as an increase in renewable energy or greater access to energy efficiency programs.
The City of Winter Park, Florida, formed a public power utility in 2005 to improve reliability. Winter Park's effort was sparked by persistent problems with the incumbent investor owned utility. The private utility's franchise was nearing expiration and included a clause allowing the city to buy the distribution system at the end of that period. In 2003, residents turned out in droves and voted overwhelmingly – by 69% – in favor of the city's plan to form a municipal electric utility. The utility began operations in 2005 and committed to use all revenues from its electricity sales – except for a contribution it agreed to make to the city's general fund – for capital improvements. The city committed to undertake a strong program to improve electric service reliability, in part by putting a significant portion of the power lines underground.
The City of Hermiston, Oregon, formed Hermiston Energy Services in 2001 following a four-year effort
that began because the local investor-owned utility closed its local customer service office, and citizens determined that the company's service levels were declining. Customers can now pay bills and address service concerns in person at the local office.
Not all municipalization efforts result in the formation of a public power utility. However, simply evaluating the possibility ensures that community leaders have a better understanding of their energy needs and the evaluation process often garners concessions from the incumbent utility.
For the residents of Boulder, Colorado, local control meant knowing where their electricity came from and having a plan to increase renewable resources. At first, the focus was on renegotiating the city's franchise agreement with investor-owned Xcel Energy, which was due to expire in 2010. However, when they felt their needs could not be met with a new franchise agreement, the city began efforts to separate itself from Xcel in earnest in 2011. When Boulder began its effort, Xcel's generation portfolio was heavily dependent on fossil fuels. The city and Xcel initiated discussions to explore different options to reach its energy goals as Xcel began moving away from fossil fuels and has since pledged to have zero carbon dioxide emissions by 2050. In 2020, the city and Xcel entered settlement discussions, though there are off ramps to municipalization in the future if the city's needs are not met.
Wichita, Kansas began looking at the public power option because of increasingly high electric rates from the incumbent utility. In February 2001, the city released a municipalization feasibility study showing it could save as much as $654 million in electricity costs over the next 20 years. The feasibility study gave Wichita the leverage it needed: six months later, $28 million in electric rate relief was headed for Wichita. The rate cut ordered by the Kansas Corporation Commission gave electric utility customers in the city about 85% of the rate relief that a consultant's study said the city could achieve if it were to take over the power system.
While communities have been exploring the municipalization option for decades, APPA has seen increased interest in the public power option in recent years.
In Maine, lawmakers passed legislation on June 30 (in a 77-68 bipartisan vote) that would create a consumer-owned utility called Pine Tree Power. If L.D. 1708 becomes law, Mainers would vote on the question of consumer ownership at the ballot box in November.
The envisioned entity would take over the electric service now provided by Central Maine Power and Versant Power (formerly known as Emera Maine), which are majority owned by Spain's Iberdrola and Canada's Emera, respectively. In a recent editorial, Maine's Portland Press Herald said it supports the bill. "The new utility would be governed independently, use no state funds and the taxpayers would not be on the hook for any of its debt. We don't need to be scared about a different business model, especially when the one we have now is not working," the editorial said.  Research conducted by SurveyUSA, for local proponents, showed public opinion polling with 75% of registered voters from across the state supporting the idea of replacing Central Maine Power and Versant with a local non-profit consumer-owned utility.  
Community Choice Aggregation
A newer type of municipal control has more recently emerged in which local entities, where applicable, form community choice aggregators (CCAs) to buy generation resources on behalf of local consumers.  The CCAs generally form to secure more control over the local energy mix (such as to procure more renewables) and/or to lower costs for consumers from incumbent investor-owned utilities. Eight states have enacted legislation enabling the formation of CCAs, with California's CCA movement especially prolific. Whereas public power utilities are traditionally vertically-integrated utilities – providing all or some combination of generation, transmission, and distribution services plus localized public benefit programs – CCAs are typically formed to buy generation resources and utilize incumbent infrastructure. 
Realizing the nexus between traditional public power utilities and the nascent CCAs, APPA created a new CCA membership category in 2018 to extend resources to this emerging industry segment.
The American Public Power Association is the voice of not-for-profit, community-owned utilities that power 2,000 towns and cities nationwide.  We celebrate our members that strengthen their communities by providing superior service, engaging citizens, and instilling pride in community-owned power.