American Municipal Power (AMP), Heartland Consumers Power District and Lakeland Electric are winners of the American Public Power Association Demonstration of Energy & Efficiency Developments (DEED) program's 2020 Energy Innovator Award.
Each year the DEED program, which nurtures innovation in public power, recognizes the most innovative utility projects with the Energy Innovator Award.
Here are details on the projects implemented by this year's three winners:
American Municipal Power, OH; Public Power EV Planning Toolkit and Guidebook
American Municipal Power teamed up with Smart Electric Power Alliance (SEPA) to create a DEED Public Power Electric Vehicle Planning Toolkit and Guidebook. The EV Toolkit is a user-friendly, intuitive resource for APPA member public power agencies to obtain insight into the preliminary economic impacts of electrification efforts with their internal fleet vehicles, and increased loading on residential distribution system service transformers under various EV charging scenarios. The EV Toolkit also provides increased awareness of EVs and associated market trends; supports the preliminary evaluation of customer engagement and EV charging management options when creating a program; provides insight into the potential timing at which proactive steps are best taken for maximum economic impact; and supplies accurate data and useful resources to support preliminary EV planning activities.
Heartland Consumers Power District, SD; Renewable Cost Calculator
During the summer of 2019, Heartland employed a college intern to develop calculator tools to help determine the annual benefit and cost of installing a renewable energy system, particularly a solar array. One calculator is for retail customers who want to install solar panels on their property, while the other is for the utility to determine the cost to the utility itself. The solar calculators are complete and functional within the Microsoft Excel program. The calculator makes some assumptions but does so based on answers to certain questions including geographic location, making it a useful tool for any utility.
Lakeland Electric, FL; Damage Assessment Restoration Toolset
Lakeland Electric designed a Damage Assessment Restoration Toolset which utilizes existing Environmental Systems Research Institute (ESRI) Geographic Information System applications in conjunction with customized dashboards developed in-house, to create an easy mobile solution for all facets of damage assessment and data collection. The Toolset captures location, image and expense data required by the Federal Emergency Management Agency for cost reimbursement utilizing a built-in program manager application to coordinate and update collections. The entire platform works in conjunction with GIS data and maps and is integrated with Lakeland Electric's workforce management products to coordinate work orders and employee time. The Toolset works on any mobile device, with or without wi-fi or wireless networks, to enable field crews to input real-time damage assessment information while at the worksite.
DEED will host a complementary webinar this fall highlighting the winning EIA projects.
AMP also earns Award of Continued Excellence
In addition to the Energy Innovator Award, DEED recognizes APPA members that have demonstrated continued commitment to the DEED program and its ideals with the Award of Continued Excellence (ACE).
This year, AMP received the ACE award. AMP has been an active member of the DEED program since 2003. Since joining the program, the agency has been awarded seven DEED grants.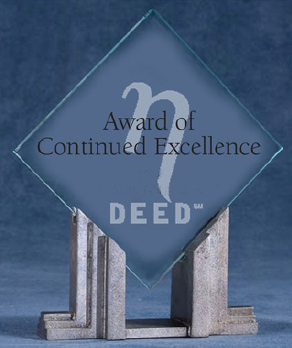 APPA noted that AMP supports the ideals of the DEED program in various ways including the development of a voluntary green pricing program, which was created to extend the benefits of renewable generation to its customers.
It also created a member-led Focus Forward Initiative, which informs members of industry trends, emerging technologies and helps prepare them for further integration of distributed energy resources onto their systems.
Also, AMP offers a scholarship program encouraging high school students to further their education in the municipal electric utility field. AMP believes so strongly in the importance of DEED, that they pay the member dues for their utility members to be a part of the program, APPA noted.
Additional information about the DEED program is available here.