By Elissa Richards, president and CEO, National Energy Foundation
We at the National Energy Foundation (NEF) are passionate about working with municipal electric utilities because they are passionate about serving their communities and delivering clean, reliable, and affordable electricity. We are honored to have Ursula Schryver, APPA's vice president, strategic member engagement & education, serving as NEF's Board Chair.
At NEF we are driven to deliver energy awareness and energy management programs focusing on energy safety, efficiency, and electric transportation. NEF customizes its offerings to the needs of our partners and communities based on budget, size, and local situations (like fuel mix and peak demand) and incorporates a variety of educational resources and efficiency measures for teachers, students, and families.
In Michigan, we placed approximately 1,000 energy efficiency kits with 4th-6th grade students through sponsorship from the Lansing Board of Water and Light in collaboration with Consumers Energy and an additional 250 kits for younger elementary school students in the area last year. This collaboration included other public power communities, including Holland and Lowell. These programs focus primarily on promoting energy efficiency, shifting customer behavior, and measuring installation resulting in energy savings.
"The NEF team has been integral in providing energy waste reduction and renewable energy education to our customers for several years. The Think! Energy program is a 'turn-key' comprehensive program that offers a hands-on learning experience for our student population. " – Lori Myott, Lansing Board of Water & Light
"Great program to teach kids about energy usage and how to be more efficient. My daughter is turning off lights when she leaves a room without being asked!"
– Michigan Parent
Energy Behavior and Efficiency Education
Our local Utah municipal electric utilities focus on energy awareness with efficiency behaviors and peak demand as areas of curriculum focus. Murray Kid Power gives the students an LED light bulb each year with the request to take it home and replace an old bulb with a new LED bulb.
"Two years ago, the teacher noticed that two girls were sitting off to the side after they had received their bulbs. When all the students had left, the two girls asked if there were any LED light bulbs left over that they might have. One student wanted to give a light bulb to her mom for Mother's Day. After the teacher handed her an extra bulb, the student told her teacher that her mom has not had a light bulb in her bathroom for over three years and she was going to be thrilled!"
– Utah Teacher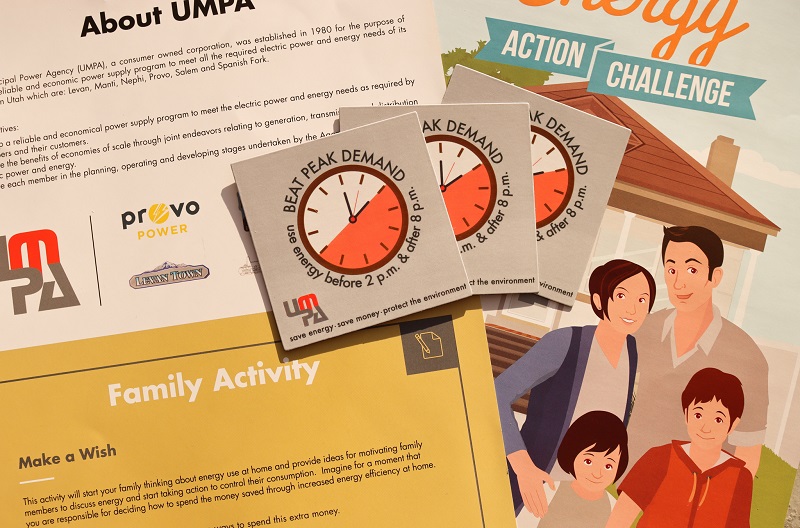 Students in Southern Utah are specifically taught about peak demand in our Utah Municipal Power Agency-sponsored energy awareness program. The program reaches six unique communities with the message, "Before 2 or after 8 is great!" Energy educators show a graph of peak demand, then ask students why this peak might be happening on the graph. Talking about after-school home activities, large appliance use, and how it's the hottest part of the day, leads to a discussion about ways for students and families to avoid peak energy usage.
"Thank you for a good program that effectively teaches the students about the use of energy and the importance of peak-time usage." – Utah Teacher
"Love this informative program that teaches kids about energy; where it comes from, how it's used/wasted, and how it can be conserved. It's a good way to get students thinking about energy use and conservation and review science concepts taught this school year." – Utah Teacher
Energy Safety and Electric Vehicle Education Impacts Communities
The most recent additions to the NEF curriculum are topics around electric transportation and the smart grid, specifically focusing on electric transportation through our newest program, rEV. We've found rEV to be successful in smaller communities with a unique connection to their local utility.
This last school year Austin Utilities in Minnesota sponsored a rEV event. Thanks to the EVO (electric vehicle owners) club students at Austin High School were able to check out and sit inside electric vehicles. The excitement was contagious!



NEF originally partnered with Austin Utilities and Owatonna Public Utilities in Minnesota on the "Project Conserve and Save" energy efficiency program. Both utilities have now expanded to include other NEF programs.
Owatonna also sponsors a teacher-directed energy safety program delivered exclusively to 4th-grade students. NEF's safety curriculum pairs nicely with and helps to promote the established week-long safety camp 4th graders in the area participate in at Owatonna Public Utilities.
Both Austin and Owatonna have great community support and are likewise involved in many different aspects of their communities.
At NEF, we strive to understand and represent the communities we serve. First and foremost, we are dedicated to hiring or assigning program directors and energy educators who are local or who have worked with similar communities. Secondarily we are continually adapting our content and messaging for the area's culture, current events, and educational needs.
Teachers Are Integral to Energy Education Community Outreach
The most prominent catalyst, however, for NEF to succeed at our mission to cultivate and promote an energy-literate society and represent the communities we serve are our teacher heroes. Teachers and schools often serve as the heart of communities; NEF places in their hands STEM (science, technology, engineering, and math) learning resources to empower students and families to understand the energy resources in their area. Through our strong relationships with teachers participating in our programs and our national Educator Advisory Council, we can understand, represent, and serve communities at a local level. We are grateful for their support, from signing up for one of our programs for the very first time to staying with us year after year. So as a staff of educators ourselves, we are committed to our programs meeting teachers' needs as well as the needs of the immediate community and the sponsoring utilities.
Find out more at NEF1.org.
___________________________________________________
The National Energy Foundation (NEF) has empowered millions of students and families to make energy-wise choices for over four decades through its nonprofit mission to cultivate and promote an energy-literate society. A community of volunteer classroom teachers and staff educators brings unique educational integrity to NEF's K-12 energy education programs, with many programs resulting in national recognition like the award-winning energy efficiency program, Think! Energy. Energy utilities and organizations partner with NEF to address critical topics such as efficiency, safety, and electric transportation. NEF recognizes the importance of education in making informed energy decisions. nef1.org