In order to build the workforce of our future, supporting students through academic scholarships, research projects, internships and mentorships is important to Silicon Valley Power, the City of Santa Clara's public power utility. The utility industry is changing rapidly, and our workforce is aging. Many positions are hard to fill and new skill sets will be needed. Investing in students is investing in our future.
For twelve years, SVP has offered an annual College Scholarship and Technical School Grant program for students in Santa Clara. The utility awards up to three academic scholarships of $5,000 each and up to five technical school tuition grants of $2,000 each. To date, SVP has awarded $207,000 to students through 39 scholarships and 6 technical school grants.
Many scholarship recipients have gone on to work in careers related to the energy sector, and this year, one of the past recipients became an SVP employee. Kawal Preet joined the team in June 2018 as an account clerk. Kawal studied finance at Santa Clara University and received the scholarship in 2013 and again in 2014.
"I've always wanted to give back to my community through public service and being at SVP allows me do that," said Kawal. "It's the perfect place for me to give back, learn, and grow professionally, as SVP is an innovative leader and proactive public agency. I'm excited and proud to be a part of SVP, which has played an integral part in my education and has supported me throughout the years," she added.
SVP also has run an internship program for students for over 20 years, and the majority of those students have gone on to careers in energy. Several have become employees at SVP or neighboring public power utilities.
Over the years, the Association's DEED scholarship program has helped SVP sponsor two student interns and one student research project. Two additional students will join the SVP team in the fall semester, James Wang through the DEED internship and another student through a DEED student research grant.
James is one of three students that received a $5,000 educational scholarship from SVP this year. Each of these students shows a demonstrated interest in a career related to energy services, public power, or the power industry, as well as academic achievements.
James is pursuing an electrical engineering and environmental science double major at Santa Clara University. He has served as a research assistant to explore the concept of implementation of microgrids and their components and has volunteered to install photovoltaic systems to low income families with NPO Grid Alternatives. His electrical engineering studies emphasize energy and power systems and how to improve the aging infrastructure of America's grid and implement systems in developing countries. In his free time, James works with the Institute for Electrical and Electronics Engineers to promote engineering among youth and teaches engineering projects to middle and high school teachers.
As part of the DEED-backed internship, he will be working with one of SVP's senior electrical engineers in analyzing and improving power factor on the utility's distribution system. In addition to the financial assistance that both scholarships provide, James will also receive practical work experience related to his field of study and exposure to what it is like to work for a public power utility. SVP's engineer will also act as a mentor to James in his career aspirations.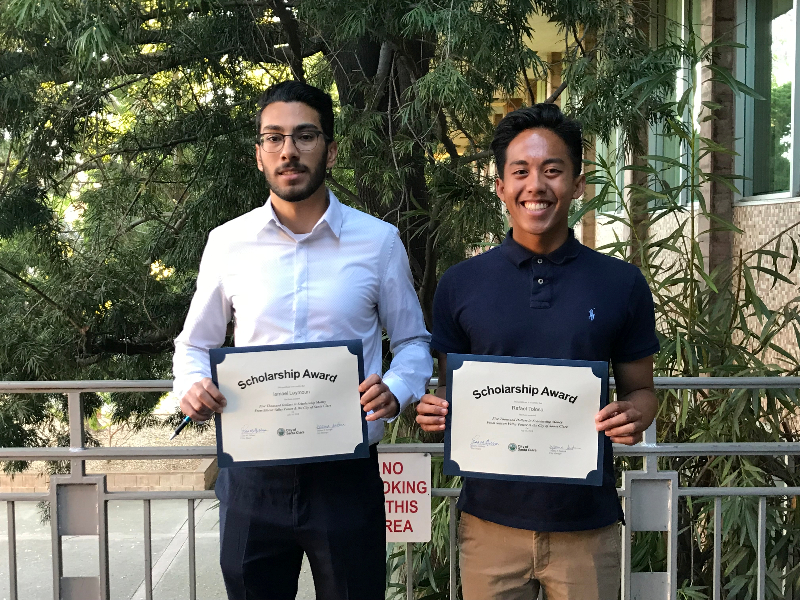 Ismael Laymoun is a recent Santa Clara High School graduate interested in earning an engineering degree. He currently attends Mission College in Santa Clara and will be transferring to U.C. Berkeley. He enjoys hands-on science activities and applying his knowledge to real-world applications, such as his current attempts to create his own solar panel. He is interested in a career where he can develop tools to improve energy efficiency.
Rafael Tolosa is a recent graduate from Wilcox High School. He is intrigued by the effects of human behavior on financial markets, inflation, and the management of resources, which inspired him to pursue a college degree in economics and finance. He is specifically interested in the effects of the economy on the energy and power industry.
Public power utilities have a resource available to offer similar scholarships through the DEED Scholarship Program. DEED members should consider promoting this program to local schools and providing mentors for students interested in a career in public power.