On the evening of Saturday, September 9, 2017, into Sunday, September 10, 2017, Hurricane Irma, a category 4 hurricane with sustained winds in excess of 120 miles per hour, and gusts recorded up to 150 mph, delivered a direct hit to our service area, the lower Florida Keys.
Headquartered in Key West, Florida, Keys Energy Services (KEYS) serves 30,000 customers from Key West to the Seven-Mile Bridge.
The winds devastated KEYS' transmission and distribution systems and all customers lost power by 11:05 p.m. on September 9. In addition to the damage sustained to the electric grid, the storm destroyed infrastructure that left the community without water and communications.
Initial assessments indicated restoration could take months. Twenty days after Irma struck the Florida Keys, every home and business that could receive power was re-energized.
Looking back six months later, we learned several lessons from what turned out to be the largest restoration effort in the utility's history.
Advance planning pays off
Over 60 KEYS employees voluntarily opted to not evacuate and rode out the storm in two KEYS'-owned category 5 hurricane rated structures. As soon as winds subsided, this team began assessing the damage and planning the path to recovery. These crews were quickly augmented by the remaining employees who had evacuated, and by over 500 mutual aid partners and contractors who mobilized in advance of the storm. Given the forecast track of Irma and its impact to the entire state, mutual aid partners and contractors came from as far north as Wisconsin and as far west as Texas and all points in between.
Prioritize transmission
The transmission line, or tieline as it is locally known, interconnects the Florida Keys to the mainland electrical grid and runs down the chain of islands along the highway, bridges, and over water. It is generally a radial system, however, in some areas it is a loop system. Crews conducted initial field assessments to identify any damage to the line from the ground and using a helicopter. While it sustained damage during the storm, specifically in areas where it is a loop system, the infrastructure weathered the storm remarkably well.
The line was re-energized on Tuesday, September 12, a mere 48 hours after a major hurricane. Critical feeders were brought online shortly thereafter to power Key West International Airport, the hospital, and major shopping centers that would soon act as major distribution points for much needed aid.
With the transmission line re-energized, crews doubled down on power restoration efforts and KEYS' customers were re-energized daily. Customers from Key West up to lower Sugarloaf Key saw power restoration much sooner than those in the harder-hit areas that were ground zero for impact.
Have contingencies for communication and necessities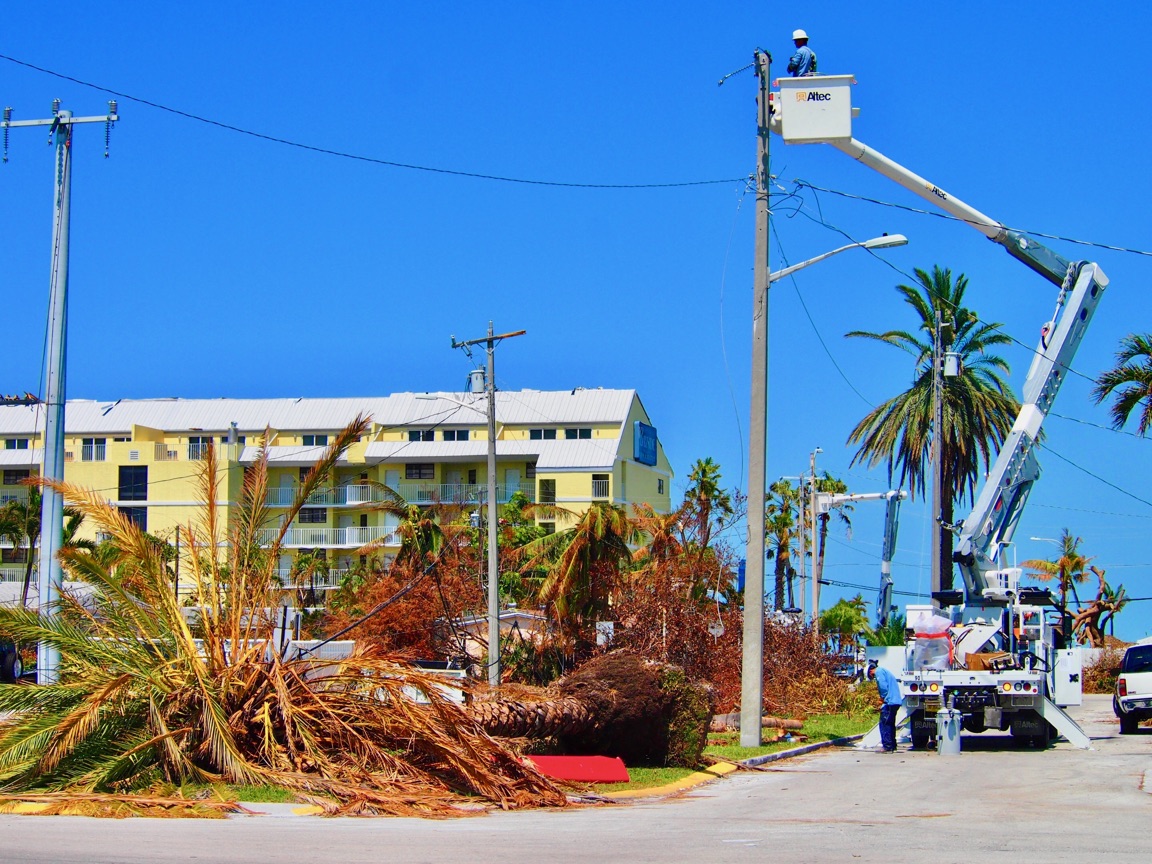 The initial days of restoration proved challenging, due to limited options for communications and a lack of running water.
The majority of the Florida Keys had to bear with the challenge of having no potable nor reliable tap water for nearly one week following the storm. In the early days, puddle water and water from swimming pools was used to flush toilets. Bottled water was blessedly plentiful and utilized for personal hygiene and sanitation. 
Satellite phones were invaluable and highly used in the immediate aftermath of the storm to coordinate personnel, materials, and support services. Lack of phone and internet also impacted early communications with customers. Until local phone and cell service was reliably re-established, we made daily road trips outside of Key West to the one radio station that managed to stay on the air during and in the immediate aftermath of the storm on Sugarloaf Key. Messages about restoration efforts and post-storm safety were conveyed to an information-starved community that opted to not evacuate. Once communications were re-established, KEYS used a recently acquired emergency call out and text messaging system to communicate with customers who had evacuated and were trying to assess what would await them on their return home.
Reliable communications also allowed KEYS to lean heavily on social media as a means to convey information and images to its followers. While KEYS was an early adopter of social media in 2009, Irma was the first 'social media storm' that fully utilized all of its benefits. User engagement broke Utility records and customers were able to remain up-to-date in real time on restoration efforts.
Restoration is costly
The remarkable restoration came at a high cost. Nearly $38 million, or 40 percent of KEYS regular annual budget, was spent on Irma-related repairs and restoration. KEYS replaced 10 damaged or fallen transmission poles, with the majority being water crossing poles. KEYS also repaired and replaced 625 distribution poles, 650 transformers, 1,600 street lights and innumerable conductor, insulators, lightning arrestors, guy wires, cutouts, connectors, and traffic lights.
In addition to labor and materials, KEYS provided 4,300 nights of lodging, served over 19,000 meals, and laundered 100 loads of laundry daily for all personnel. KEYS also fueled the restoration event, pumping more than 38,000 gallons of gas and diesel into support vehicles and equipment.
KEYS continues working with the Federal Emergency Management Agency to seek reimbursement for all Irma-related expenses.
The work doesn't end when the lights are back on
Additionally, although power was restored, the work was not always pretty. KEYS crews and contractors are working over the coming months to firm up Irma-related repairs and tie up any remaining loose ends.
In the end, KEYS' time-tested system disaster plan allowed KEYS to power paradise back up in record time after its most devastating weather event. KEYS' staff is fine tuning our disaster plans and incorporating lessons learned to help further improve on post-storm restoration efforts. Although the 2018 Atlantic hurricane season is around the corner, the residents of the lower Florida Keys know they can count on KEYS and public power to light the path to recovery.