Though the drought impacting the Colorado River has been a mainstay in the headlines recently, less discussed is how the reduction in water is impacting the hydropower generation from federal dams. And this has wide-ranging ramifications in the Desert Southwest, where utilities are facing early retirements of power plants, an influx of new residents and industries, and the constraints that electrification is putting on the system, all in the face of ongoing supply chain issues.
This proved to be a major point of discussion recently at the Irrigation and Electrical Districts Association (IEDA) Annual Meeting in January, where representatives from across the Arizona public power community — including the Arizona Municipal Power Users Association, Grand Canyon State Electrical Cooperative Association, Arizona Power Authority, Colorado River Energy Distributors Association, and Southwest Public Power Association — assembled.
Though our agenda was largely built around topics and presentations related to Arizona, it was clear that what we were discussing was impacting regions across the country.
Carolyn Slaughter, APPA's director of environmental policy, kicked things off with a look at the recently decided West Virginia v. EPA case, which is of particular interest as Arizona sued the Environmental Protection Agency over the Clean Power Plan. We also looked at pending legislation, led by a conversation between Arizona Rep. Gail Griffin, chair of the Arizona House Natural Resources, Energy, and Water Committee, and Nick Matiella, senior policy advisor for U.S. Sen. Mark Kelly (D-Ariz.).
Their conversation showcased the many ways in which public power can benefit from activities at the state and federal level. In the previous Congress, Kelly sponsored bills to address the recovery of costs with respect to certain Reclamation Facilities in the Colorado River Basin (S. 4232) and the Colorado River Indian Tribes Water Resiliency Act of 2022 (S. 3308), as well as other power- and water-related items. Meanwhile, in the Arizona House, there are ways to work with the state to expedite the development of new capacity and other power- and water-related initiatives that could benefit public power, Griffin told attendees.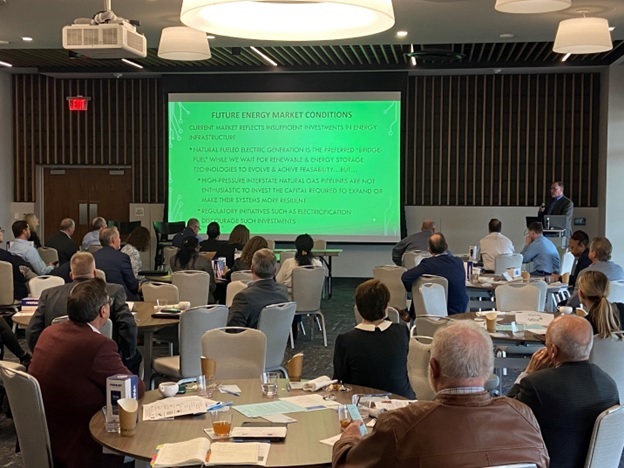 Pivoting to the markets, we had several sessions exploring our present and future resource adequacy. Steve Johnson, director at the Southwest Power Pool, discussed the evolution of markets and illustrated how the solar profile in the Desert Southwest could meld nicely with the wind resources in SPP's footprint from an operator standpoint. Brian Zard, portfolio director for ACES, reviewed how the changing resource mix could affect resource adequacy in the Southwest. Scarcity pricing is impacting Arizona, especially with the east-west constraints on natural gas transportation. Zard recommended an "all of the above" approach that included new thermal generation, renewables, demand-side management, infrastructure, and markets. Sarah Edmonds, president and CEO of Western Power Pool, also joined to discuss how WPP is handling resource adequacy issues through its Western Resource Adequacy Program.
We also heard from Tracey LeBeau, administrator and CEO of Western Area Power Administration, who highlighted WAPA's 2022 accomplishments, including a new strategic roadmap. Moreover, she outlined how WAPA is addressing the impacts of the drought, engaging in markets in the West, and handling supply chain issues.
The presenters, panelists, and conversations among Arizona-specific power directors covered a range of issues and opportunities for public power in the future. As we move into 2023, IEDA and its members are preparing for another busy year ahead and continuing these discussions with the national public power community.
Ed Gerak is the Executive Director of the Irrigation and Electrical Districts Association and an APPA Board Member. He can be contacted at [email protected]. IEDA was formed in 1962 primarily to engage the federal government related to federal hydropower. Today, IEDA advocates on the federal and state level for power- and water-related issues.