Register now for the Light Up Navajo initiative — the volunteer schedule is below.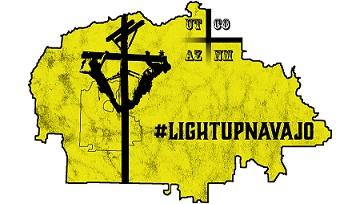 About Light Up Navajo
The Navajo Nation is the largest Native American territory in the United States, with an estimated population of 300,000. Among the 55,000 homes located on the 27,000 square mile reservation, about 15,000 do not have electricity. They make up 75% of all unelectrified households in the United States.
Not having access to electricity has many repercussions for Navajo families. One of the harshest being lack of access to running water. Families in the Navajo Nation drive 1-1.5 hours once or twice a week to reach watering points where they can fill 250-gallon plastic tanks with water for cooking, cleaning, and drinking. Not having electricity has also deprived families of reliable lighting and appliances such as refrigerators, toasters, and microwaves. To keep food from perishing, families often have to use portable coolers filled with ice to preserve their food for a few days.
The high cost of connecting isolated rural households to the grid, the sensitivity of families to utility costs, and the limited availability of government loans has made progress towards greater electrification slow. To expedite electrification projects in the Navajo Nation, the American Public Power Association in partnership with the Navajo Tribal Utility Authority (NTUA) has launched the Light Up Navajo initiative.
The Light Up Navajo initiative is a pilot effort to begin electrifying the 15,000 Navajo households that still do not have power. Starting in the spring of 2019, volunteer crews from public power utilities across the country will be building electric lines for 15 projects that will connect over a hundred new customers to the grid. The hope is that the pilot effort will serve as a successful model for future electrification projects.
To help spread the word, you can print this flyer about the effort or use this quick one-page summary to help you communicate key points about the effort to your colleagues and leadership.
Donations
We're seeking donations to help provide or cover the cost of the materials to connect these families to electricity for the first time. 
Learn more about ways you can contribute on the initiative's donation page.
Registration 
Registration for the Light Up Navajo project is now open! 
Light Up Navajo Volunteer Registration survey
If your utility is interested in sending a volunteer crew, please complete the volunteer registration survey.
Below is the Light Up Navajo volunteer schedule. Each week can accommodate four crews and one backup crew on a wait list status. We will be updating this schedule on an ongoing basis. Please refer to the volunteer schedule as you select the availability of your utility's volunteer crew. Note that all crew members have to be available for the entirety of the week they are scheduled. Crews will arrive on Saturday and will leave the following Saturday.
Volunteer Schedule
Dates
Crew 1
Crew 2
Crew 3
Crew 4
Crew 5

April 6 - 13

Tentative
Tentative
Tentative
Tentative
Partial (1 Crew Member Needed)

April 13 - 20

Tentative
Tentative
Tentative
Tentative

 

Tentative

 

April 20 - 27

Tentative
Tentative
Tentative
Tentative
Partial (2 Crew Members Needed) 

April 27 - May 4

Tentative
Tentative
Tentative
Tentative

 

Tentative

 

May 4 - 11

Tentative
Tentative
Tentative
Tentative
Partial (2 Crew Members Needed)

May 11 - 18

Tentative
Tentative
Tentative
Tentative

 

Tentative

 
Volunteer slots will be filled on a first-come, first-served basis. 
Green: The volunteer slot is available.
Yellow: The volunteer slot has been tentatively scheduled for a utility.
Red: The volunteer slot is unavailable.
Orange: The volunteer slot is partially filled. Additional volunteers are needed. 
Required Documentation for Volunteers
As part of the registration process, volunteers will be required to sign and provide the following list of documents:   
All required documents will be emailed to volunteers to be signed electronically via DocuSign. Step-by-step instructions on how to use DocuSign to complete NTUA required documents are here. 
Request for Support
We need teams of experienced and committed lineworkers who can volunteer their time to give power to those in need.
Volunteer crews will be working directly with NTUA to build electric lines connecting Navajo families to the grid in the communities of Shonto, Navajo Mountain, Houck, Kaibeto, Inscription House, Greasewood, Coppermine, Tuba City, Black Mesa, Tonalea, Leupp, and Teec Nos Pos.
NTUA will not be covering labor costs for volunteer crews but will be providing food and lodging for the duration of volunteer crews' stay on the Navajo Nation. Because many of the electrification projects are spread out and resources are limited, we are asking volunteers to commit at least a week of linework. Crews will arrive and leave on Saturdays and work will be taking place from April 6 – May 18.  
To learn more about what might be involved when volunteering, please look at the following materials:
Planning Meeting
The Light Up the Navajo Nation Planning Meeting that took place on the Navajo Nation from September 10-11, 2018 was a great success. Representatives from nearly two dozen utilities and joint-action agencies engaged in a two-day conversation around project logistics, required resources, and travel plans for the upcoming spring projects.
Below is a list of draft resources that were shared at the planning meeting. We encourage you to download and share the resources with your colleagues and leadership. Please provide feedback on these resources, or let us know if you have questions at [email protected].