Light Up Navajo II
Building upon the successes of the Light Up Navajo pilot project, the Association is partnering with the Navajo Tribal Utility Authority (NTUA) to launch Light Up Navajo II.
Light Up Navajo II will be a 12-week project beginning on April 6 and ending June 26, 2020. NTUA is seeking four volunteer crews to help meet this year's goal of connecting 300 families. All crews should have at least one foreman and one journeyman lineman. Smaller crews are welcome and will be combined to create crews of four.  
NTUA will be hosting a planning meeting in Window Rock, Arizona from October 1-2, 2019, for all interested participants. If your utility did not participate in the pilot project, the planning meeting will be an opportunity to learn more about the Light Up Navajo project, registration process, and project logistics. Planning meeting attendees will visit a project site in construction and see a family receive electric service for the first time. 
To register for the Light Up Navajo II planning meeting, please contact Shannon Burnette at [email protected] or call 928-729-6248. Webinar teleconferences will be hosted for interested utilities that are not able to attend the October planning meeting. 
Registration for Light Up Navajo II will open after the October planning meeting. If you have any questions, or are interested in volunteering, please email [email protected].  
Light Up Navajo II Information Packet
About Light Up Navajo
The Navajo Nation is the largest Native American territory in the United States, with an estimated population of 300,000. Among the 55,000 homes located on the 27,000 square mile reservation, about 15,000 do not have electricity. They make up 75% of all unelectrified households in the United States.
Not having access to electricity has many repercussions for Navajo families: lack of access to running water, reliable lighting, modern forms of home heating and cooling, and appliances such as refrigerators and microwaves. Families in the Navajo Nation drive 1-1.5 hours once or twice a week to reach watering points where they can fill 250-gallon plastic tanks with water for cooking, cleaning, and drinking. To keep food from perishing, families often have to use portable coolers filled with ice to preserve their food.
The high cost of connecting isolated rural households to the grid, the sensitivity of families to utility costs, and the limited availability of government loans has made progress towards greater electrification slow. To expedite electrification projects in the Navajo Nation, the American Public Power Association partnered with the Navajo Tribal Utility Authority (NTUA) on the Light Up Navajo initiative.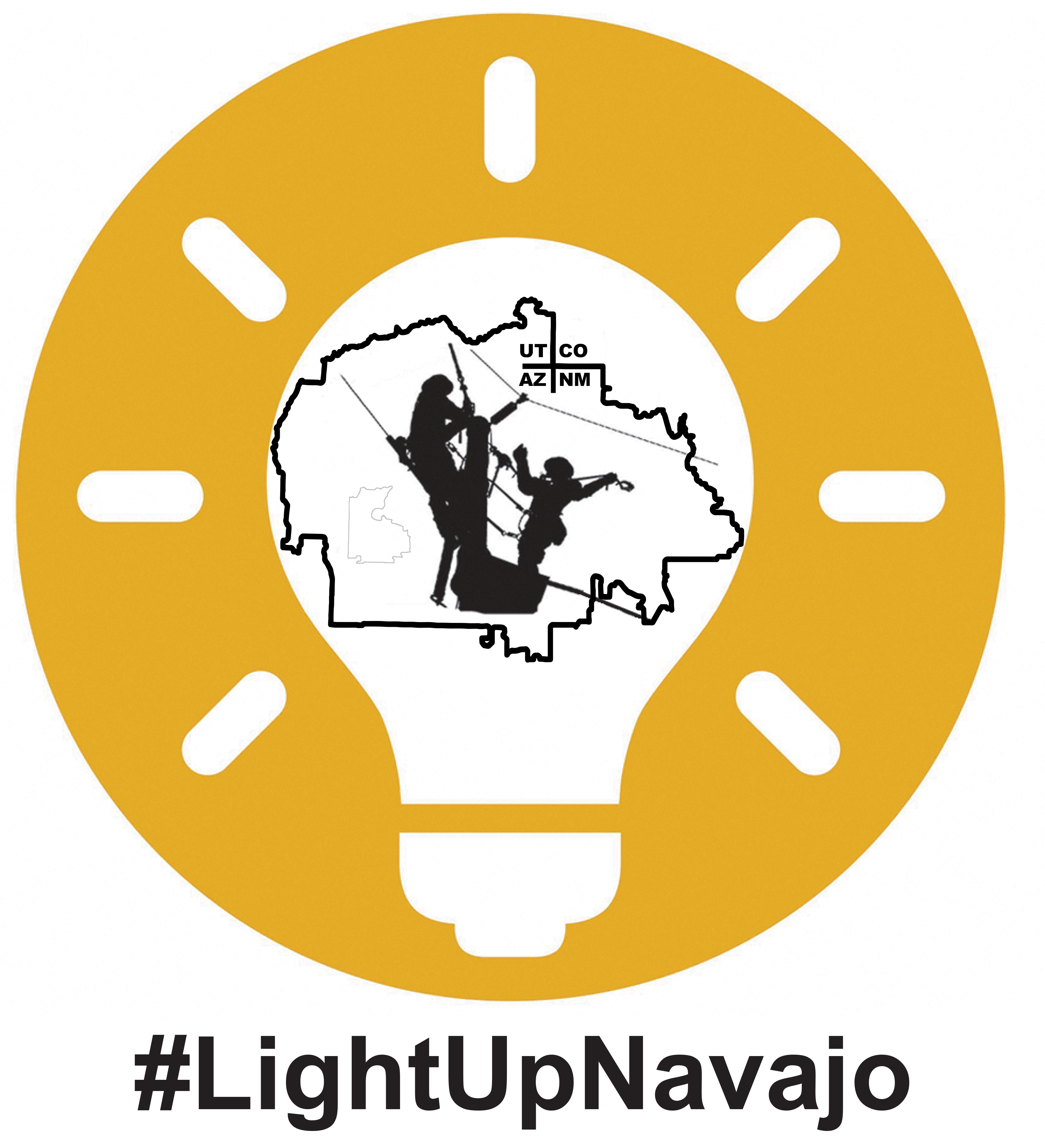 The Light Up Navajo initiative was a pilot effort in spring 2019 which brought together volunteer crews from public power utilities across the country to connect Navajo homes to the grid. In six weeks, the volunteer crews connected more than 230 homes to electricity, reducing the total number of U.S. homes without electricity by one percent.
By leveraging the concept of 'mutual aid without a storm', the pilot effort served as a successful model for future electrification projects.
Project Funding and Development
The typical cost for NTUA to connect a home is $40,000. NTUA estimates the project costs for the Light Up Navajo Initiative to be $1.8 million, which is an average of under $8,000 per home. The Light Up Navajo approach to rural electrification resulted in a significantly reduced first cost, helping get electricity to more homes at a faster rate.
Over the course of the Light Up Navajo project, people and organizations across the country donated about $440,000 worth of volunteered time and more than $272,000, including $26,000 in individual donations through a GoFundMe page. 
The initiative was also supported by a $125,000 grant from the Association's Demonstration of Energy and Efficiency Developments (DEED) program. The grant funds facilitated advanced feasibility studies, and preliminary meetings on project development, construction strategy and methods. The studies highlighted the obstacles that the vast remoteness of the Navajo Nation poses to conventional construction techniques.
Volunteers
More than 120 volunteers from the 25 public power organizations identified below participated in the Light Up Navajo pilot initiative from April-May 2019. We thank these volunteers for their time and efforts, who in total gave more than 10,000 hours to the initiative.
City of Milford (DE)
City of Santa Clara (UT)
City of Scottsburg (IN)
City of St George (UT)
City of Wadsworth (OH)
Conway Corporation (AR)
Delaware Municipal Electric Corp
Farmington Electric Utility System (NM)
Grand River Dam Authority (OK)
Greenville Electric Utility System (TX)
Heber Light & Power (UT)
Lawrenceburg Municipal Utilities (IN)
Lehi City Power (UT)
Littleton Light Department (MA)
Murray City Power (UT)
Painesville Electric Department (OH)
Paxton Municipal Light Department (MA)
Piqua Power System (OH)
Rochelle Municipal Utilities (IL)
Sacramento Municipal Utility District (CA)
Salt River Project (AZ)
Sterling Municipal Light Department (MA)
Town of Smyrna (DE)
Washington City Power (UT)
West Boylston Municipal Light Plant (MA)
Read more about the initiative