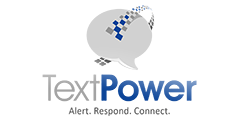 Elite Corporate Associate
Utility Messaging Solutions
Integrate TextPower with the billing system to improve cash flow and reduce disconnects
send payment or low balance (pre-paid) reminders
Give payment option by text (if credit card is on file)
Provide access to balance information
Add money to pre-paid meters
Notify customers of outages and provide status
Send only to those affected
Receive texts from those who are experiencing power outage and integrate with OMS/IVR
To reduce consumption and control costs during peak demand periods, alerts to:
Options to reschedule energy use or over-ride when shedding the load
Anomalies in energy or water use
Upcoming control dates and times (Beat the Peak notifications)
Meter data (also offer access to meter data on demand)
Immediately share details of emergency situations and significant outages to:
Community leaders
Account Managers and Sr. Management for large accounts
Give  control by text to alternate between electric and renewable power resources
Add "Social" communications 
Promote community events
Solicit real-time feedback and rating of service calls
Poll customers on any issue
Augment the IVR to reduce call handling costs and improve customer satisfaction
Accept customer notifications of power outages, lines down, trees that need trimming and lights out by text
Provide hours of operation and address information for payments by text
The TextPower Difference
TextPower offers numerous simple ways for customers to "Opt-in" including:
Sending a text message with a designated keyword to a short code
Submitting an opt-in request via a website
Agreeing to receive messages in the terms and conditions at time of purchase
Leaving the approval information on a IVR
Businesses depend upon TextPower's mission-critical reliability.  Our texts are delivered more than 99.9% of the time due to exclusive features such as:
Geo-redundant backups (different regions of the country)
Quadruplicated server infrastructure
Automated error resolution and resend on failed messages
TextPower takes seriously the commitment to protect customer information.  The use of mobile numbers, email addresses and message content are strictly limited to those in the company with a need for access.  TextPower does not share or sell customer information with anyone, ever.
Examples of TextPower Utility Industry Partners/Customers
DataVoice recently decided on TextPower as the text delivery partner for their text communication customer options.  Working together, DataVoice and TextPower will initially enable text outage related messages to be delivered to and received from consumers.  Most significantly, DataVoice is committed to provide meaningful and timely status reports to enhance the lives of their customer's members.
Northeast Nebraska Public Power District (NNPPD)
NNPPD sends text messages each summer to their largest system irrigators during peak load periods requesting consumption be delayed.  As a result, during summer months NNPPD demand purchases were initially reduced by 64%.  
During peak demand periods Blue Grass Energy sends texts to members who sign-up for their "Beat the Peak" program.  In addition, Blue Grass sends out weekly energy saving tips.  Blue Grass employees receive company announcements by text message.  These are sent as needed using TextPower's AlertManager web software program.
Like Blue Grass, Piedmont EMC sends cooperative members notices when demand is predicted to exceed supply. Members volunteer for the program.
It was at the request of Blue Bonnet that TextPower developed the software to accept inbound (MO or mobile originated) text messages that contained outage reports.  Blue Bonnet recently signed the agreement with TextPower and will implement member texting outage opportunities in the near future.  Blue Bonnet is first testing Level 2 and 3 alerts using TextPower's AlertManager software program.
Milsoft conducted a test of several text delivery companies before selecting TextPower as their partner to add texting to their IVR platform.  The partnership enabled utilities to send alerts for a variety of reasons, including:  outages (planned or not), restoral of service, level 2 and 3 or peak demand situations, late payment reminders, disconnect notices, meeting reminders, and key account special communications.
In 2012 Daffron will provide pre-paid electric services.  In preparation, Daffron sought a text delivery partner so consumers could check their meter balance, make payments and receive low balance notices by text.  TextPower was selected due to the simplicity of the system interfaces.  Daffron just launched their first trial pre-paid customer.
At the recent NRECA TechAdvantage event, CRC announced and demonstrated inbound text outage reports using TextPower's outage delivery capabilities.  CRC customers are just learning of the innovative mobile communications they can now offer their members to report an outage, to receive outage or restoral notices and to obtain a status during an extended outage.