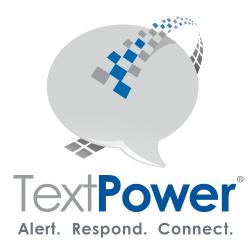 Elite Corporate Associate
Utility Messaging Solutions
TextPower provides text messaging (SMS) solutions for mission-critical applications ranging from immediate communications with customers/staff to high-security authentication of users. Our SmartAlerts™ help Utilities improve customer service, reduce costs, and optimize workforce efficiency. Over 200 utility customers of all sizes in the U.S. and internationally, send and receive text alerts to customers and field personnel through our high-speed, secure network.
Automated Outage Alerts
Reduction in outage call center volume by 70% to 95%
2-way Outage notifications of outages to/from consumers

Allow customers to report outages via Text

Lower the cost of storm communications

Maintain high levels of responsiveness
Payment & Service Reminders
Reduction in broken (payment) arrangements by 75%
Improve collections with real-time disconnect notices.

Provide timely, friendly reminders

Respond to common inquiries via text

Reduce unnecessary truck rolls
Load Curtailment Notices
Reduction in load and peak-time usage by 50%
Notify customers to curtail load with Beat the Peak alerts.

Alert customers to peak-use periods
Group Communication for Dispatchers
TextPower AlertDispatcher Pro solution supports two-way group text communications using standard text messaging.

Simplify field crew 2-way communications with text to/from individuals or groups.


 
The Most Effective Communications Channel
Text messaging is the most effective communication channel to quickly reach your customers or staff because users receive and read text messages. Nothing beats the reach and speed of text messaging for urgent and important communications. 98% of text messages are opened and 95% of text messages are read within 3 minutes.
The TextPower Difference
Mission Critical Messaging Network
Messaging network built for mission-critical applications including geo-redundancy, backup, and security.
Integrated, Automated Text Messaging
Pre-built API Interfaces with solutions such as Milsoft, DataVoice, Cayenta, Survalent, SienaTech, and NISC (MultiSpeak).

A library of advanced APIs for custom integration with internal systems.

Bult-in functionality for automated actions, such as custom responses or posting to a URL, for a specific word texted to you.
Inbound (2-way) Text Support
Customers can text you to report an outage, obtain billing information, report lines down and much more.
Mass Mobile Number Identification & Enrollment
Unique to the Utility industry is the ability to communicate with customers who have provided a mobile number to you. TextPower can identify mobile numbers and auto-enroll them for text messaging.
On-Demand or Scheduled Text Messaging
Alerts can be scheduled or sent impromptu.
Special Functions Built for Utilities
TextPower has evolved the platform over time to better serve the Utility industry, including Reserved Action words for Utilities (Out, Blink), Group Tags for targeted communications, Seasonal Resident Support, and Major Storm Mode for Outages
Popular Uses for TextPower SmartAlerts™
Receive outage texts from customers sent to the OMS

Allow customers to check outage status via text

 

Emergency Preparedness alerts

Load curtailment notices

Payment and service reminders

Boil Water Advisories

Conservation Reminders

Early Leak Detection alerts

Rolling blackout notices

SCADA alarm alerts for field crews

Arranged payment due date reminders.

Receive texts for downed lines, trees, and streetlights out

Final cutoff date alerts

Field closure notifications (little league)

Street sweeping reminders and schedule changes
Customer Comments
"Texting is a tool that has changed the way we communicate with the public. It actually gets them engaged. It allows for more efficient engagement with the community."
Jim Williams, Director of Public Works Department of Infrastructure, Hamilton, Ohio
"Texting greatly improves messaging versus phone calls alone and is better received by our customers and citizens."
Andrew Wharton, GIS Systems Administrator, City of Thomasville Utilities, Georgia
"Texting has not only improved the efficiency and economics of outage notification, it has also improved customer satisfaction. Before we weren't getting a lot of two-way communication with our customers."
Sammie Jo Prior, Utility Systems Manager, Lexington Utilities, North Carolina