The Electric Division of the Town of Danvers, Mass., is spreading the word about electrical safety to community residents through a miniature version of a village that offers a powerful visual tool to illustrate the dangers of electricity.
The town's Electric Division has a program called S.A.F.E, Safety Awareness From Education. The program was created to educate the public on the hazards and dangers of electricity.
"We try to create real life scenarios on how electricity works and how to go about your everyday life understanding how it gets from generation to everyday use," said Anthony Calascibetta, Safety and Risk Manager for the Electric Division, in an interview with Public Power Current.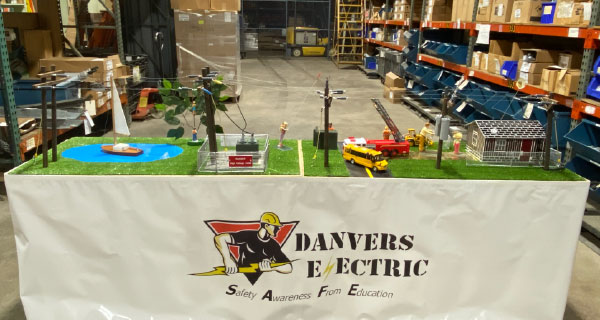 A key tool for this program is a miniaturized village that the utility brings to local schools for a safety in electricity introduction and demonstration.
"I have been with the utility for 25 years," Calascibetta said, noting that the utility previously utilized a mocked-up village that was built in-house, "but it didn't have a lot of wow factor."
The utility therefore decided to reach out to Moore Syndication to build a model for Danvers to use in safety demonstrations. Moore Syndication offers a high voltage demonstration model that shows a variety of contact hazards with overhead and underground service.
The Electric Division of Danvers has taken the mocked-up village to elementary schools, high schools and vocational schools, as well as settings where adults in the community can learn more about the safe use of electricity.
"It's a great tool to educate both the student and the public end user on the hazards of electricity," Calascibetta said.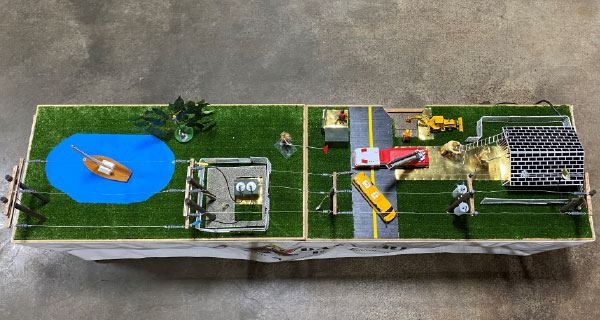 Along with helping to educate people on how to stay safe when it comes to electricity, the miniature village can also work as a way in which to visually demonstrate how wildlife and acts of violence can impact the grid and create sustained outages, he pointed out.
When students and other members of the Danvers community see the electric demonstration, they are surprised at how high the voltage is and the potential hazards, Calascibetta said.
As part of the demonstration, the utility includes a simulated device that has a voltage of 480vac as a way in which to show the hazards of electricity. Utility officials use a hot dog to simulate how electricity will burn from the inside out.
Calascibetta noted that the utility is in the early stages of designing a larger version of the village.