Many states have set goals or standards to reduce carbon emissions from electric generation sources within the next 30 years. This map is a snapshot of how each state plans to reach its target — including a differing mix of non-carbon emitting sources, timeline, and to different degrees. Approximately one-third of public power utilities are included in these targets. Additionally, public power entities set individual goals that might exceed state mandates.
Some specific public power goals include:
Gainesville Regional Utilities (Florida): 100% clean energy by 2045
Municipal Energy Agency of Nebraska: Carbon-Neutral by 2050
Platte River Power Authority: Zero-Net Carbon by 2050
Southern Minnesota Municipal Power Agency: 80% carbon-free by 2030
As of January 2020, seven public power utilities net 100% of generation from renewable resources.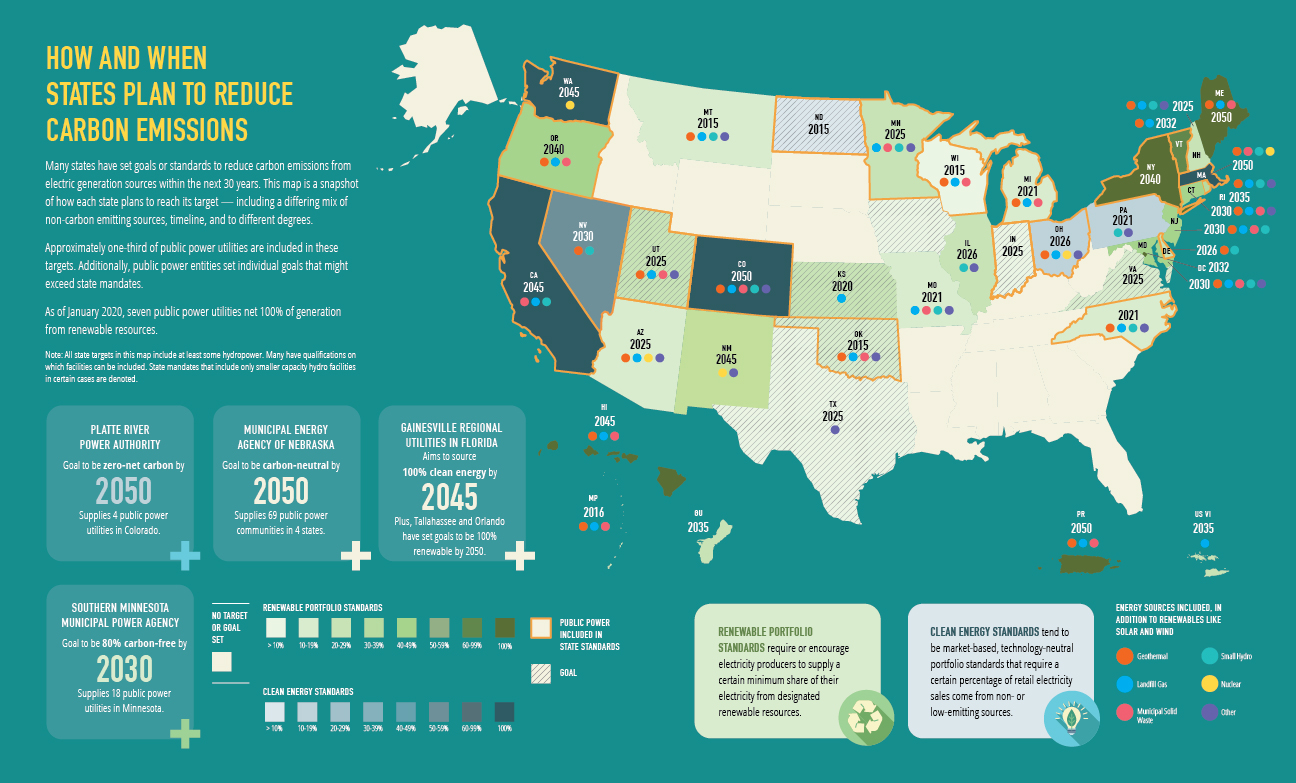 Note: All state targets in this map include at least some hydropower. Many have qualifications on which facilities can be included. State mandates that include only smaller capacity hydro facilities in certain cases are denoted.
| | | | | | | | | | | |
| --- | --- | --- | --- | --- | --- | --- | --- | --- | --- | --- |
| State/Territory | Clean or renewable energy? | Target Year | Target % | Geothermal | Landfill Gas | Municipal Solid Waste | Small Hydro | Nuclear | Other | Public power included? |
| Arizona | Renewable energy | 2025 | 15 | x | x |   | x |   | x | No |
| California | Clean energy | 2045 | 100 | x | x |   | x |   |   | Yes |
| Colorado | Clean energy | 2050 | 100 | x | x | x | x |   | x | Yes |
| Connecticut | Renewable energy | 2030 | 48 | x | x | x |   |   | x | No |
| Delaware | Renewable energy | 2026 | 25 | x | x |   |   |   |   | Yes |
| Hawaii | Renewable energy | 2045 | 100 | x | x | x |   |   |   | n/a |
| Illinois | Renewable energy | 2026 | 25 |   | x |   |   |   | x | No |
| Indiana | Renewable energy (goal) | 2025 | 10 |   |   |   |   |   |   |   |
| Iowa | Renewable energy |   | <10 |   |   |   |   |   |   |   |
| Kansas | Renewable energy (goal) | 2020 | 20 |   | x |   |   |   |   | No |
| Maine | Renewable energy | 2050 | 100 | x | x | x |   |   |   | No |
| Maryland | Renewable energy | 2030 | 50 | x | x | x | x |   | x | No |
| Massachusetts | Clean energy standard | 2050 | 100 | x |   | x | x | x |   | No |
| Michigan | Renewable energy | 2021 | 15 | x | x | x |   |   |   | Yes |
| Minnesota | Renewable energy | 2025 | 26.5 |   | x | x | x |   | x | Yes |
| Missouri | Renewable energy | 2021 | 15 |   | x | x | x |   | x | No |
| Montana | Renewable energy | 2015 | 15 | x | x |   | x |   | x | No |
| Nevada | Clean energy | 2050 | 100 | x |   |   | x |   |   | Yes |
| New Hampshire | Renewable energy | 2025 | 25.2 | x | x |   | x |   | x | No |
| New Jersey | Renewable energy | 2030 | 50 | x | x | x | x |   |   | No |
| New Mexico | Clean energy | 2045 | 100 |   |   |   |   | x | x | Yes |
| New York | Renewable energy | 2040 | 100 |   |   |   |   |   |   | Yes |
| North Carolina | Renewable energy | 2021 | 12.5 | x | x |   | x |   | x | Yes |
| North Dakota | Clean energy (goal) | 2015 | 10 |   |   |   |   |   |   | Yes |
| Ohio | Alternative energy portfolio standard | 2026 | 12.5 | x | x | x |   |   | x | No |
| Oklahoma | Renewable energy (goal) | 2015 | 15 | x | x | x |   |   | x | Yes |
| Oregon | Renewable energy | 2040 | 50 | x | x | x |   |   |   | Yes |
| Pennsylvania | Alternative energy portfolio standard | 2021 | 18 |   |   |   | x |   | x | No |
| Rhode Island | Renewable energy | 2035 | 38.5 | x | x |   | x |   | x | No |
| Texas | Renewable energy | 2025 | <10 |   |   |   |   |   | x | No |
| Utah | Renewable energy (goal) | 2025 | 20 | x | x | x |   |   | x | Yes |
| Vermont | Renewable energy | 2032 | 75 | x | x |   |   |   |   | Yes |
| Virginia | Renewable energy (goal) | 2025 | 15 |   |   |   |   |   |   | No |
| Washington | Clean energy | 2045 | 100 |   |   |   |   | x |   | Yes |
| Washington, DC | Renewable energy | 2032 | 100 |   |   |   |   |   |   | n/a |
| Guam | Renewable energy | 2035 | 25 |   |   |   |   |   |   | Yes |
| Northern Mariana Islands | Renewable energy | 2016 | 20 | x | x | x |   |   |   | Yes |
| Puerto Rico | Renewable energy | 2050 | 100 | x | x | x |   |   |   | Yes |
| US Virgin Islands | Renewable energy | 2025 | 30 |   | x |   |   |   |   | Yes |