The following story is courtesy of the Anoka Municipal Utility.
More than a century ago, residents of Anoka, Minnesota – a city just north of Minneapolis-St. Paul – found cows roaming down Main Street, the windows of buildings and houses covered in soap, and several outhouses tipped over. The city residents, displeased with the Halloween antics, decided to stave off any future tricksters by holding a city-wide Halloween celebration – complete with a parade, treats for kids, and a bonfire. The celebration in 1920 is recognized as one of the first Halloween parades, and Anoka's enduring enthusiasm and pride in hosting an annual celebration since have lent it the distinction of being the "Halloween Capital of the World."
Anoka Municipal Utility (AMU), a public power utility serving Anoka's 17,000 residents, has used its many resources to help build the city's profile as the Halloween capital. This includes powering up and maintaining unique jack-o'-lanterns and decorations throughout the fall each year. AMU updates the light poles in the downtown area by adding Halloween decorations such as ghosts, bats, and pumpkins.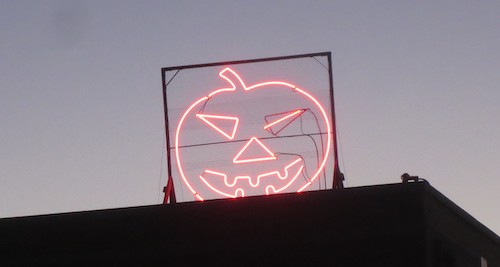 Greeting residents and visitors atop Anoka City Hall is "Winkie," a neon, winking metal pumpkin sign. The now iconic local landmark was gifted to Anoka from the City of Blaine, Minnesota through a friendly competition in 1972. The mayor of Blaine at that time bet the City of Anoka that the City of Blaine could produce a larger pumpkin than Anoka. Anoka accepted the challenge and grew a large pumpkin; however, Ron Lueck, a glass blower in Blaine "produced" a huge, eight feet across, neon pumpkin and gifted it to Anoka. You can imagine the Mayor and Anoka Council members surprise and laughter!  Of course, the City of Anoka still wanted to be part of the production, so city electrician Glen Gilbertson added the wink to the pumpkin and it has been known as "Winkie" ever since. AMU lineworkers and a master electrician take good care of Winkie to ensure it continues to shine bright above the city year after year.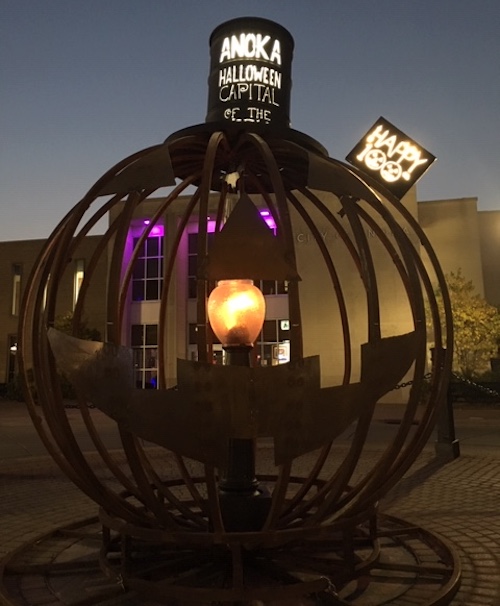 In 2020, in celebration of the 100th anniversary of Anoka Halloween, Inc. (a volunteer organization that plans many of the events and activities in the city each October), AMU gifted a handmade, 12' tall, 8' wide jack-o'-lantern named "Iron Jack" to the city. Iron Jack is made from repurposed materials and took about 60 hours to construct. The main frame is made from reels in which AMU's conduit is stored. The top hat is a cleaned barrel that formerly held waste and the brim of the hat is from an old cabinet used to house electrical components. The light is an old street lamp pole. Local artist Greg Pavlik donated countless hours to the design and planning of the project. Pavlik is a master welder and an "old school jack of all trades."  AMU employees volunteered their time to the project during lunch breaks and after hours. Iron Jack sits in City Hall Plaza for all to see.
Together, all of these Halloween decorations add to the excitement of Halloween in Anoka, Minnesota.
Anoka Municipal Utility is a community-owned, not-for-profit electric supplier serving the city of Anoka, and portions of the cities of Ramsey, Coon Rapids, Champlin, and Dayton.  The citizens of Anoka chose to create AMU over a century ago, in 1909, under the name "Anoka Electric & Water Works" to provide economical, reliable electric power and have local control over an essential service. Later, it was renamed Anoka Municipal Utility, and in 1992, AMU and seven other cities joined together to form the Minnesota Municipal Power Agency. AMU sees its job as more than selling electricity – it sells reliability, customer service, and enjoys being involved in the community.