As the fight against COVID-19 continues, critical workers on the frontlines need to know that the flow of electricity won't be interrupted, which is why the electricity sector's mission-essential personnel, from control center/room operators to instrument and control technicians, are stepping up to the plate.
We in the power industry are standing shoulder-to-shoulder with the doctors, nurses and other critical workers in the fight against the pandemic.
Electricity powers ventilators, lighting, cellphones, modems, sterilizing equipment, testing equipment and emergency dispatch, among other things, Joy Ditto, President and CEO of APPA, noted in a recent letter to congressional leaders.
"Likewise, ambulances, fire trucks, and police cars may burn gasoline and diesel, but it takes an electric pump to refuel them. Even our homes are part of this effort, with Americans quarantining to help reduce the spread of this lethal disease – and it is electricity that makes our homes habitable and powers the devices that allow us to work remotely," she wrote in the letter.
One way that public power utilities are doing their part in the fight against the pandemic is by sequestering mission-critical power workers at key facilities. The New York Power Authority, the City of Tallahassee, Florida, California public power utility SMUD, the City of Grand Island Utilities Department in Nebraska and Colorado Springs Utilities have taken this step.
The strategy is to make sure that personnel who have tested negative for COVID-19 are onsite at locations such as power plants and control rooms, thus minimizing the chance that this pool of highly skilled and essential workers is impacted.
Mission-critical power industry workers are essential to utility operations and must be considered as such during the pandemic.
NYPA
As of March 27, NYPA has sequestered 82 power plant control room and transmission control operators. Essential generation personnel are operating in two 12-hour shifts with protocols in place to prevent the potential spread of the virus. Temperatures are taken upon change of shift and at regular intervals.
Other NYPA staff is working remotely following New York Gov. Andrew Cuomo's direction. NYPA's President and CEO Gil Quiniones prioritized communication to all staff and has sent out weekly videotaped messages and regular communications focused on social distancing, washing hands, and decreasing density.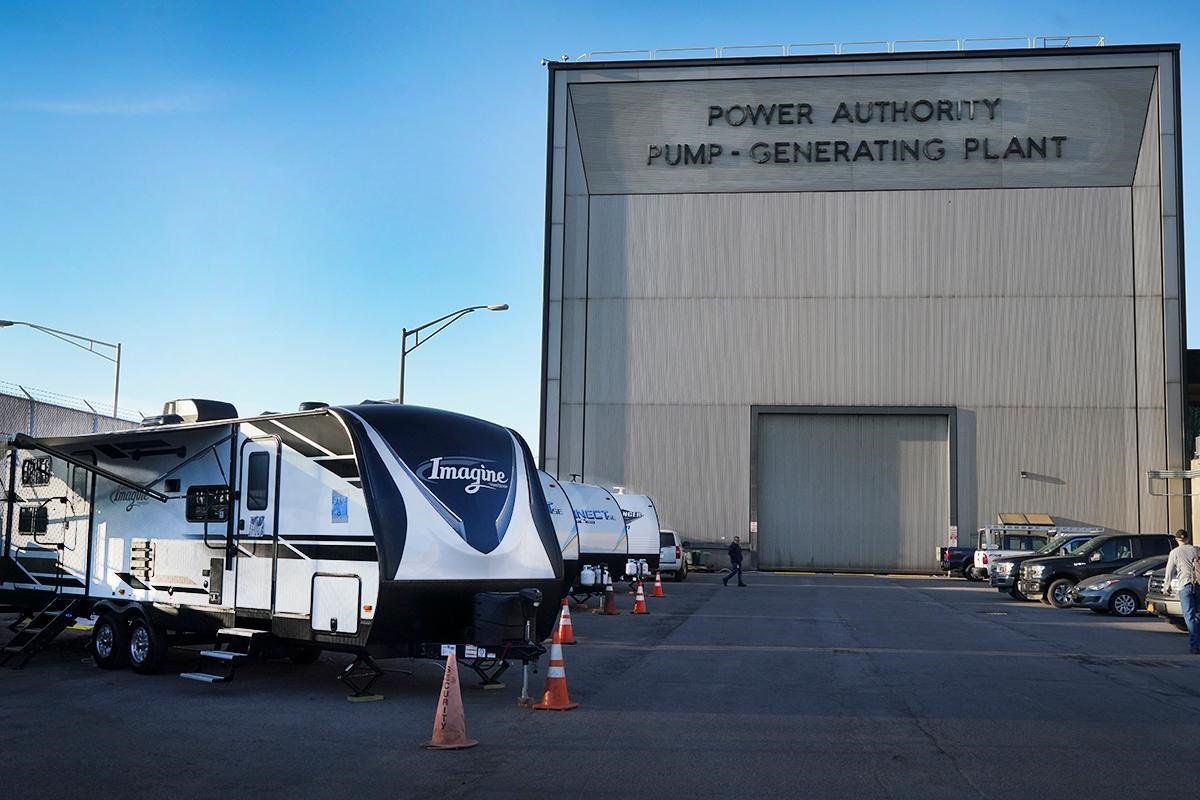 NYPA has also entered into two separate agreements to help ensure resiliency throughout the pandemic. NYPA, National Grid, and the Independent Power Producers of New York have entered into an agreement that will enable the three entities and all IPPNY members to work together to share trained personnel, support services, equipment, materials, supplies and fuels among each other throughout the pandemic. Separately, NYPA has also signed a similar agreement with Ontario Power Generation in Canada.
"Maintaining the operation of our power generating facilities across the state is our first priority," said Quiniones. "Our control room operators are mission critical. Their specialized expertise is needed to keep the lights on at hospitals and the ventilators running so that we are at the ready to help our most vulnerable in their fight against Covid-19."
He said that NYPA is doing everything it can "to ensure our staff are protected from the virus so that we can keep our generation assets running and our transmission backbone operations going to provide reliable energy for New Yorkers."
SMUD
SMUD on April 16 began sequestering critical 24/7 employees that are essential to running the grid, said Christopher Capra, a spokesman for SMUD, in an email.
This includes highly experienced and highly specialized power system operators, distribution system operators and energy traders, Capra noted.
Capra said that the first steps included testing each employee for COVID-19 as they enter the sequestration program. "They'll begin 10-day shifts about two days after receiving a negative test result. If someone tests positive for COVID-19, they won't be permitted on campus and would follow SMUD's COVID-19 return to work protocol," Capra said.
Tallahassee
Meanwhile, Rob McGarrah, General Manager, Electric & Gas Utility at the City of Tallahassee, said that the utility has a total of 44 employees who are being rotated in and out of sequestration. About half of the team is sequestered between three sites and half are at home. They are rotated on a weekly basis.
While at home, they are directed to limit their exposure to only immediate family and essential trips outside of the house. They are screened -- through a questionnaire and temperature check -- at each rotation.
With respect to the responsibilities of the sequestered workers, McGarrah said the team falls into two groups. About 14 members of the team are the employees who operate the utility's energy control center, while the balance "are located at our two power plants and are the plant operators and shift supervisors," he said.
"We have our energy control center team operating out of both our main and back up control centers. Those that are operating out of the main control center are housing in an office area that has been converted to housing for this event," McGarrah said. For those operating out of the back up control center, "we're providing RV/campers for each operator to live in. At the power plants, we are using a combination of employee owned campers and office areas for the housing. We are proving meals from local restaurants – delivered to each site."  Each site has shower facilities.
City of Grand Island Utilities Department 
In Nebraska, the City of Grand Island Utilities Department on April 12 began the shelter in place phase of its pandemic plan, said Tim Luchsinger, Utilities Director, in an email.
This requires about 140 electric/water employees to either remain at home for callout or live at critical facilities, he noted.
Nine operators "at our gas turbine/water operations plant are at the plant or in a home-quarantine rotation.  Six dispatchers are at our control center or in a home-quarantine rotation," Luchsinger said. 
"Our coal plant was taken offline two weeks ago due to regional market conditions, and a semi-annual planned outage was moved up to accommodate the early shutdown and to spread out the outside contractor work requirements," he said. 
Luchsinger said that when the outage work is complete and the market operator requires the unit to be placed back online, about twenty employees will be required to home-quarantine and sequester at the plant.
Colorado Springs Utilities
Public power utility Colorado Springs Utilities on March 30 implemented a sequester in place protocol at the utility's Front Range Power Plant in Colorado Springs, Colo.
The site will be locked down and access restricted to operations for weekly turnover. Exceptions to the lockdown for critical plant work and employee health must be approved by plant management.
The sequestration plan consists of a rotation of two primary operations crews. Each crew will have enough employees to cover the day and night shift during the designated duration. 
The goal of sequestering the Front Range Power Plant employees is to limit interaction of essential operations personnel with external factors, thus reducing potential COVID-19 viral infection, the utility noted.
ESCC highlights highly skilled energy workers
The Electricity Subsector Coordinating Council (ESCC), which serves as the principal liaison between the federal government and the electric power industry on national level response issues such as pandemics, has also highlighted the fact that there is a subset of highly skilled energy workers who are unable to work remotely and who are mission-essential during the pandemic.
The ESCC has broken out categories of workers that are mission-essential staff for whom priority access to COVID-19 testing is essential.
The ESCC noted that specialized workers in non-nuclear generation facilities have years of experience and specific knowledge of a plant's systems, and other employees cannot be shifted easily or trained in a short time. The types of employees include control room operators and supervisors, operator technicians and instrument and control technicians.
APPA actions to help our members
Besides APPA's involvement in the ESCC, it is also working to ensure that these workers get needed access to testing and personal protective equipment (PPE) by facilitating conversations between our members and the Departments and Energy and Homeland Security when they are facing challenges in their states.
In early April, we were also joined by several other energy industry trade associations and unions in sending a letter to organizations representing state and local governments asking them to give mission-essential workers a higher priority when it comes to testing and PPE.
"Given the indispensable nature of the energy our members and federal electric utilities produce and deliver, it is vital that they be able to continue their work to ensure electric and natural gas service remains safe and reliable throughout this unprecedented health emergency," the letter said.
"To accomplish this, we are asking for your help and that of your members in recognizing that there is a limited number of highly skilled, mission-essential workers who serve on our frontlines and who need priority access to personal protective equipment (PPE) and testing."
To be clear, public power and the rest of the electricity industry recognize that healthcare workers should have first access to PPE, but these very essential utility workers should be next in line.
Power sector will continue to play a key role in battle against COVID-19
While we don't know when the pandemic will finally be brought under control, the one thing that doctors, nurses and other frontline workers – much less the entire American people -- can count on is that the power industry will continue to have their backs.