Public Power COVID-19 Information Hub
Updated: May 27, 2020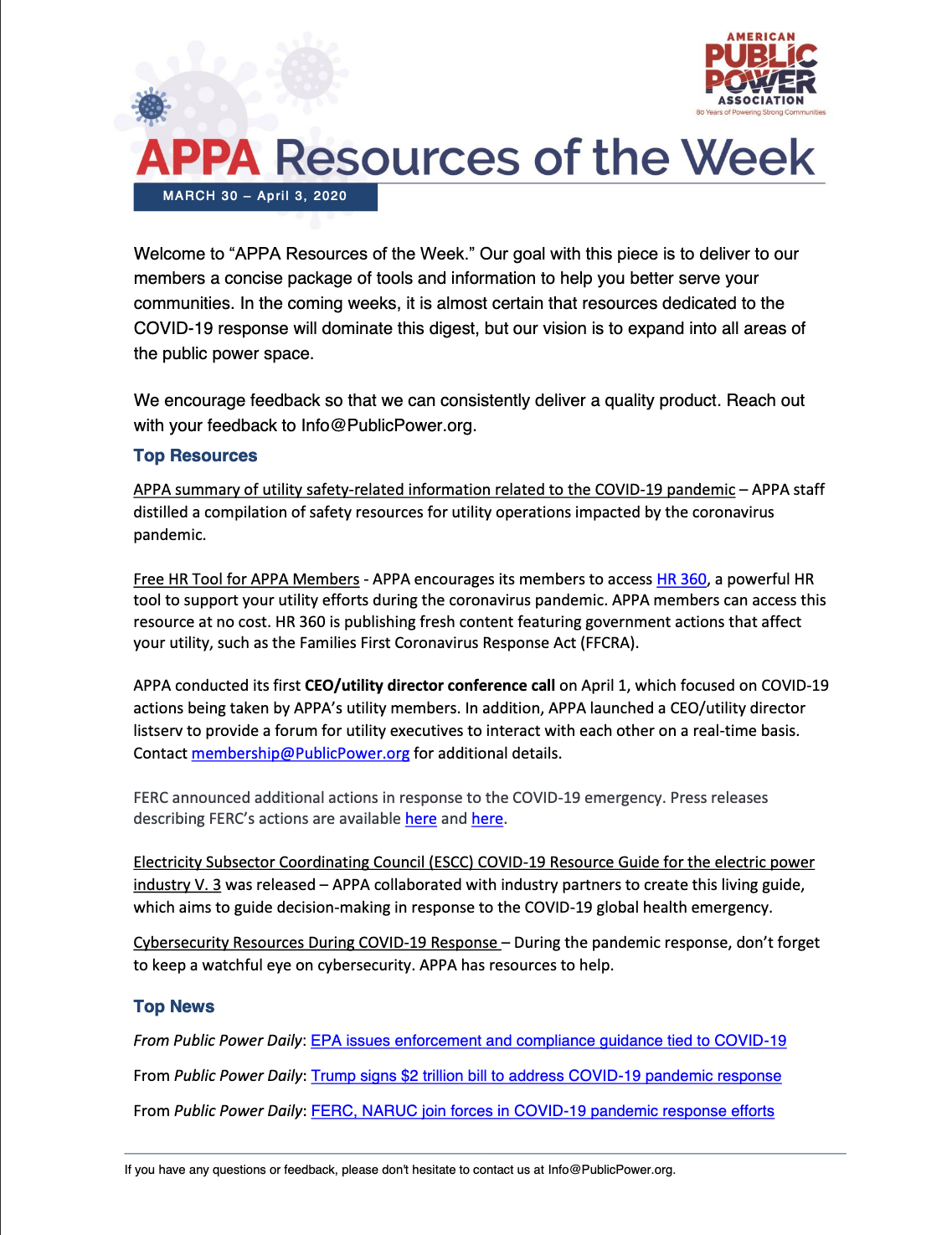 Our government relations team continues its work advocating for public power's interests on Capitol Hill. As our team brings public power stories (and related needs) to congressional offices and committee staff, the most vital thing they can be armed with is information. For that reason, it's absolutely imperative that we have the best available data—specifically on financial impacts—to paint a clear picture of how COVID-19 is affecting public power utilities.
I urge everyone who reads this email—and hasn't done so already—to fill out a brief survey on the impacts of lost load and non-payment due to COVID-19.
The government relations and regulatory affairs teams are continuing to engage on issues beyond and in parallel to COVID-19 response, including the recent Executive Order on the Bulk-Power System supply chain, among several other important matters. To learn more, please contact [email protected] or [email protected].
We at APPA continue to produce an 
APPA Resources of the Week 
digest to streamline the top news stories and resources pertaining to COVID-19.
Federal Government and Industry Partner Activities on Response to COVID-19
We continue to work with you, others in the electric utility industry, and our government partners to gather and share up-to-date information, best practices and guidance to help you and your fellow public power utility staff maintain safety and operational integrity. As part of this effort, we are holding frequent webinars for members to collaborate on this issue. We also have a COVID-19 listserv for members to share information pertaining to the pandemic. For more information on the webinar series or the listserv, email [email protected]. Finally, we have a page on APPA's website dedicated to COVID-19 activities.
Government Relations and Policy Activities
Last Friday, the House approved the Health and Economic Recovery Omnibus Emergency Solutions (HEROES) Act. The $3 trillion proposal would direct $925 billion in direct aid to states, local governments, tribes, and territories. The assistance is specifically intended to help with revenue losses directly associated with the COVID-19 pandemic and the economic downturn it has caused. Of that funding, $500 billion would go to states and $375 billion would go to local governments based in part on population and need. The legislation would also appropriate an additional $1.5 billion for the Low Income Home Energy Assistance Program and includes language that—for purposes of meeting income eligibility thresholds—says that states may accept proof of job loss or severe income loss dated after February 29, 2020. This includes layoff or furlough notices or verification of application for unemployment benefits. As expected, it also includes language drafted by the Financial Services Committee on debt collection and moratoria on utility shutoffs and by the Energy & Commerce Committee that conditions the receipt of aid to avoiding to the "maximum extent practical" the suspension of electric, natural gas, or water shutoffs during the COVID-19 national emergency.
Senate Republicans have expressed strong concerns with the House-passed bill and are not likely to bring it to the floor for consideration. Instead, they will evaluate how already allocated funds are being spent before they decide what should be included in the fifth  COVID-19 bill. The earliest a consensus bill will move will be in June.
APPA's top legislative priority is obtaining direct assistance for public power utilities. APPA staff are working with congressional staff on crafting language to create a program for providing direct assistance. We have been asked to provide congressional staff with a projection on the economic impact of COVID-19 on public power utilities. In order to make such a projection, APPA needs information from members on load loss and customer non-payments. Please complete the above-mentioned short survey by Friday, May 29 to provide us with the information we need to make the case for direct assistance for public power utilities in the next COVID-19 bill.
The Federal Energy Regulatory Commission continued to take steps to address the COVID-19 situation, scheduling a technical conference for July 8-9, 2020 to examine the long-term impacts of the COVID-19 pandemic on the energy industry.
APPA Meetings
Only two weeks until APPA's Public Power Connect Virtual Summit & Business Meeting, June 8-10. I hope you can join us at this virtual event being held in place of APPA's in-person National Conference. Mark Menezes, Undersecretary of Energy, Department of Energy will provide opening remarks addressing the Department of Energy's activities in responding to COVID-19 as well as what we might expect moving forward. Additional keynote speakers will include political analyst Paul Begala, futurist Peter Singer and cybersecurity expert Josh Crumbaugh. The summit will also include breakout sessions, multiple networking opportunities and APPA's annual business meeting which affords designated utility voting delegates an opportunity to vote on the policy resolutions adopted by the APPA's Legislative & Resolutions Committee, and to elect the Association's Board of Directors.
We continue to expand the online training options, ranging from webinars to online training and new virtual meetings that allow you to interact with other attendees for meaningful networking opportunities. Many of our fall conferences will be offered as hybrid events, both in-person if possible and virtually. Details on those events will be available soon.
If you have any questions about APPA meetings or events, please reach out to [email protected].
COVID-19 Webinars
Resources
[Click here for a download option to share the video on social and in your community.]
APPA Resources
Information Hubs

Information Hubs (cont.)
State Resources
Additional Resources