Public Power COVID-19 Information Hub
Updated: September 25, 2020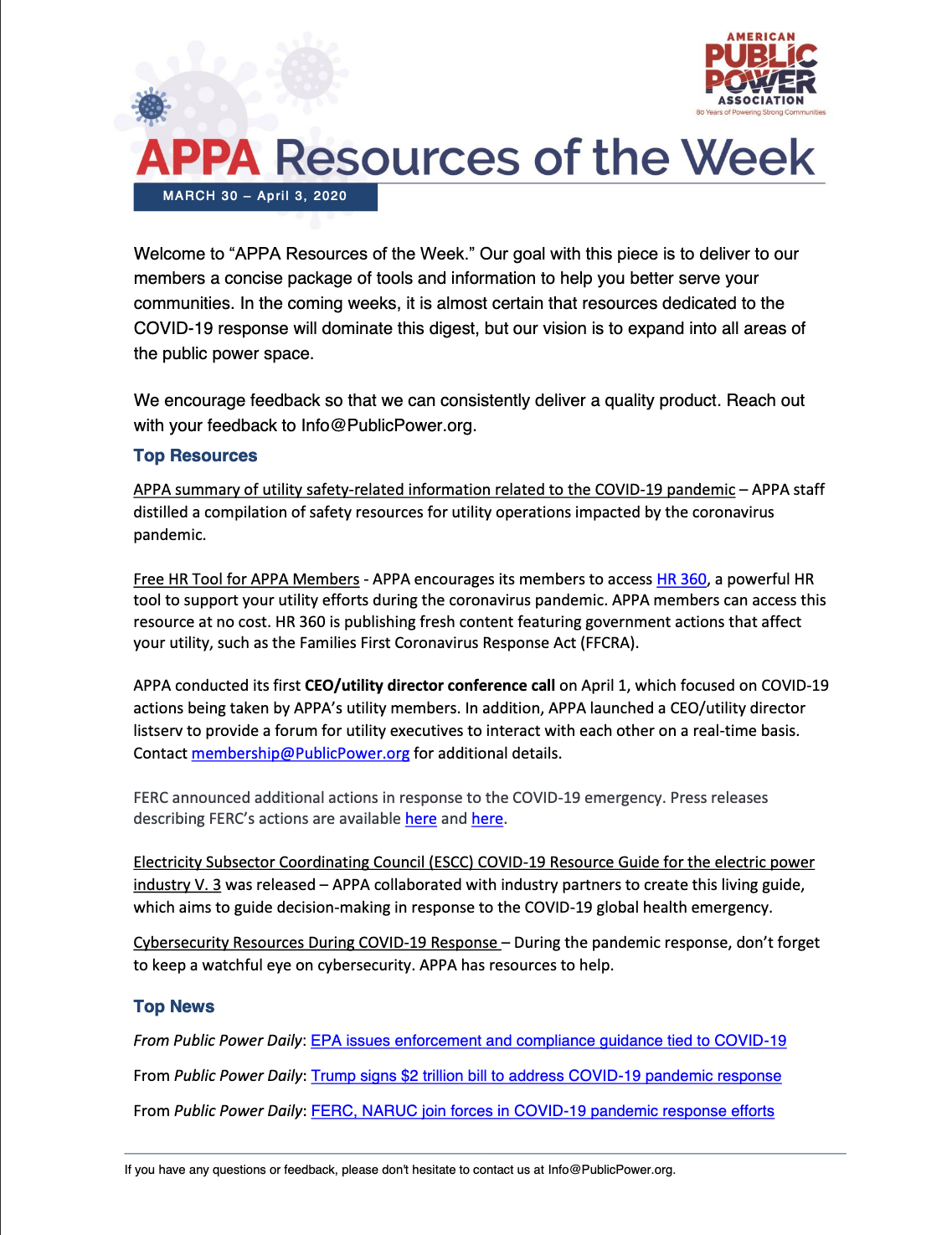 True to form, the National Hurricane Center's forecast for a busy storm season has come true with a record-breaking storm season that has—to date—seen nine total storm landfalls. Last week saw another hurricane impact, this time primarily impacting Alabama and a small portion of the Florida panhandle. The public power Mutual Aid Working Group swung into full action again to support those hardest impacted. Currently, there are crews from Florida and northern Alabama assisting their peers who were impacted in the southern Alabama area.
Thanks again to the public power responders who have helped their communities recover from these severe storms.
APPA continues to produce a Member Resources Digest which highlights the top news stories and resources relevant to public power and that is easy to forward to your colleagues. We have received feedback from some of you indicating that this piece provides value, so I urge you to review it and forward it within your utility.
Government Relations and Policy Activities
With only a few weeks left on the congressional calendar before Members of Congress go home to campaign, it appears unlikely that the White House, Republicans, and Democrats will reach an agreement on COVID-19 relief legislation. House Speaker Nancy Pelosi has said she will keep the House of Representatives in session until a deal is reached, but has said it is "hard to see" Democrats accepting a deal that doesn't provide at least $2.2 trillion in funding. While the President last week said he was open to spending more money on a package, Senate Republicans have made it clear they do not support spending another $2.2 trillion on COVID-relief legislation. Federal Reserve Board Chairman Jerome Powell will provide testimony to Congress this week calling for additional COVID-related assistance to provide economic stimulus. It remains to be seen if his call for another COVID-relief package will be heeded by Congress.
APPA continues to advocate for public power's priorities in a future COVID-19 relief bill with our top priority being the inclusion of a forgivable loan program for public power utilities impacted by customer non-payments due to the pandemic. Again, many public power utilities may never need to use this loan program, but we believe that it is important that it exists for those located in communities hit hard by the pandemic. We strongly encourage all APPA members to reach out to their Senators and Representatives to express support for the inclusion of this language in the COVID-19 package should negotiations resume.
In regulatory news, the Federal Energy Regulatory Commission (FERC) issued its long-awaited rules addressing the participation of aggregated distributed energy resources (DERs) in RTO/ISO markets. The rules include an important provision supported by APPA that will allow small utilities to decide whether DERs on their systems may participate in FERC-regulated markets. This small utility "opt-in" feature will cover the vast majority of public power utilities.
Operations and R&D Activities
I'm proud to announce a new partnership between APPA and the U.S. Department of Energy's National Community Solar Partnership (NCSP) to expand access to technical assistance for public power utilities working on providing community solar. Public power utilities are invited to join this partnership and gain access to direct technical assistance resources and a peer-to-peer network of other public power utilities focused on accelerating the delivery of community solar to American households. Please email [email protected] if you are interested in more information.
There is one week left to apply for APPA's Reliable Public Power Provider (RP3) Program designation, which is due September 30. The RP3 application helps ensure utilities are following leading practices in reliability, safety, workforce development, and system improvement. For utilities looking at doing better benchmarking and analysis in the reliability area, a webinar is being held October 13, to provide a demonstration and training on the eReliability Tracker service, so please feel free to join.
APPA/DOE Cybersecurity Cooperation
I am excited to announce that the Department of Energy's (DOE) Office of Cybersecurity, Energy Security, and Emergency Response (CESER) has announced cooperative agreements totaling $12 million over a three-year period to develop and deploy cyber and cyber-physical solutions for distribution and municipal utilities. Funding for this congressionally directed initiative will be split between APPA and NRECA. Stay tuned for more information.
As a reminder, our current round of cybersecurity program funding from DOE is coming to an end on September 30. All of the guidance documents that have been developed are still available for download at PublicPower.org. We hope that all members will continue to use these resources to further enhance their cybersecurity programs.
The Cybersecurity Scorecard program will remain available at no cost until September 30. APPA is continuing to look at options to support this tool and other services that would benefit public power utilities on their cyber journey. Please direct any questions to [email protected].
Federal Government and Industry Partner Activities on Response to COVID-19
We continue to work with you, others in the electric utility industry, and our government partners to gather and share up-to-date information, best practices, and guidance to help you and your fellow public power utility staff maintain safety and operational integrity. To that end, we have a COVID-19 listserv for members to share information pertaining to the pandemic. For more information on the webinar series or the listserv, email [email protected]. And continue watching this page dedicated to COVID-19 activities, which also contains a link to the ESCC COVID-19 Resource Guide.
Education & Training - Business & Financial Virtual Conference begins Monday
Next on the calendar for the Academy is the Legal & Regulatory Virtual Conference which will be held Oct. 13-14 via Zoom. The agenda includes two days of keynotes, breakout sessions, and networking opportunities for energy attorneys and regulatory personnel. A wide range of topics including legislative and regulatory issues, COVID-19 impacts, transmission, compliance, employment law and ethics issues, among others will be addressed.
Also in October will be the Customer Connections Virtual Conference, Oct. 27-28 featuring numerous educational sessions and networking opportunities for public power professionals working in the areas of communications, customer service, key accounts, and energy services. Visit the APPA website for the full agenda and registration information. 
APPA's Academy has numerous other training opportunities available throughout the remainder of the year, with programs and formats designed to meet a variety of needs – short webinars, in-depth classes, topical summits, and in-depth conferences. More details and a full list of APPA's education programs are available at www.publicpower.org/education-and-events. If you have any questions about APPA meetings or events, please reach out to [email protected].
We remain committed to serving the public power community effectively. Please keep in touch and let us know what we can do to help.
COVID-19 Webinars
Resources
[Click here for a download option to share the video on social and in your community.]
APPA Resources
Information Hubs

Information Hubs (cont.)

Department of Homeland Security

State Resources
Additional Resources