Public Power COVID-19 Information Hub
Updated: July 9, 2020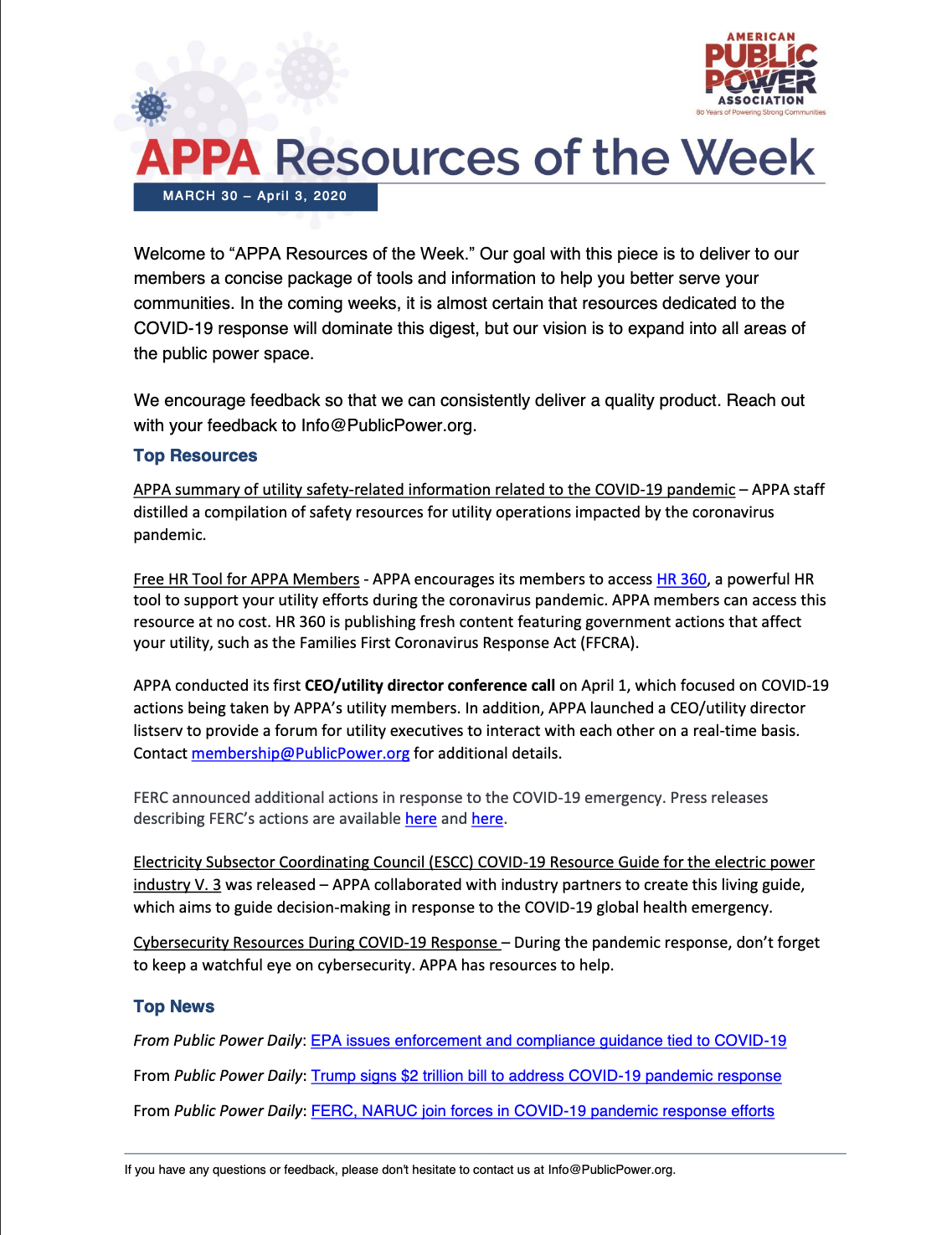 The public power community owes a debt of gratitude to House Energy and Commerce Committee member Doris Matsui (D-CA). A longtime champion of public power and her hometown utility SMUD, Rep. Matsui has stepped up again and written a "Dear Colleague" letter ensuring that public power utilities are not left out of COVID-19-related financial assistance measures introduced in the House. More information about the context of this request is below under "Government Relations and Policy Activities."
If you haven't already, I humbly ask that you contact members of your congressional delegation and request that they sign on to the letter. The deadline for signing on to the letter is tomorrow, so there's no better time to act than now.
We at APPA continue to produce a "Resources of the Week" piece, which highlights the top news stories and resources relevant to public power. We have received feedback from members indicating that this piece provides value, so I urge you to check it out.
Federal Government and Industry Partner Activities on Response to COVID-19
We continue to work with you, others in the electric utility industry, and our government partners to gather and share up-to-date information, best practices and guidance to help you and your fellow public power utility staff maintain safety and operational integrity. As part of this effort, we are holding frequent webinars for members to collaborate on this issue. We also have a COVID-19 listserv for members to share information pertaining to the pandemic. For more information on the webinar series or the listserv, email [email protected]. And check out the page on APPA's website dedicated to COVID-19 activities.
Working with APPA and others, the Electricity Subsector Coordinating Council (ESCC) has recently updated its Resource Guide. This is Version 9 of the guide, and it includes additional planning considerations for contact tracing during mutual aid events as well as additional guidance on planning a transition from remote work back to the workplace. Updated and new information since Version 8 is highlighted for quick reference. In addition, we are working with the ESCC to compile an interim after action report, which will include feedback from utilities that have utilized the ESCC Resource Guide and been involved in the ESCC COVID-19 efforts. If you have any feedback on those efforts that you would be willing to share, please email Sam Rozenberg at [email protected].
Government Relations and Policy Activities
APPA staff continues to work with congressional staff on the development of a forgivable loan program that would provide assistance to public power utilities negatively impacted by COVID-19. Senate Majority Leader Mitch McConnell (R-KY) recently stated that the Senate will consider one last COVID-19 bill this year. Senate Republicans are having discussions with the White House on what should be included in the bill and are expected to then talk with House and Senate Democrats to see where there are shared priorities. We expect the legislation to be put together this month and considered before the August recess.
The House of Representatives continues to seek ways to address the economic consequences of the pandemic. Last week, it passed comprehensive infrastructure legislation that seeks to boost the economy by funding key infrastructure investments and getting individuals back to work. H.R. 2, the Moving Forward Act, includes previously introduced or drafted bills, including the Leading Infrastructure for Tomorrow's America (LIFT America) Act, the Growing Renewable Energy and Efficiency Now (GREEN) Act, and the Investing in a New Vision for the Environment and Surface Transportation in America (INVEST in America) Act. Key provisions of interest to public power include:
Comparable incentives – it would provide public power utilities with direct access to energy-related tax credits (i.e., wind, solar, carbon capture, and newly created energy storage tax credits);
Reinstatement of the ability to issue tax-exempt advance refunding bonds;
Increasing the small-issuer exception from $10 million to $30 million;
Reinstatement of the ability to issue direct payment bonds, which would be protected from budget sequestration;
Creation of a grant program for the deployment of electric vehicle charging infrastructure that public power utilities would be able to apply for; and
Creation of an energy storage demonstration program at the Department of Energy, for which public power utilities would be eligible.
The restoration of advance refunding bonds and increasing the small-issuer exception are two items I highlighted in my May 8, letter to House and Senate leadership that would help public power utilities with longer-term financing needs given that the Municipal Liquidity Facility, which was created in the CARES Act, is designed as a lender of last resort for short-term debt. The legislation also would provide public power utilities with comparable incentives for various energy-related tax credits, a key priority of APPA. We are pleased that the Moving Forward Act includes these important policy priorities.
Senate Republicans have stated they do not intend to consider the Moving Forward Act and called on House Democrats to instead move bipartisan legislation to fund transportation and water infrastructure projects (such as a reauthorization of the Fixing America's Surface Transportation Act and a new Water Resources Development Act [WRDA]). With the November elections fast approaching, it is unclear if Congress will reach consensus on a surface transportation or WRDA bill.
Seeking to address member concerns about rising electric transmission costs, APPA recently filed comments objecting to proposed Federal Energy Regulatory Commission rules that would offer more lucrative rate incentives to transmission owners. APPA argued that the proposed rules would increase transmission costs without providing corresponding benefits to consumers. 
Education & Training
After careful consideration we have made the decision to transition three of APPA's fall conferences (Business & Financial Conference, Customer Connections Conference, and Legal & Regulatory Conference) to virtual events.
Many factors played into the decision for each of these events, and each was evaluated independently. We were hoping to offer these meetings as hybrid events, with both an in-person and virtual option, and were hoping to see many of our members in person. However, given ongoing travel and budgetary restrictions in place at some of our member utilities, as well as ongoing health concerns, we feel that these programs are best held as exclusively virtual events. 
Feedback from last year's attendees was very valuable and played an important role in our final decision. While some of our members were eager to attend an in-person event, many of our members, including speakers, are still facing travel restrictions. In addition, cost was a significant factor in our decision, both from APPA's perspective and from an attendee perspective. We hope that by offering the programs virtually, more attendees will be able to participate despite travel and budgetary restrictions.  
Our goal, as always, is to offer our members the highest quality programming possible and at this time we feel that offering these conferences virtually is the best way to do that. Registration for all three conferences is now open.  
In addition to these fall conferences, we are offering several virtual summits, in-depth classes, and webinars throughout the remainder of the year. These include:
Wholesale Markets Summit, July 14, where public power and other thought leaders can learn from each other, share perspectives and discuss where reforms are needed to RTO/ISO-operated wholesale markets and governance.
Public Power Leadership Summit, August 11, for new and upcoming leaders to envision the future of our industry and learn new leadership strategies, skills, knowledge, and techniques to succeed in a time of change.
Public Power Forward Summit, November 10, where experts and visionaries will discuss new technologies, customer expectations and how public power can move beyond providing the electricity that powers the technologies of the future and lead our communities to rethink how we live, work, and connect.
While we are looking forward to holding in-person events in the future, we are fully committed to offering education and training in ways that meet the needs of our members in the format that works best under the circumstances, whether that be virtual and online, in-house or in-person, when the latter returns as an option. 
If you have any questions about APPA meetings or events, please reach out to [email protected].
If you have any questions or feedback, please don't hesitate to contact us at [email protected]. 
APPA remains committed to serving the public power community effectively. Please keep in touch and let us know what we can do to help.
COVID-19 Webinars
Resources
[Click here for a download option to share the video on social and in your community.]
APPA Resources
Information Hubs

Information Hubs (cont.)

 

Department of Homeland Security

State Resources
Additional Resources