Public Power COVID-19 Information Hub
Updated: January 29, 2021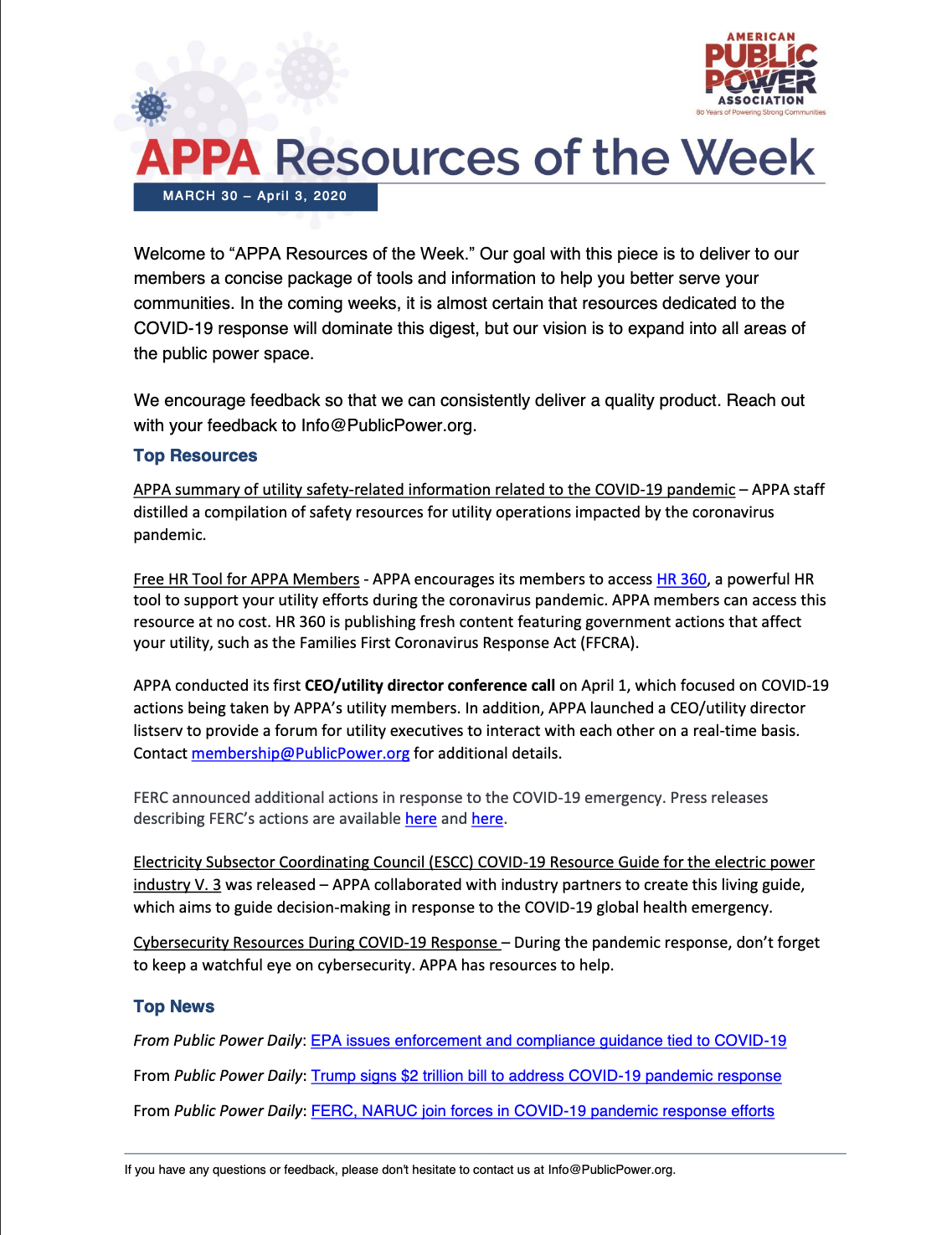 As usual, there's a lot going on in Washington, D.C., and at APPA including new Administration action around COVID-19 relief and environmental issues. So, I'll be brief in my introductory remarks before jumping into the (many) updates.
Beginning Tuesday, February 2, APPA's newsletter will be published Tuesday through Thursday as Public Power Current. We are excited to bring you more tailored content with a refreshed look and added features while maintaining timely sharing of news. For the first time, we are including the ability to promote your utility's RFPs and RFIs to vendors and will continue to provide reminders about upcoming deadlines, and quick links to our new Public Power Now podcast and latest videos.
We recently released episode four of Public Power Conversations—our web series featuring my interviews with experts from a variety of areas. In the newest episode, I spoke to cybersecurity "warriors" from the City of Bryan, Texas. I urge you to check out the episode as it was a fun conversation featuring some great information.
As a reminder, you have just a couple days left to nominate your utility or a peer for APPA's individual and utility awards. Take a look at the offerings at PublicPower.org/Awards. The deadline for entries is January 31.
APPA continues to produce a Member Resource Digest which provides highlights from this report with the top news stories and resources relevant to public power and that is easy to forward to your colleagues.
Government Relations and Policy Activities
New Executive Orders. On his first day in office, President Joe Biden issued a series of executive orders (EO) on January 20 to freeze and review regulations and actions undertaken during the Trump Administration. One EO seeks to substantially shift the federal response to the COVID-19 pandemic. The EO creates the position of COVID-19 response coordinator, who will report directly to the president and be responsible for coordinating all elements of the COVID-19 response across government, including managing efforts to produce, supply, and distribute personal protective equipment (PPE), vaccines, and tests. APPA will seek to engage with the new Biden Administration at all levels to ensure a better coordinated and reliable response to this pandemic.
COVID-19. In addition, the Biden transition team released a plan to "Combat Coronavirus (COVID-19) and Prepare for Future Health Threats" just days before Biden was sworn in as president. It calls for $1.9 trillion to be spent to support families and businesses until the COVID-19 vaccine is widely available. Of note to public power, it would provide $1,400 to most Americans; increase unemployment insurance benefits and extend the federal benefit through the end of September 2021; provide $350 million in state and local aid; allocate $50 billion to COVID testing; and $20 billion to a national vaccine program. House Democrats are now beginning their drafting of legislation based on the Biden-Harris plan.
COVID-19 & LIHEAP. It is likely the House will vote on a COVID-19 package in February. APPA is pushing for Congress to include an additional $10 billion appropriation for the Low Income Home Energy Assistance Program (LIHEAP), as well as temporary programmatic changes to the program to increase the income threshold to 200 percent the federal poverty level, require states to waive the asset tests for eligibility and increase the administrative spending cap from 10 percent to 15 percent to assist states struggling to manage the program and expand outreach teams. Additional funding for LIHEAP and these programmatic changes are needed to help Americans who are still struggling to pay their bills.
APPA is also seeking to have Congress provide public power utilities with access to payroll tax credits to offset the cost of federally mandated emergency paid sick leave and emergency paid family leave imposed on state and local governments in COVID-relief legislation enacted into law last year
Outlook: Senate Republicans have expressed concerns with passing another $1.9 trillion relief package after just passing a relief package in late December. They have criticized the inclusion of an increase in the minimum wage that is expected to be included in the legislation. If there is not sufficient support for a bill in the Senate, Democrats may use the budget reconciliation progress to move a bill. Under budget reconciliation, a bill is privileged and cannot be filibustered in the Senate (thus only requiring a 51-vote margin to be adopted).
Environmental Updates
Status of the Clean Power Plan/Affordable Clean Energy Rule. On January 19, 2021, on the eve of President Biden's inauguration, in American Lung Association, et al. v. EPA, the US Court of Appeals for the District of Columbia Circuit overturned the Environmental Protection Agency's (EPA's) Affordable Clean Energy (ACE) Rule, which sought to replace the Clean Power Plan (CPP). Both rules sought to regulate carbon dioxide (CO2) emissions from existing electric generating units (EGUs) under Section 111(d) of the Clean Air Act (CAA).
The D.C. Circuit's vacatur of the ACE Rule and remand of the actions to EPA give the new Administration an opportunity to begin crafting a replacement rule without having to first propose to rescind the ACE rule. The Administration could conceivably move quickly to develop a new rule to address CO2 emissions from existing EGUs.
The majority opinion rejected the EPA's interpretation in the ACE Rule, finding that the CAA does not unambiguously limit the best system of emissions reduction to measures taken at the regulated source. The court vacated all three of the EPA's actions in the ACE Rule and remanded the matter to the EPA for action consistent with its opinion. The court also rejected the EPA's policy-based arguments against allowing averaging and trading or co-firing biomass as compliance measures.
Outlook: The Biden Administration may find the majority's supportive observations about generation shifting as well as averaging and trading as compliance measures useful as it crafts a replacement rule. The D.C. Circuit's decision has followed years of rulemaking efforts and litigation. However, it remains to be seen whether petitioners that supported ACE will seek Supreme Court review. Further, a replacement rule under the new Administration could be reviewed by the Supreme Court where a conservative majority is likely to be skeptical of the breadth of the EPA's regulatory authority under CAA section 111(d).
Climate Change & Environmental Justice. On his first day in office, President Biden issued an Executive Order titled "Protecting Public Health and the Environment and Restoring Science to Tackle the Climate Crisis." The Executive Order directs EPA and other agencies to undertake the immediate review of agency actions taken over the last four years. In conjunction with the Executive Order, the Biden White House published a "List of Agency Actions for Review," referencing more than 100 regulations and other executive actions issued by the previous administration that the new administration will scrutinize over the coming days. Climate change and environmental justice were key pillars of President Biden's campaign platform, and the Executive Order demonstrates the Biden Administration's intention to move quickly on those issues and other environmental regulations issued under the past Administration.
Outlook: A number of regulatory actions flagged for review are important to public power such as the Mercury and Air Toxic Standards Supplemental Finding Reconsideration and Residual Risk and Technology Review, Review of the National Ambient Air Quality Standards for Particulate Matter, Reissuance of Nationwide Permits, Steam Electric Effluent Limitation Guidelines Reconsideration, a suite of rule related to the Hazardous and Solid Waste Management System: Disposal of Coal Combustion Residuals and the Navigable Waters Protection Rule: Definition of 'Waters of the United States.'  APPA is closely monitoring developments for our members.
Operations and R&D Activities
COVID Vaccine Prioritization. As progress is made on distributing vaccines for COVID-19, APPA continues to encourage you to engage in a dialog with your local and state health officials about prioritization of electric utility workers. APPA, working with members, has drafted a template letter that utility organizations can send to their local and state government leaders, requesting vaccine prioritization. At the federal level, APPA, through its leadership in the Electricity Subsector Coordinating Council and outreach to the Federal Energy Regulatory Commission (FERC), encouraged FERC to send a letter to the Centers for Disease Control encouraging CDC to prioritize vaccination for mission-essential electric industry workers.
Outlook: Although the CDC did not modify its guidelines in response to the FERC letter, APPA will continue to communicate to federal policymakers the importance of prioritizing vaccines for mission-essential electric workers. Additionally, former Energy Secretary Dan Brouillette sent letters to the governors of 55 states and territories asking them to prioritize critical infrastructure mission-essential workers for the COVID-19 vaccine. Brouillette specified in his letter that the critical infrastructure workforce in both the public and private sectors, "including those at the Department of Energy's (DOE) Power Marketing Administrations (PMAs) and National Nuclear Security Administration (NNSA) sites," should be included in vaccine prioritization. APPA acknowledges that vaccine prioritization for the electric utility workforce should be after that of healthcare workers and the most vulnerable. Please email Sam Rozenberg at [email protected] with any questions.
Education & Training – Last Chance to Register for the Joint Action Virtual Conference!
There's still time to register for APPA's Joint Action Virtual Conference which will be held next Thursday and Friday, Feb. 4-5.
The conference provides an opportunity to hear from the experts, catch up with colleagues and friends, and share your perspectives on the new and evolving challenges facing joint action agencies and public power utilities.
Topics include:
What to expect in the new Congress
Putting clean energy standards into practice
How electricity markets are reshaping joint action
New services for emerging utility needs
Managing renewables
The future of cybersecurity
More details on the Joint Action Virtual Conference and other upcoming conferences, courses, and webinars are available on the APPA website under Education & Events.
For more information, contact [email protected].
Federal Government and Industry Partner Activities in Response to COVID-19
Click here for a full overview of the Federal Legislative Response to the COVID-19 Pandemic
We continue to work with you, others in the electric utility industry, and our government partners to gather and share up-to-date information, best practices, and guidance to help you and your fellow public power utility staff maintain safety and operational integrity during the pandemic. To that end, we have a COVID-19 listserv for members to share information pertaining to the pandemic. For more information, email [email protected]. And please refer to the page on APPA's website dedicated to COVID-19 activities, which also contains a link to the ESCC COVID-19 Resource Guide.
We remain committed to serving the public power community effectively. Please keep in touch and let us know what we can do to help.
COVID-19 Webinars
Resources
[Click here for a download option to share the video on social and in your community.]
APPA Resources
Information Hubs

Information Hubs (cont.)

Department of Homeland Security

State Resources
Additional Resources