Public Power COVID-19 Information Hub
Updated: January 12, 2021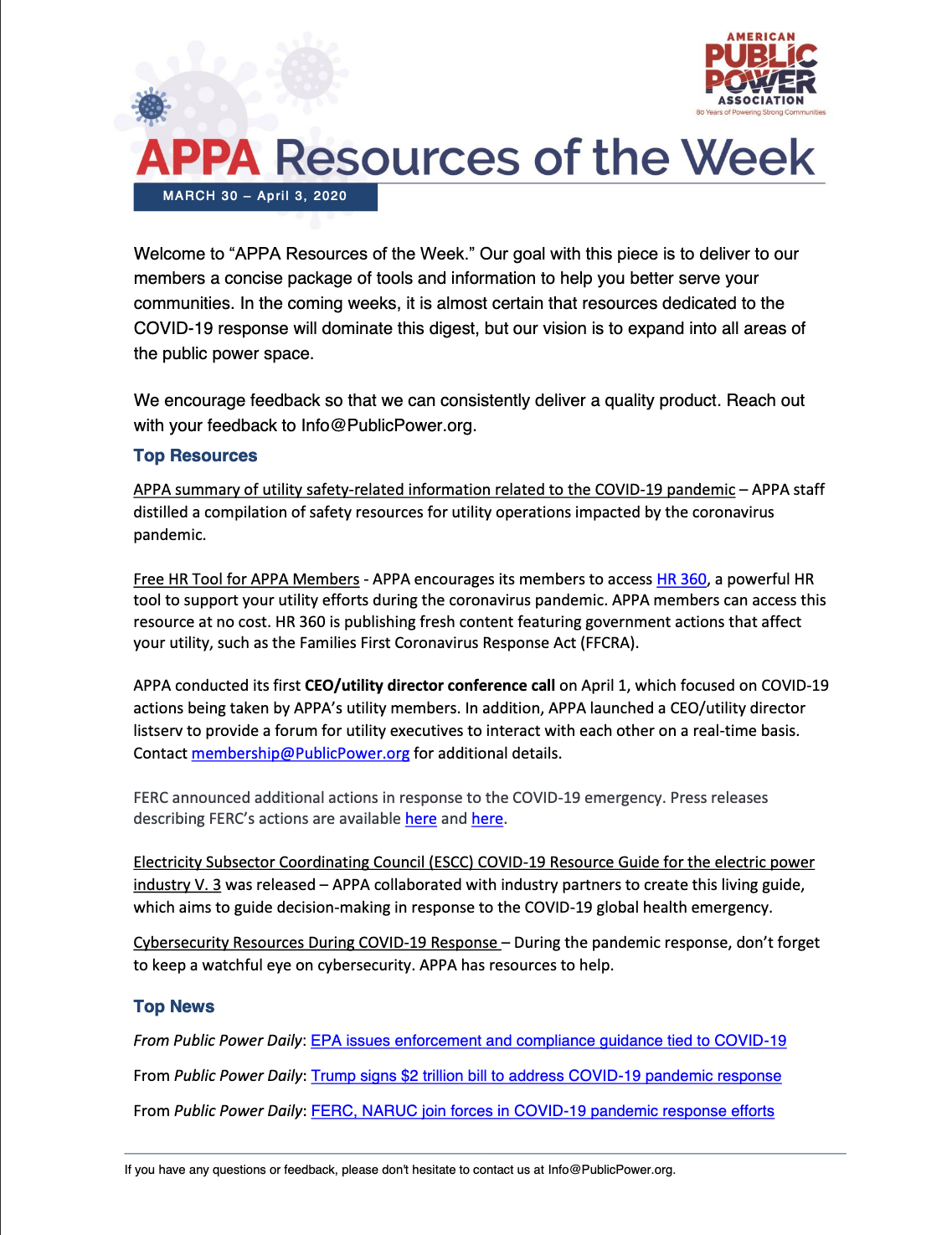 Happy New Year! I look forward to a better year in 2021 and remain optimistic about the future. We at APPA are committed to working with Congress and the new Administration as they develop their respective agendas and policy priorities. We remain well positioned to advocate in a bipartisan way for public power's interests pertaining to future COVID-19 relief, legislative and regulatory action on climate change, grid security, infrastructure investment, and more. But we'll need your help to speak with a unified voice. I strongly encourage you to sign up for our virtual Legislative Rally in March, the details of which are below.
As a reminder, you have just a couple weeks left to nominate your utility or a peer for APPA's individual and utility awards. Take a look at the offerings at PublicPower.org/awards. The deadline for entries is January 31.
APPA continues to produce a Member Resource Digest which highlights the top news stories and resources relevant to public power and that is easy to forward to your colleagues. We have received feedback from some of you indicating that this piece provides value, so I encourage you to review it and forward it within your utility. 
Government Relations and Policy Activities
On December 27, President Trump signed into law H.R. 133, the Consolidated Appropriations Act of 2021, the $2.6 trillion end-of-year bill, that includes roughly $900 billion in COVID-19 relief, $328 billion in tax relief, and $1.4 trillion in fiscal year 2021 spending. Enactment of the bill was the last substantive legislative action taken during the 116th Congress, which officially ended on January 3.
The bill included several items of potential benefit to public power utility customers $3.75 billion for the Low Income Home Energy Assistance Program (LIHEAP) and $25 billion for a new rental assistance program that can be used to pay utility bills. The law also provides $284 billion for a second round of Paycheck Protection Program loans to small businesses, 40 percent of which can be used to pay fixed costs including utility bills and creates a new $15 billion program for the relief of shuttered entertainment venues, the proceeds of which can be used for wages, and fixed costs, including utilities. APPA has already begun work to encourage public power utilities to make their customers aware of these programs and to work with state and local agencies to ensure that there are no unnecessary roadblocks to these new funds being used to help customers pay their utility bills. In addition, APPA will continue to work with other stakeholders to try to secure supplemental funding for LIHEAP in 2021.
Public power utilities would also directly benefit from the extension through March 14, 2021, of federal support covering 50 percent of the costs of unemployment benefits for employees of state and local governments and non-profit organizations. However, the bill did not include a forgivable loan program APPA had been seeking for its members. While we had strong support for the concept, we were unsuccessful in getting the language included in this relief package. We will be analyzing ways we can improve our chances of getting such language in the future and will also continue to seek data from our members as to the ongoing impacts of COVID-19 on their liquidity and operations.
The bill also includes a bipartisan, bicameral compromise energy package that would invest over $35 billion in energy research and development over the next decade. Covering a broad range of topics, the bill authorizes Department of Energy (DOE) programs on nuclear power, energy storage, energy efficiency, carbon capture, wind energy, solar energy, and grid modernization, among others. Notable items for public power include the authorization of an energy storage pilot program for which public power utilities would be eligible to apply, the creation of an energy storage and microgrid technical assistance program for rural electric co-ops, public power distribution utilities, or non-profits working with those entities, and language substantially similar to the Energy Savings Through Public-Private Partnerships Act of 2019 (S.1706/H.R.3079), related to the use of energy savings performance contracts (ESPCs) by federal entities, which carves out the use of ESPCs at federal hydropower facilities that APPA supports.
Since then, the 117th Congress formally began at noon on January 3. In the House, where Democrats retain a narrow majority, Representative Nancy Pelosi (D-CA) was re-elected to serve as Speaker of the House. The House also approved new rules that would remove some procedural hurdles against consideration of climate change legislation and additional COVID relief. In the Senate, Democrats won both runoff races in Georgia, which will give them effective control of the Senate once Kamala Harris is sworn in as Vice President. She will be the potential tie-breaking vote in the evenly divided Senate (50 Republicans and 48 Democrats, plus two independents that caucus with Democrats). The Senate now must develop an organizing resolution to organize committees and establish certain authorities for the 117th Congress.`
Operations and R&D Activities
APPA is working with its industry and government partners to gather and disseminate information on the SolarWinds and related supply chain compromises as it becomes available. Please see the resources for detection and countermeasures provided by the Cybersecurity and Infrastructure Security Agency (CISA) at CISA.gov. APPA has joined with its peer organizations in activating the Electricity Subsector Coordinating Council (ESCC) to help coordinate on issues related to this incident and we encourage you  to take the actions advised in the E-ISAC's "All Points Bulletin."
APPA Safety Awards of Excellence ("Safety Awards") are open for entries, your organization must submit the online entry form by January 31, 2021. APPA staff has also begun to analyze and generate the eReliability Tracker Annual Report, and ask any eReliability Tracker users to verify their data in the tracker by January 15, 2021. Please reach out to [email protected] with any questions.
Don't forget about the DEED program's funding opportunities available for the spring 2021 funding cycle. DEED members may apply for a grant, up to $125,000, to co-fund an innovative project and up to $5,000 to support student internships, research grants, and lineworker & technical education scholarships.  If you're a DEED member, I urge you to apply for a project grant or student internship by the Feb. 15, 2021, deadline. DEED membership is open to all public power utilities, joint action agencies, and state and regional associations who are APPA members.
Also, please nominate your utility for a DEED Award and earn recognition for research excellence and creative accomplishments. DEED members are invited to apply for the 2021 Award of Continued Excellence (ACE) and the Energy Innovator Award (EIA) by January 31. Learn more about the awards and past winners at PublicPower.org. Questions? Reach out to [email protected].
APPA continues to receive applications for the 2021 Smart Energy Program (SEP). If you want your utility to be recognized for its work in energy efficiency, distributed generation, renewable energy, and environmental initiatives can read more and apply at PublicPower.org. The application period closes April 30.
As progress is made on distributing an effective vaccine for COVID-19, APPA continues to encourage you to engage in a dialog with your local and state health officials about prioritization for electric utility workers. APPA, along with a number of industry trade associations and unions recently sent a letter to the national organizations representing state and local government leaders requesting that they encourage their members to reach out to the individual electric and natural gas utilities in their states to discuss vaccine prioritization for mission-essential workers who choose to receive a vaccination. Additionally, APPA, working with members, has drafted a template letter that utility organizations can send to their local and state government leaders, requesting vaccine prioritization. APPA acknowledges that vaccine prioritization for the electric utility workforce should be after that of healthcare workers and the most vulnerable. Please email Sam Rozenberg at [email protected] with any questions.
We are still looking for utilities to be involved in our collective efforts to enhance cybersecurity culture and posture at public power utilities, so if you have any input on this effort or know anyone who might be interested in joining with APPA to help lead this effort, please email [email protected]. The next meeting of the member APPA Cyber Defense Community (CDC) working group is scheduled for January 14, 2021.
Education & Training – New Virtual Training for Governing Boards
The APPA Academy will be holding a 3.5-hour virtual class on March 11 for newly elected or appointed policymakers, though experienced policy officials will also benefit. Utility managers are encouraged to attend with their commissioners, utility board, or council members.
Best Practices in Public Power Governance provides detailed training on understanding and communicating the value of public power, strategies for successful board operations, the duties and legal obligations of governing officials, and techniques for board development and communications. Attendees will receive a complimentary copy of APPA's new Policymakers Manual.
We also have a robust catalog of virtual training opportunities scheduled for the first half of 2021, including conferences, in-depth classes, webinars, and workshops. More details on these training opportunities are available on the APPA website under Education & Events.
For more information, contact [email protected].
Federal Government and Industry Partner Activities in Response to COVID-19
Click here for a full overview of the Federal Legislative Response to the COVID-19 Pandemic
We continue to work with you, others in the electric utility industry, and our government partners to gather and share up-to-date information, best practices, and guidance to help you and your fellow public power utility staff maintain safety and operational integrity during the pandemic. To that end, we have a COVID-19 listserv for members to share information pertaining to the pandemic. For more information, email [email protected]. And please refer to the page on APPA's website dedicated to COVID-19 activities, which also contains a link to the ESCC COVID-19 Resource Guide.
We remain committed to serving the public power community effectively. Please keep in touch and let us know what we can do to help.
COVID-19 Webinars
Resources
[Click here for a download option to share the video on social and in your community.]
APPA Resources
Information Hubs

Information Hubs (cont.)

Department of Homeland Security

State Resources
Additional Resources