Public Power COVID-19 Information Hub
Updated: November 20, 2020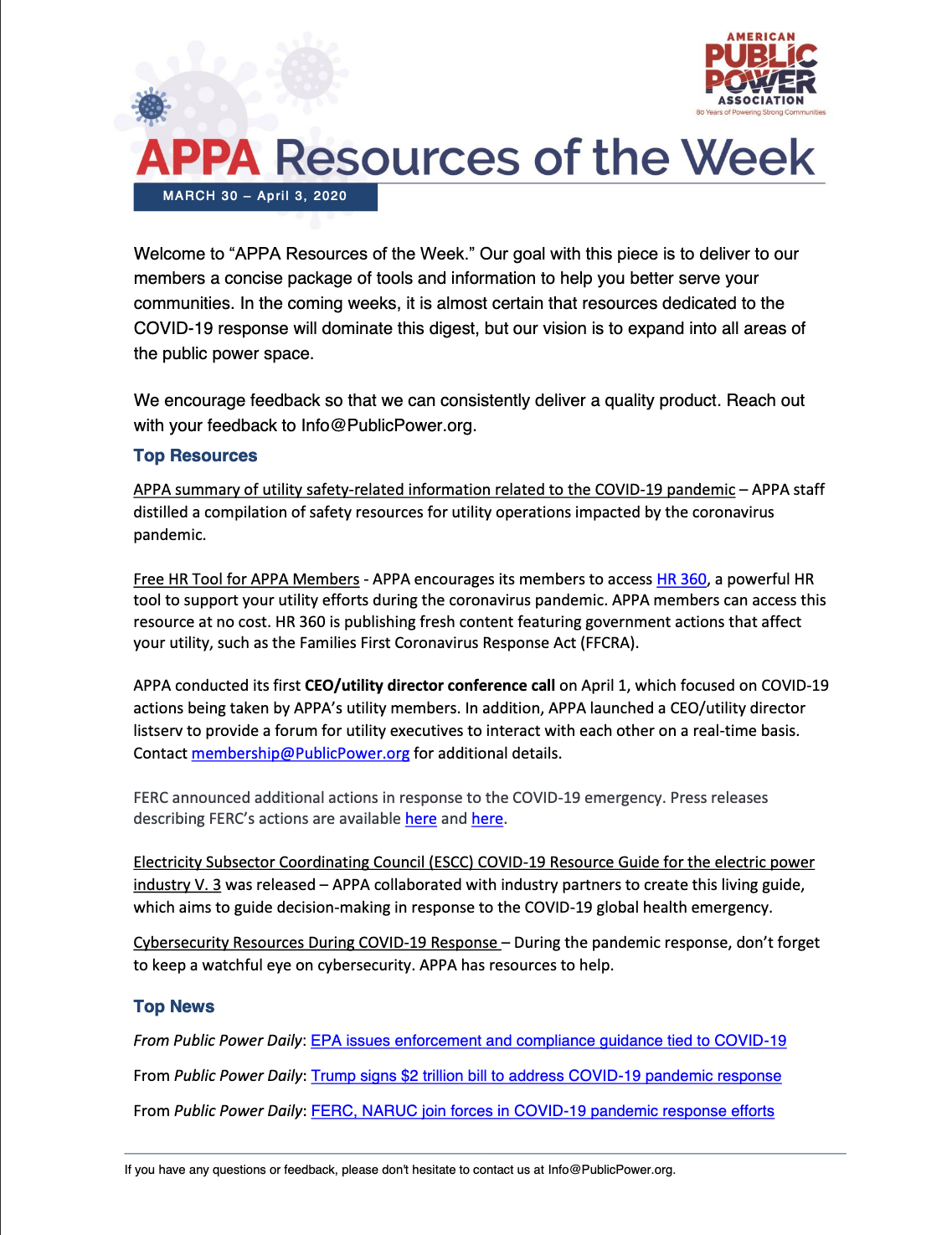 As we head toward Thanksgiving, I want to take a moment to reflect on the many things for which I'm thankful – first and foremost, my faith in a loving God, my husband and sweet girls as well as the rest of my family and friends, colleagues here at APPA and throughout public power, our country and its foundation of freedom, and the fact that so many in public power and our industry have stepped up to keep the lights on during this unexpected and tragic pandemic.  The latter is not surprising given what I know about the ongoing sacrifices our essential workers make to provide electricity day in and day out, but it is still a miracle of service and self-sacrifice that should be acknowledged.
APPA continues to produce a Member Resource Digest, which highlights the top news stories and resources relevant to public power and that is easy to forward to your colleagues. We have received feedback from some of you indicating that this piece provides value, so I encourage you to review it and forward it within your utility.
Government Relations and Policy Activities
We are still awaiting the results of the November 3, elections. House Democrats have retained their majority, but have lost some seats. Senate Republicans may have held onto their majority, but we won't know for sure until January when runoffs occur for both Senate seats in Georgia. Joe Biden appears to be the President-elect, and we are planning accordingly for a Biden Administration. Many states have certified their votes, but some have not yet done so. On December 14, the Electoral College will meet to cast their ballots. The new president will be sworn in on January 20. APPA will provide members with a comprehensive post-election report later this month detailing the results and what they mean for the agenda in the 117th Congress.
There are only 12 legislative days remaining in the lame-duck session of Congress. The top priority for Congress is to fund the federal government for the remainder of fiscal year 2021 and to approve the National Defense Authorization Act. It does not appear that Congress will consider a COVID-19 bill during the lame duck session. It is more likely one will be considered early on in the new Congress. APPA will continue to push for the inclusion of its priorities in any such bill.
Registration for the 2021 virtual Legislative Rally is now open. APPA strongly encourages you to participate in this free event, which will be held on March 1 and 2. It is incredibly important that Members of Congress and their staff hear from you and other public power representatives on your legislative priorities early in the new 117th Congress. APPA will provide you with tips for meeting with your delegation virtually, updated issue briefs, and key messages document. A preliminary schedule for the event is posted to the APPA website.
Operations and R&D Activities
DEED members are invited to apply for a grant of up to $125,000 to encourage and promote energy innovation and support the development and demonstration of new technologies and techniques, as well as the creation of useful resources and new or improved services for the betterment of public power utilities and their customers. Applications opened November 1, and will close on February 15, 2021. If you are a DEED member, we hope you will consider applying.  If not, please consider DEED membership and email [email protected] for more information.  
 As progress is made on developing and distributing an effective vaccine for COVID-19, APPA continues to encourage you to engage in a dialog with local and state health officials about prioritization for electric utility workers. The National Academies of Sciences, Engineering, and Medicine recently released their final "Framework for Equitable Allocation of COVID-19 Vaccine." The final report includes the recommendation that critical infrastructure workers be considered for prioritization, based upon their job function and exposure to risks. Please email Sam Rozenberg at [email protected] with any questions.
After a successful Cybersecurity Summit and Cyber Strike workshop this week, our first meeting with members to seek input and begin planning for our Department of Energy Office of Cybersecurity, Energy Security, and Emergency Response (CESER) cooperative agreement is occurring November 19, 2:30-4 p.m. Eastern.
We are looking for your involvement in our collective efforts to enhance cybersecurity culture and posture at public power utilities, so if you have any input on this effort or know anyone who might be interested in joining with APPA to help lead this effort, please email [email protected].
Education & Training – Registration Open for 2021 First Quarter Virtual Events
The APPA Academy continues to add new events to the calendar to educate, inform and connect public power utility employees in a virtual setting.
Registration is now open for several new events:
We continue to expand our catalog of virtual courses, summits, and events and will announce additional events soon.
We are also exploring opportunities for strategic discussion and networking in both in-person and virtual settings, and will announce new opportunities as decisions are made.
Our goal, as always, is to offer you the highest quality programming possible in the format that is most appropriate given current circumstances.
For a full list of APPA's education programs visit PublicPower.org. If you have any questions about APPA meetings or events, please reach out to [email protected].
Federal Government and Industry Partner Activities in Response to COVID-19
Click here for a full overview of the Federal Legislative Response to the COVID-19 Pandemic
We continue to work with you, others in the electric utility industry, and our government partners to gather and share up-to-date information, best practices, and guidance to help you and your fellow public power utility staff maintain safety and operational integrity during the pandemic. To that end, we have a COVID-19 listserv for members to share information pertaining to the pandemic. For more information, email [email protected]. And check out the page on APPA's website dedicated to COVID-19 activities, which also contains a link to the ESCC COVID-19 Resource Guide.
We remain committed to serving the public power community effectively. Please keep in touch and let us know what we can do to help.
COVID-19 Webinars
Resources
[Click here for a download option to share the video on social and in your community.]
APPA Resources
Information Hubs

Information Hubs (cont.)

Department of Homeland Security

State Resources
Additional Resources