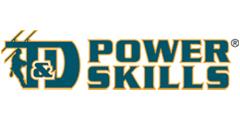 T&D PowerSkills is a comprehensive video and workbook based lineman training program that focuses on safety-related work practices that lineworkers need to know. It is designed to help lineworkers be efficient and safe on the job whether they are doing overhead, underground, meter, transmission or substation work.
All T&D PowerSkills course units are arranged in a comprehensive curriculum. The curriculum is divided into 78 units that represent major components of lineworker career tracks. Important fundamentals are covered in Maintenance Basics, such as electrical safety and basic climbing skills, moving on to more advanced topics in Overhead Distribution, such as pole top equipment replacement and transformer troubleshooting.  Specialized training is offered in Underground, Transmission and Substations.
Each course unit includes one DVD or access to the video on-line, via computer or mobile device, one Instructor's Guide and one Student Workbook.  Customization for site specific training is available upon request. Single courses, group-packs, or the entire program can be purchased.
Apprentices and Journeymen lineworkers will benefit from T&D PowerSkills training units by reducing students learning time, consistency of training delivery, and a better understanding of lineworker safety. Instructors can monitor skills development, document training as well as conduct remedial or refresher training in field.
Product Features
78 units, spanning the entire range of Lineman Training, from entry-level to journeyman level.  High quality DVD video, an Instructor's Guide and a comprehensive Student Workbook, for each unit.
Each unit highlights specific OSHA Regulations Snap-Shots pertaining to the topic discussed and where to find them in the legal record.
Each unit has an FPR (Field Performance Requirements) checklist, important in documenting field skill proficiency.
Routine updating.  Our pledge is that when safety regulations change, we will update the affected unit and send you a new DVD for our cost.
Currently, this material is being used to support several DOL BAT Certified Programs.
Available in units to support an Instructor-Led Program, or on-line through the internet to support Self-Paced Training.  The on-line Learning Management System (LMS) includes automated testing and tracking features.
Delivery Models
In this approach you would buy individual units that you wish to train with, from our list of 78 titles.  Each unit comes with a DVD/Video, an Instructor's Guide and one Student Workbook.  Additional Student Workbooks are available. 
On-line, Learning Management System
This delivery model tends to support a self-paced learning system, where the individual student sits down at a computer, logs into the T&D PowerSkills LMS, views the video and digital student workbook, and then takes an on-line test at the end of each unit.  At some point, the student comes into a central location for field skill development practice, under the guidance of an experience Journeyman. There is an annual subscription fee, a per-unit charge when used and Student Workbooks are required, as well.