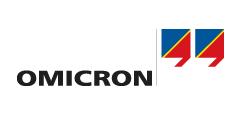 Elite Corporate Associate
OMICRON is an international company serving the electric power industry with innovative testing and diagnostic solutions. The application of OMICRON products provides users with the highest level of confidence in the condition assessment of primary and secondary equipment on their systems. Services offered in the area of consulting, commissioning, testing, diagnosis, and training make the product range complete.
Products include: Test Instruments for Protective Relays, CT's, Power Transformers, & all Substation Apparatus.  Specialized tests include Sweep Frequency Response Analysis (SFRA), Dielectric Frequency Response (DFR) & Partial Discharge (PD).  Customers in more than 150 countries rely on the company's ability to supply leading edge technology of excellent quality. Broad application knowledge and extraordinary customer support provided by offices in North America, Europe, South and East Asia, and the Middle East, together with a worldwide network of distributors and representatives, make the company a market leader in its sector.
With its policy of pioneering development OMICRON continues to lead the field in creating solutions to meet the needs of 21st century customers.
TESTRANO 600 is the world's first portable, three-phase test system, which supports all common electrical tests on power transformers. Weighing just 20 kg/44 lbs, it is ideal for routine and diagnostic testing on-site and during factory acceptance tests (FAT). In addition, its innovative design significantly reduces wiring efforts, cutting down testing time to one third compared to conventional single-phase testing.
TESTRANO 600 was demonstrated due to the T&D How video series at Knoxville Utility Board, TN/USA. With the new three-phase system, power transformers can be tested using a one-time test connection. Thus, common diagnostic tests as transformer turns ratio, exciting current, DC winding resistance, dynamic resistance, short-circuit impedance / leakage reactance as well as frequency response of stray losses (FRSL) can be measured with a single setup. By combining TESTRANO 600 with the accessory CP TD1, it can also test power/dissipation factor and capacitance up to 12 kV.
Get in touch with the innovative and simple connection concept of TESTRANO 600 and check out this short video!