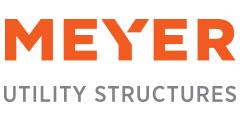 For over sixty years, the Meyer name has been synonymous with leadership, quality, and reliability in the transmission structure industry.
We were the first to develop, design, and fabricate multi-sided tubular steel transmission poles, the first to use corrosion-resistant weathering steel, the first to utilize full-scale vertical testing, and the first to develop wood-equivalent steel poles. We were the first to design and fabricate 500kV and 765kV single-circuit tubular poles and the first steel transmission manufacturer to become ISO certified.
Our team of highly experienced in-house engineers have helped author many of today's industry standards and specifications. Engineering solutions for voltages up to 765kV are designed with our proprietary software and validated through years of comprehensive real-world testing.
Our custom-engineered transmission and distribution structures are products of our meticulous methodology, unmatched capabilities, and a team of experts able to solve even the most complex application challenges. Through partnership with our sister company, Formet, Meyer Utility Structures also possesses the ability and capacity to provide an extensive array of pre-assembled and customized lattice towers and low and high profile substation steel structures."