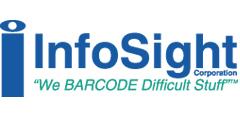 At InfoSight "We BARCODE Difficult Stuff!™". InfoSight specializes in solutions for asset identification, durable labeling of your systems, tracking and inventorying your production or processes, and compliance labeling. InfoSight's ultra-durable tags include scuff and UV resistant metal tags for asset and system labeling and heat, corrosion, abrasion, and paint resistant tags for galvanizers, fabricators and manufacturers. Tags are available preprinted or blank – to be printed with one of InfoSight's heavy-duty laser printers.
InfoSight also manufactures custom machinery for industrial applications that integrates our advanced marking, tagging, and barcode reading products to solve difficult manual and automatic identification applications for plate, slab, wire, pipe, and tube mills, and automotive plants worldwide.
You can find our tags and our bar coding equipment being used in the four corners of the world in places like labs, schools, military bases, hospitals, utility plants, steel mills, galvanization and fabrication shops, and automotive and equipment manufacturing plants.
InfoSight's line of Metal Tags are intended for a variety of harsh environments, including extended outdoor exposure, extreme temperatures, and various chemical exposure.  Our tags maintain their color and readability after extended use in these environments.  The TwinTag™and LubeTag™ are the newest additions to our lineup.  ToughTag™ remains a popular tag because of its low cost and high durability.  All of InfoSight's tags can be printed on one of our Laser Tag Printers. 
TwinTag™ is designed for environmental and maintenance departments for VOC leak detection and repair programs.   The tag is designed to be readable from both sides to easily identify the monitored points and quickly record any action taken to address issues.   TwinTag™ adds instant identification and long distance recognition with multiple colors of tags.  On-demand printing makes it easy for plants to re-use the same identification for tagged locations. 
LubeTag™ is a color-coded barcoded tag designed to make identifying lubrication points easier.  Color, alphanumeric characters, and bar codes are used to quickly identify the lubrication points, the type of lubrication necessary, and to record the work completed.  Tags can be printed on-site, meaning facilities can order lower cost blank tags and can produce the printed tags as they are needed.
ToughTag™ is an ideal low-cost barcode tracking tag for identifying industrial equipment such as valves and racks, located in harsh environments indoors or outdoors. Barcode information is imaged on the specially coated metal tag with a low power CO2 laser marker, such as the LabeLase® 1000 Tag Printer.
This durable barcode tag will survive indefinitely at temperatures up to 500°F/260°C. ToughTag™ is resistant to a wide range of chemicals and solvents, including acids, resists fading under sunlight and UV exposure, and is moderately abrasion resistant.

ToughTag™ can be made from 430-grade stainless steel, 0.008-inch/.2mm thick, with a specially developed laser markable coating on both sides. In roll form it can be 3-inches/76mm wide by 300-ft/91-meters long, and can be nick-notched in any length from 1-inch/25mm to 24-inches/610mm. It can also be supplied in die-cut form in virtually any custom size desired. A wide range of standard and custom holes and slots are available for attaching ToughTag™ to machinery.
Ideal tag for labeling assets, valves and systems for compliance, tracking, safety or maintenance.