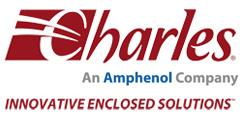 Founded in 1968, Charles Industries supplies a comprehensive line of active and passive, metallic and non-metallic environmental enclosure solutions for communications and power distribution applications.
Charles Utilities and Transportation Group provides innovative enclosure solutions including handholes, cabinets, distribution pedestals, remote terminals, pole hardware and T1 channel banks. Field proven performance, dedication to customer service, and US manufacturing excellence set Charles apart from the competition. Public power companies from small municipal utilities to multi-state investor-owned utility companies can count on Charles to safeguard their infrastructure investments for years to come.
Charles' utility solutions include:
Grade-Level HDPE and Advanced Composite Enclosures
Non-Metallic Power Distribution Pedestals
Multi-Purpose Housing
Cross-Connect Pedestals
Metallic Equipment Cabinets
Fiber Interconnect Terminals & Hubs
Fiber Splice Enclosures
Utility Riser Line Guards and Riser Pipes
Guy Wire Markers
Charles is a proud US-based manufacturer with five manufacturing center locations and a corporate headquarters and engineering lab located in Schaumburg, IL.  The company is an ISO 9001 and TL 9000 registered company.
Charles Fiber Distribution Solutions Brochure
Charles Below Grade Enclosures (CBGE) are lightweight, molded polyethylene handholes available in seven tapered rectangular and two round sizes. Designed for light duty placements (parkway/greenbelt applications), these sturdy below grade enclosures serve a variety of purposes for providing convenient access to passive equipment, cable slack and sealed fiber splice closures in IOC and municipality networks.

More Info