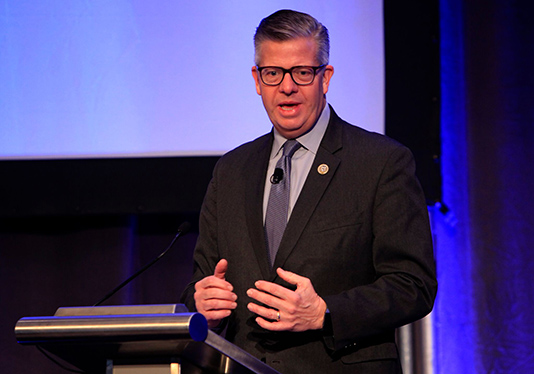 Washington D.C., February 28, 2018—Rep. Randy Hultgren (R-IL) today received the American Public Power Association's Public Service Award at the Association's Legislative Rally in Washington, D.C. 
During his tenure in the House, Rep. Hultgren has been a staunch advocate for tax-exempt municipal bonds — that public power utilities primarily use to fund new infrastructure to improve their systems. In the last decade, public power utilities issued $96 billion in municipal bonds to pay for investments that keep the lights on in millions of homes and business nationwide. A federal tax on the interest paid on these bonds would have increased the annual cost of financing these projects by more than $1 billion.
In 2016, Rep. Hultgren and Rep. Dutch Ruppersberger (D-MD) formed the Municipal Finance Caucus to strengthen municipal financing, including by protecting tax-exempt municipal bonds for states and local governments. Rep. Hultgren has authored legislation and spearheaded efforts to make bond financing — and refinancing — more flexible and affordable. A 2017 letter led by Rep. Hultgren and Rep. Ruppersberger to congressional leaders garnered 156 Republican and Democratic signatures. 
"We appreciate Representative Hultgren's outstanding leadership to protect municipal bonds," said Association President & CEO Sue Kelly. "He truly understands that tax-exempt financing is vital and helps public power utilities provide their customers affordable, safe, and reliable power."
Illinois has 42 public power utilities, which provide electricity to nearly 270,000 homes and businesses.