In the wake of severe storms that hit parts of Wisconsin over the weekend, public power crews have been deployed to assist other utilities in the state with power restoration efforts.
Tim Heinrich, Executive Director at Municipal Electric Utilities of Wisconsin (MEUW), on July 23 said that MEUW's Safety Services team has been working around the clock to match resources with the communities that need help.
MEUW is the state association representing the interests of Wisconsin's locally owned, locally controlled municipal electric utilities.
"As the storms were moving across the state late Friday afternoon, we were lining up crews to travel northward to assist with power restoration and clean up," he said in an email, noting that the storms brought down a lot of trees.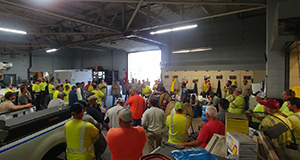 The City of Barron, Wis., was the first community to request assistance, and nine area utilities provided mutual aid. The storms continued on Saturday and three additional communities requested help.
MEUW also marshaled resources to help restore power in other Wisconsin cities including Gresham and Kaukauna.
Among the areas hardest hit is Wisconsin Rapids in the central part of the state. There were tens of thousands of customers without service throughout central and northern parts of Wisconsin immediately following the storms and 10,000-plus in Wisconsin Rapids alone, Heinrich noted.
Manitowoc Public Utilities reported that it was providing mutual aid to Wisconsin Rapids Water Works and Lighting Commission (WRWLC).  Manitowoc Public Utilities sent four linemen and four trucks to the community Sunday afternoon. Manitowoc Public Utilities and WRWLC are both members of MEUW.
"The damage throughout our electric distribution system is extensive and widespread," WRWLC said in a Facebook post on Sunday, July 21. "There are small areas where power has been restored, but most of the area is still without power."
On July 22, WRWLC reported that it had 84 municipal linemen from 42 utilities from around the state assisting WRWLC crews.
Heinrich said that virtually all available resources from public power utilities across the state are being used for this mutual aid event, which is believed to be the largest in MEUW's history. Some utilities that received mutual aid and restored power over the weekend are now sending crews to Wisconsin Rapids.
In total, 45 of the state's 81 public power utilities provided crews, and that number is growing, he said.
At least two crews assisted an area co-op, Heinrich noted.
He said that it will be several more days before power is fully restored and that the need for mutual aid is expected to last through the week and into the weekend.
"The extent of the damage is significant; more than 100 utility poles needed to be replaced in the Wisconsin Rapids area," he noted in the email.