The U.S. continued a trend of significant growth in large-scale battery capacity, with U.S. battery power capacity reaching 1,650 megawatts (MW) by the end of 2020, the U.S. Energy Information Administration (EIA) reported on Aug. 16.
According to EIA's report, Battery Storage in the United States: An Update on Market Trends, U.S. battery power capacity grew by 35% in 2020 and has tripled in the last five years.
EIA expects that most large-scale battery energy storage systems to come online over the next three years will be built at power plants that also produce electricity from solar photovoltaics, a change in trend from recent years.
As of December 2020, the majority of U.S. large-scale battery storage systems were built as standalone facilities. Only 38% of the total capacity to generate power from large-scale battery storage sites was co-located with other generators: 30% was co-located specifically with generation from renewable resources, such as wind or solar PV, and 8% was co-located with fossil fuel generators.
"We expect the relationship between solar energy and battery storage to change in the United States over the next three years because most planned upcoming projects will be co-located with generation, in particular with solar facilities," EIA said in the report.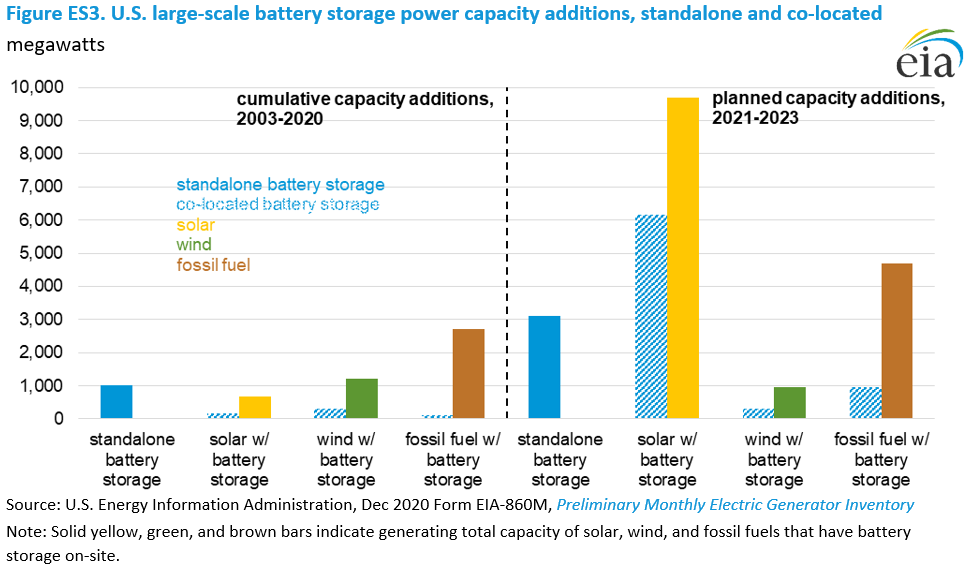 If all currently announced projects from 2021 to 2023 become operational, then the share of U.S. battery storage that is co-located with generation would increase from 30% to 60%.
Based on planning data collected by EIA, an additional 10,000 MW of large-scale battery storage's ability to contribute electricity to the grid is likely to be installed between 2021 and 2023 in the United States, which is10 times the total amount of maximum generation capacity by all systems in 2019.
Almost one-third of U.S. large-scale battery storage additions will come from states outside of the PJM Interconnection and the California ISO, which led in initial development of large-scale battery capacity.
Five states account for more than 70% of U.S. battery storage power capacity as of December 2020, with California alone accounting for 31% of the U.S. total (506 MW). Texas, Illinois, Massachusetts, and Hawaii each have more than 50 MW of power capacity.
More than 400 MW of small-scale total battery storage power capacity also existed in the United States as of 2019, with California accounting for 83% of the capacity. Small-scale batteries have a nameplate power capacity of 1 MW or less.
U.S. battery system energy capacity also continued to increase, reaching 1,688 megawatt hours at the end of 2019, a 30% increase from 2018.
The entire report is available on the EIA website.