A planning meeting held in September in Window Rock, Ariz., marked the kickoff of a unique mutual aid initiative by the Navajo Tribal Utility Authority (NTUA) and the American Public Power Association to provide electricity to thousands of Navajo homes. The Association is teaming up with NTUA to launch a pilot program called "Light Up the Navajo Nation."
"This is a small-scale pilot project aimed at discovering the complexity, differences and unanswered questions that flow from a unique electrification project," said Mike Hyland, senior vice-president of engineering at the Association.
"Upon completion of the pilot next year, the hope is that we can then move towards scaling up the project so that we can then get to a more efficient and productive electrification effort," he said.
"This initiative is all about positive change," said Walter Haase, NTUA's general manager. "The goal is to connect homes to the electric grid for the first time. The interest continues to increase which demonstrates to our families that the rest of America does care and will do what they can to help change and improve the standard of life."
In the Navajo Nation, approximately 15,000 homes do not have power. They make up 75% of all unelectrified households in the U.S. 
The Light Up the Navajo Nation planning meeting, which took place on Sept. 10-11, was intended to provide volunteers and interested utilities with more information about the projects, required resources, weather conditions and travel plans, among other things.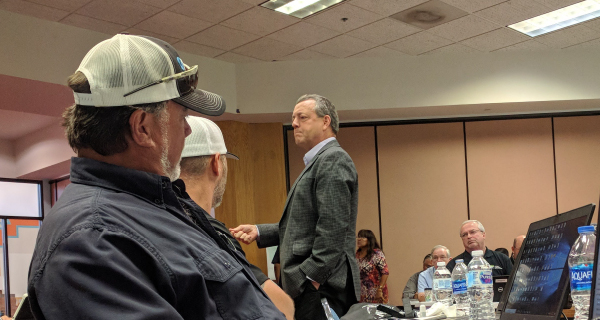 At the meeting, Haase provided an overview of the project, while Srinivasa Venigalla, deputy general manager at NTUA, offered details on project planning and the schedule for the effort.
"It was humbling to see the turnout," Haase said in reference to the meeting. "The strong turnout allows us to set the foundation to move Light Up Navajo to the next level. Those who traveled here got to see first-hand our situation and the challenges we face."
"The Association is extremely proud to be able to take part in the Light Up the Navajo Nation initiative," said Alex Hofmann, director of energy and environmental services at the Association.
Hofmann, who has served as a project facilitator for NTUA and the Association, has been helping Hyland, Haase and Venigalla engage with Association members, establish a plan of action and execute a pilot volunteer electrification project.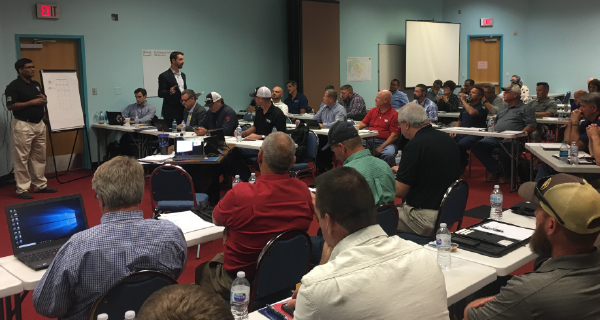 Meanwhile, Hyland, who also spoke at the Light Up the Navajo Nation meeting, noted that there was strong representation from utilities from across the U.S. at the planning meeting. He said that one of the highlights was that meeting participants were able to witness firsthand NTUA line workers bring electricity to a Navajo Nation home.
"We are looking forward to working with Wally and the rest of his team at NTUA on this mutual aid pilot effort," Hyland said. "Our hope is that Light Up the Navajo Nation will serve as a successful model for future electrification efforts." 
Hyland emphasized that a key objective is to set up a process for informing Association membership going forward. He noted that there will be regular conference calls related to the initiative.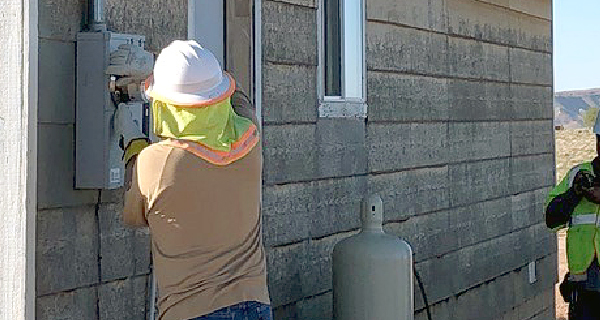 "Without APPA, we couldn't have reached first base," Haase said. "They have the knowledge and experience with mutual aid projects. With their guidance, Light Up Navajo could become an annual subcategory that sister utilities can be a part of each year. Both projects help people and both define Powering Strong Communities."
"The fact that 15,000 Navajo households are without electricity is staggering," said Coleman Smoak, general manager of South Carolina's Piedmont Municipal Power Agency and chairman of the Association's board of directors. Smoak attended last month's planning meeting.
"It was a humbling experience to be present, accompanied by other public power employees, when electric service was initiated to two customers in the Navajo Nation who had desired service for over 30 years," he said. "Their quality of life dramatically changed in an instant."
Smoak said that public power "exists for only one reason -- to provide the electricity needs of our communities. The Navajo community is deserving of the help of all of public power to bring them the opportunities afforded their families through provision of electric service."
Another attendee at the planning meeting was Olin Clawson, general manager and CEO of Indiana public power utility Lawrenceburg Municipal Utilities.
In an interview with Public Power Daily, Clawson was asked his thoughts on the initiative and how he sees it as another example of public power utilities helping sister public power utilities.
Clawson noted that the way that public power utilities approach mutual aid is different than most organizations. "I don't think that a lot of organizations approach mutual aid in the same altruistic way that public power employees typically do," he said.
Public power employees "tend to look at the personal story. They tend to look at the families that are suffering, families that are in need and they want to help with those issues because back in their own communities that's what they do. That's what they're known for, that's what they're accustomed to."
With respect to Lawrenceburg Municipal Utilities, Clawson said that "We are fully vested in this initiative." Noting that he is from the Southwest and previously worked in New Mexico, Clawson said that he has "been a part of these projects in the past and I know the value that they hold inherently. I know also how difficult they are."
He said that "this is probably one of the most pure mutual aid projects I've been associated with and I'm pleased to be associated with."
Deenise Becenti, NTUA public affairs manager, noted that Haase has been visiting various utilities and events throughout the U.S. "to share our story in hopes of gaining more support through a better understanding of the challenge we face" related to the project.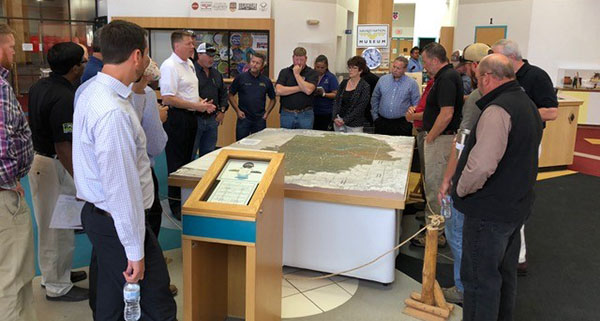 Takeaways from the planning meeting
In terms of key takeaways from the planning meeting, Clawson said that "we all know how to build" power lines.
"The difference is we don't all know how to build" power lines in a high desert plateau like the region where the Navajo reservation is located. He said that a lot of the questions that came out of the planning meeting were directly related to that topic.
One suggestion that Smoak had is the creation of a "frequently asked questions" related to the initiative.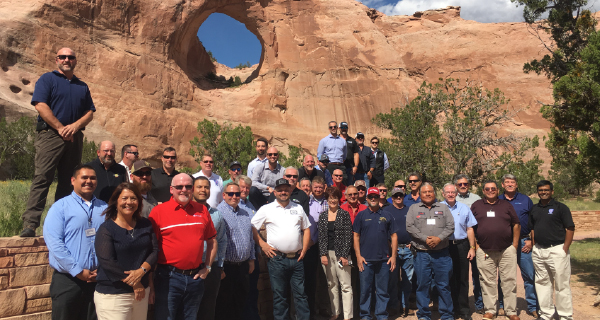 NTUA received $125,000 DEED grant earlier this year
Earlier this year the board of directors for the Association's Demonstration of Energy & Efficiency Developments program approved a $125,000 grant application submitted by NTUA, which was related to the Light Up the Navajo Nation effort.
In its application, NTUA said it would explore several options to survey and assess, within the Navajo Nation, the feasibility to electrify its Navajo Nation members.
NTUA said it would conduct feasibility studies to address the difficulties of providing electric line extension construction projects on the Navajo Nation.
Volunteers needed from other public power utilities
Under the Light Up the Navajo Nation initiative, volunteers from other public power utilities will be working with NTUA crews to help build electric lines to serve homes for the first time.
The Association and NTUA are looking for utilities to send experienced and committed line workers on a voluntary basis to participate in the Light Up the Navajo Nation initiative. Because many of the electrification projects are spread out and resources are limited, volunteers are being asked to commit at least a week of linework.
Key project dates include a project implementation period occurring in April and May of 2019.
The Navajo Nation is the largest Native American territory in the U.S. with an estimated population of 300,000. 
Additional details about the initiative are available here.