Central Coast Community Energy (CCCE) and Silicon Valley Clean Energy (SVCE) have executed seven power purchase agreements, equating to 778 megawatts (MW) of energy generation between the two community choice aggregators (CCA). The long-term contracts are a result of a request for offers (RFO) jointly issued by the CCAs in 2019 and 2020.
The joint contracts include one wind, one solar, and three solar-plus-storage projects. The solar and solar-plus-storage projects are new builds and will add new generation capacity to the California grid on behalf of the CCAs' combined 670,000 customers.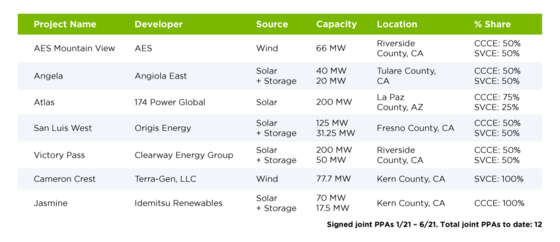 In addition to the joint procurement effort, the two agencies signed individual contracts for two separate projects. CCCE signed a power purchase agreement with Idemitsu Renewables for 70 MW of solar and 17.5 MW of battery storage from the Jasmine project in Kern County, Calif., and SVCE signed a contract with Terra-Gen LLC. to receive 77.7 MW of wind energy from three existing wind facilities in Kern County, Calif.
The joint procurement efforts have offered multiple benefits, including shared risk mitigation and greater negotiating power resulting in cost savings that are ultimately passed onto customers. CCCE and SVCE have signed 12 power contracts together, for a total of 1,470 MW and $2.77 billion committed.
Additionally, the newly contracted solar-plus-storage projects are all new facilities and will help meet California's recent order to build at least 11.5 gigawatts of new resources by 2026. These new resources are needed to integrate existing renewables, ensure reliability, and replace retiring capacity from the Diablo Canyon Nuclear Power Plant in California, the CCAs said.
CCCE and SVCE are also part of a joint effort to procure 500 MW of long-duration storage with seven other CCAs.
The American Public Power Association has initiated a new category of membership for community choice aggregation programs.