Twenty-two individuals and eleven utilities on June 22 were recognized for service to the American Public Power Association and the public power industry during APPA's National Conference in Orlando, Florida. 
The individuals and utilities recognized at the ceremony were: 
Alex Radin Distinguished Service Award
This award is the highest award granted by the American Public Power Association. The award recognizes exceptional leadership and dedication to public power.
Hugh E. Grunden, P.E., President and CEO, Easton Utilities, Easton, Maryland

Coleman F. Smoak, Jr., Former General Manager, Piedmont Municipal Power Agency, Greer, South Carolina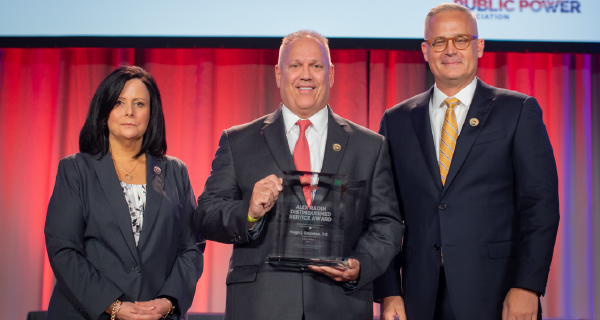 James D. Donovan Individual Achievement Award
This award recognizes people who have made substantial contributions to the electric utility industry, with a special commitment to public power. 
Michelle Bertolino, Electric Utility Director, Roseville Electric Utility, Roseville, California 

Mark Chesney, CEO/General Manager, Kansas Power Pool, Wichita, Kansas 

Marshall Empey, Chief Operations Officer, Utah Associated Municipal Power Systems, Salt Lake City, Utah 

Jack Kegel, Chief Executive Officer, Minnesota Municipal Utilities Association, Plymouth, Minnesota 
Larry Hobart Seven Hats Award
This award recognizes managers of small utilities serving fewer than 2,500 meters. These managers have a very small staff and must assume multiple roles.
Robert A. LaFave, Village Manager, Village of L'Anse Electric Utility, L'Anse, Michigan 

Jamie Lindstrom, Superintendent, Town of Argos, Indiana 

Joe Price, Village Administrator, Grafton Village Power & Light, Grafton, Ohio

Tim Stallard, Village Administrator, Village of Lucas Electric Utilities, Lucas, Ohio

Faith Willoughby, Town Manager, Town of Chalmers, Indiana 
Harold Kramer-John Preston Personal Service Award 
This award recognizes individuals for their service to the American Public Power Association.
Aaron K. Haderle, Manager of Transmission and Distribution Operations, Kissimmee Utility Authority, Kissimmee, Florida

Gregory A. Labbe, Electric Operations Manager, Lafayette Utilities System, Lafayette, Louisiana

Carter Manucy, IT/OT & Cybersecurity Director, Florida Municipal Power Agency, Orlando, Florida
Spence Vanderlinden Public Official Award
This award recognizes elected or appointed local officials who have contributed to the goals of the American Public Power Association.
Jason Bienski, Ex-Officio to the BTU Board of Directors, Bryan Texas Utilities, Bryan, Texas 

David Hagele, Chair, Northern California Power Agency; Councilmember & Former Mayor, City of Healdsburg, Healdsburg's Electric Department, Healdsburg, California 

John R. Koelmel, Chair, New York Power Authority, White Plains, New York

Steve Leifson, Spanish Fork City Mayor | Utah Municipal Power Agency Board, Spanish Fork Power, Spanish Fork, Utah
Robert E. Roundtree Rising Star Award
This award is a scholarship presented to future leaders in public power. The recipient receives a stipend to travel to an Association conference or training program to advance their education and development in public power.
Vidhi Chawla, Assistant General Manager of Energy Resources Planning, Alameda Municipal Power, Alameda, California 
Mark Crisson Leadership and Managerial Excellence Award 
This award recognizes managers at a utility, joint action agency, or state or regional association who steer their organizations to new levels of excellence, lead by example, and inspire staff to do better.
Jeffery W. Feldt, General Manager, Kaukauna Utilities, Kaukauna, Wisconsin

William A. Johnson, General Manager, Kansas City Board of Public Utilities, Kansas City, Kansas

Paul E. McElroy, CEO and Managing Director (Retired), JEA Jacksonville, Florida
E.F. Scattergood System Achievement Award
This award honors American Public Power Association member systems with outstanding accomplishments.
Bristol Tennessee Essential Services, Bristol, Tennessee

Kaukauna Utilities, Kaukauna, Wisconsin 

Paducah Power System, Paducah, Kentucky 

City of Tallahassee Utilities, Tallahassee, Florida 
Sue Kelly Community Service Award
This award recognizes utilities for their "good neighbor" activities that demonstrate commitment to the local community.
EPB of Chattanooga, Tennessee 

Fayetteville PWC, Fayetteville, North Carolina

Kaukauna Utilities, Kaukauna, Wisconsin

Mason County Public Utility District No. 1, Shelton, Washington

City of Philippi, West Virginia 
Energy Innovator Award
The Association's research program, Demonstration of Energy & Efficiency Developments (DEED), nurtures innovation in public power. Each year, the program recognizes innovative utility projects with this award.
OUC, Orlando, Florida 

Southern Minnesota Municipal Power Agency, Rochester, Minnesota