The Town of Sterling, Mass., and Sterling Municipal Light Department on Nov. 30 received an award from the Massachusetts government related to the utility's installation of the first utility-scale battery storage project in New England.
The administration of Massachusetts Gov. Charlie Baker and Lieutenant Gov. Karyn Polito recognized eight Massachusetts state agencies, public colleges, municipalities, and public-sector individuals for their leadership in promoting clean energy and environmental initiatives with the 11th annual Leading by Example Awards.
Awardees were honored for policies and programs that created significant energy and emissions reductions, renewable energy installations, water conservation and the implementation of sustainability initiatives that reduce the environmental impacts of state and municipal operations.
The Leading by Example program is an office of the Massachusetts Department of Energy Resources and coordinates clean energy and environmental opportunities at facilities owned and operated by the Commonwealth.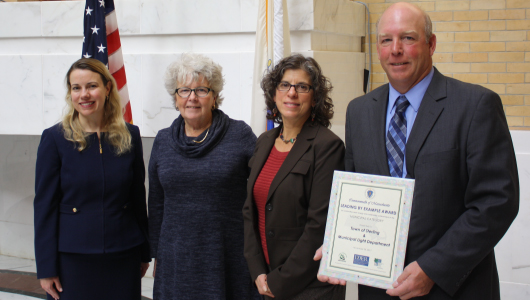 The awards were presented at a Massachusetts State House ceremony by Energy and Environmental Affairs Secretary Matthew Beaton, DOER Commissioner Judith Judson and Division of Capital Asset Management and Maintenance Commissioner Carol Gladstone.
The Town of Sterling and Sterling Municipal Light received a recognition award for the innovative installation of the first utility-scale battery storage project in New England "that serves as a model to other municipalities and utilities nationally, reducing municipal building energy use by 15%, and deploying an advanced water metering system," a news release announcing the awards said.
Groundbreaking occurred in 2016
Officials from the Sterling Municipal Light Department were joined in October 2016 by stakeholders from across Massachusetts and New England in a groundbreaking ceremony for the two-megawatt, 3.9-megawatt-hour battery storage system.
In April, the Smart Electric Power Alliance released Top 10 energy storage rankings based on annual megawatts and annual watts per customer. Sterling Municipal Light Department was ranked number one on the  annual watts per customer rankings.
Additional details about the storage project are available here.