California public power utility Sacramento Municipal Utility District has turned to x-ray technology to help ensure the health of its power system.
The work is part of ongoing projects to maintain and enhance the reliability of SMUD's power delivery.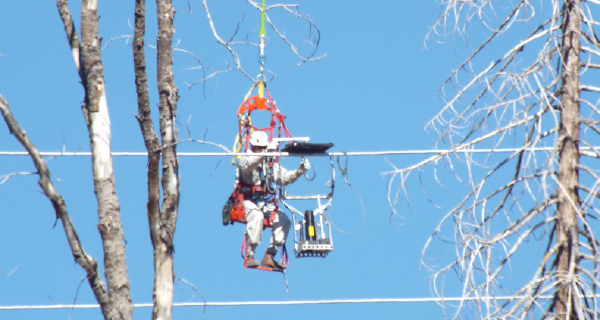 The utility is using the technology on high voltage power lines in El Dorado County that bring power from its nearly 700 megawatt Upper American River Project, a complex of 11 dams and eight hydroelectric powerhouses on the western slope of the Sierra Nevada mountains. These lines run for about 70 miles across very remote, rugged country.
Those lines require splices to connect the energized wire, but splices introduce weak spots that need to be inspected periodically. The splices are essentially tubular sleeves, which can degrade over time. To find potential faults in those splices, SMUD is using portable x-ray photography to inspect the transmission lines.
"Having this tool available to us helps eliminate the guesswork," said SMUD Chief Energy Delivery Officer Frankie McDermott. "It provides another level of protection to help prevent outages on our transmission lines and helps us to harden the SMUD grid."
Because the x-ray data is collected live, often on energized lines, any potential issues can be immediately identified and repairs can be made promptly. The work is potentially perilous and is often done a hundred feet in the air while suspended from a helicopter.
To do the work, SMUD brought in specially trained workers from the Western Area Power Administration who are certified to do "barehand" work on energized transmission lines high above the ground.
While suspended from a helicopter, the workers place the x-ray equipment directly on the conductors, Timothy Miller, P.E., SMUD's Principal Transmission Engineer, explained. The helicopter then moves the worker to a safe distance before the x-ray image is captured. After the image is captured, the helicopter moves the worker back to collect the equipment from the line and moves the equipment and worker to the next location. Because the workers sometimes work with energized lines, they wear protective clothing that allows the electricity to flow around their body.
X-ray inspections are more expensive than other methods, such as infrared photography, both in terms of dollars and man-hours, but x-ray inspections allow for a more detailed inspection of the splice, says Miller. "There are some deficiencies that can only be observed with an x-ray."
It costs about $1,500 for the labor and equipment to conduct and analyze an inspection for a single splice. "Considering the challenges this preventive work can present, this approach is the lowest cost option because it's so effective and efficient for us," Miller said. SMUD looks at the expense as part of the cost of maintaining critical infrastructure.