The American Public Power Association's annual Larry Hobart Seven Hats Award recognizes managers of small utilities serving fewer than 2,500 meters who have lean staffs and must assume multiple roles. Public Power Magazine talked to a few of the award recipients from recent years to understand how they juggle multiple responsibilities and to get their advice for other public power leaders.
Johnnie Burns: Passion for the job, not a paycheck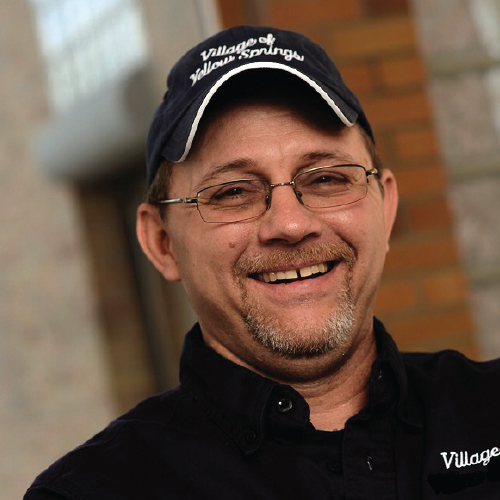 In the welcoming village of Yellow Springs, Ohio, no one is a stranger and no visitor is "judged for who they are," said Johnnie Burns. Picture lush landscape — hiking and biking trails wind through the community — bordering the John Bryant State Park, bike racks outside every business establishment, free electric vehicle charging stations and a marked absence of fast-food chains. It's a community that's all about the environment and proud to get 88 percent of its electricity from renewable sources.
Burns has been running the electric and water distribution — serving 2,200 meters — at Yellow Springs for four years now. He also is the acting head of streets, parks and recreation, sewer, waste collection, and facilities.
"I have a small team with a big job," said Burns. His cross-trained crew of four lineworkers takes care of electric and water and reads meters. Burns himself is also hands-on to ensure that the village runs as smoothly as possible. He can recall a few instances when power outages and water main breaks occurred simultaneously, causing the team to scramble to restore critical services.
On the electric side, the village has two circuits and 30 miles of overhead and three miles of underground distribution lines. Since Burns took charge, many large projects have been completed. He has had nearly 70 electric poles replaced, installed a 1-megawatt solar station, and assisted in building a new water treatment facility and two-mile water line system. LED streetlights have been installed, a downtown streetscape completed and utility services extended to a new central business area just outside the community that includes a medical marijuana facility.
Burns wants to be proactive, not reactive, but he knows he can't "snap his fingers and get it all done." He must plan and budget well in advance. His priority is safety — it's expensive but, he points out, you can't really put a price on it.
Given limited resources, the electric utility struggles to keep up with technology. Yellow Springs also has faced considerable challenges in recruiting and retaining lineworkers. The village has had just six applicants in four years, laments Burns. Multitasking is not appealing to everyone — lineworkers also have to take care of water, help with city maintenance and put up holiday decorations. And they don't get paid as much as they would by the investor-owned company up the road, where they just have to do electric. But when they work for Yellow Springs, they can stay in the community, have a regular schedule and be home with their families most evenings.
There are different challenges every day, but Burns would not have it any other way. When someone calls him at 2 a.m. for an emergency, he sees it as another opportunity to give back to the community he loves.
Burns believes the utilities have been able to sustain local control of power and water because they listen to the community. "People know us — we're literally in their backyards."
Social media plays an important role in utility communications, Burns says. Facebook helps the utilities find out about problems quickly and share how they're being resolved. The Village has a Facebook page where Burns can post during outages.
While Burns appreciates the advantages of "small community, small staff," he knows the utilities need a go-to source for help and resources in many areas — such as safety, training and new technologies. Their membership in American Municipal Power — the joint action agency — and the American Public Power Association provides the go-to. Burns notes in particular that the Association's eReliability Tracker, an online outage tracking and benchmarking tool, has been very useful to Yellow Springs.
What advice does Burns have for his peers and successors? "Have a passion for the job, not the paycheck," he counseled. Be prepared to work long and hard, he added — so you can make a difference.
Ron Clodfelter: Tighten your seatbelts and enjoy the ride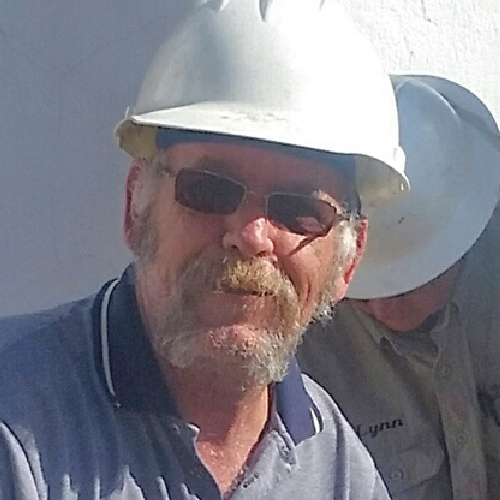 The town of Las Animas in Bent County, Colorado, has important ties to the historic Santa Fe trail, a vital 19th century commercial highway. The town has preserved its history and attracts visitors to two important hubs on the trail — Bent's Old Fort and Boggsville.
Ron Clodfelter has worked for the city for 36 years, the last eight in the electric utility. The electric industry is not the same as it was three decades ago, he said. Despite many challenges, he has sustained community-owned electric service for the 1,600 meters the utility serves.
One of the utility's biggest challenges has been retaining knowledgeable staff. A rural electric cooperative that borders the community and an investor-owned utility that is a half-hour drive away both offer higher salaries. One way Las Animas has countered this threat is by providing training and apprenticeships to its staff through a Department of Labor program. The training paves the way for the municipality to pay higher salaries and ensures improved worker safety.
In addition to working with his small staff to maintain services, Clodfelter is responsible for compliance with state and federal regulations. He serves on the board of their joint action agency, the Arkansas River Power Authority. He is an active member of the Colorado Association of Municipal Utilities and the American Public Power Association.
Clodfelter is a staunch advocate for public power. "I constantly preach the muni advantage — of dollars staying local," he said.
Las Animas faces major infrastructure challenges. Its principal feeder line, which was built in 1960, will cost $2.5 million to rebuild. Three of its largest generators are from the '50s and '60s and will cost $750,000 to retrofit. Clodfelter is working with the city mayor to plan this funding, most likely through the issuance of municipal bonds.
Clodfelter has other concerns about the future of his utility. Because Las Animas is a distressed area, he has seen declining electricity sales as people have relocated. Rates have caused some customers to complain. And he wonders how the growth of renewables might impact the grid.
However, "turbulence" is not new to Clodfelter. "Keep your eye on regulations, tighten up your seat belts and enjoy the ride," is his advice to other leaders.
Greg DuMars: Up for the challenge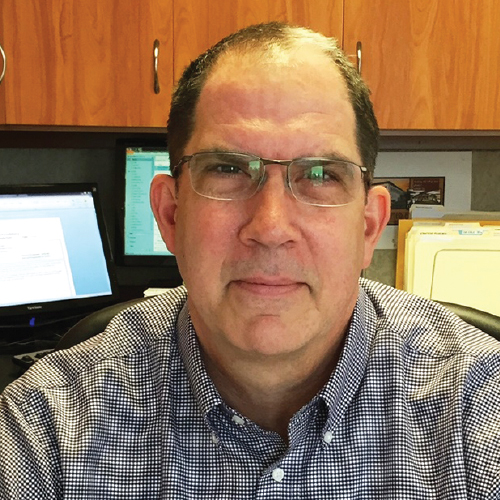 In Lindsborg, Kansas — a tourist town of 3,500 people founded 149 years ago by Swedish immigrants — it's all about community. Greg DuMars was born and raised in Lindsborg. He left for 10 years but came back for family, a good education system and strong community support.
DuMars oversees the town's electric, water, stormwater and recreation functions in addition to general government and municipal courts. He describes himself as someone who knows a little about a lot. He has been on the job for 19 years now and has a business and public administration background. He spends about 25 percent of his time on the electric department.
On a daily basis, his job is to "communicate, motivate and get things done," said DuMars. While he has very good department heads who make it easier for him to juggle his many responsibilities, he does not hesitate to get his hands dirty. Adaptability is the name of the game as he moves between multiple topics each day. DuMars has thrived on the job because he is someone who appreciates a challenge and has a passion to enhance the quality of life in the community.
When the state Legislature is in session, DuMars is also tasked with "staying on top of bills." He is on the executive committee of the Kansas Municipal Electric Agency, the joint action agency from which Lindsborg buys wholesale power.
Lindsborg has the capacity for four full-time lineworkers but currently employs just two — the lineworkers have to be cross-trained to take care of water issues in addition to electric. The town has to compete for lineworkers with nearby investor-owned and cooperative utilities that offer higher wages. But Lindsborg offers strong community values and flexibility on the job — lineworkers know they will be home with their families every night.
The city is short-staffed overall. "I would like more staff to accomplish more," said DuMars. And he would like to recruit more millennials, who he knows are drawn to public service. He himself enjoys wearing many hats, as that results in fewer competing interests and helps him better appreciate the relationships between the departments that care for the community.
DuMars places a high value on Lindsborg's membership with Kansas Municipal Utilities and the Association. "They help us track legislative and regulatory issues and advocate for us. They give us a voice we wouldn't have on our own," he explained.
In thinking about leading the electric department into the future, DuMars draws lessons from larger utilities and their successes and failures. "We have to tiptoe in. If we start with a deep dive, it could be catastrophic," he predicted. For example, Lindsborg is looking at advanced metering infrastructure but would like to pilot and evaluate a program before wide-scale implementation.
What advice does DuMars have for others like him who wear many hats to care for their communities? He is a strong advocate of strategic planning — for three to five years at a time — to guide the allocation of efforts and resources. He counsels colleagues to avoid getting bogged down by small daily interruptions. "Learn how to prioritize," he said.
Shawn Guidice: In the trenches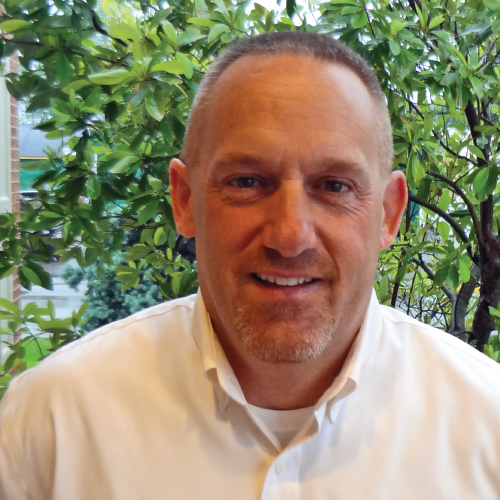 A small, historic community nestled on the bank of the Ohio River, Rising Sun, Indiana, was for many years a stop for boats traversing the river between Cincinnati, Ohio, and Louisville, Kentucky. Today, Rising Sun continues to enjoy all the opportunities afforded by proximity to a major river, including a resort and golf course connected to its riverboat casino.
This is where Shawn Guidice calls home and where he gives back to his community of 2,000 residents as utility superintendent for Rising Sun Municipal Utilities.
Guidice came into the position with a little luck and some great timing. "I was getting ready to retire from the U.S. Army and put in my resume for a different position at the city," he said. "A couple days later, I got a call from the utilities superintendent asking me to come by and talk to him. It turns out he was getting ready to leave and recognized some potential in my resume. A couple days later, I was interviewing with the Utility Service Board, and then a couple days after that, I was hired. I'm still amazed how it all fell into place."
Coming in without a city management background made Guidice realize he had to learn and grow. He never holds back from asking questions of staff experts and colleagues to ensure his office remains ahead of the curve. This has repeatedly proved useful when tackling major projects, including the current major investment of updating the city's electric, water and wastewater infrastructure.
For Guidice, no part of his job comes close to his love of being out in the field with his crews. He says he is always trying to get into the trenches — literally and figuratively — with his employees to execute any major work that needs to be finished.
"I don't care if I have to jump into a hole full of water, rain pouring down on me — I want to be right in there with them," he said. "The office isn't where I'm most comfortable, it's being out there with the guys. With a small staff and limited resources, it's incredibly important to me that I am there to do my part and help out any way I can."
"It doesn't matter if it's a power outage or routine maintenance, I want to be right there with them. I may be the superintendent, but I cannot ask them to do something that I'm not willing to do myself."
Dave Slezickey: It's all about the team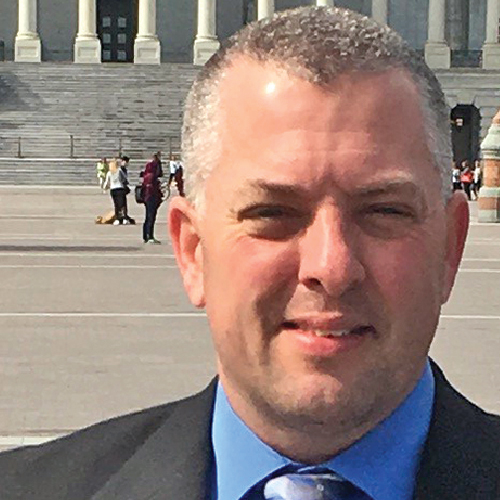 Historically a ranching community in the heart of Oklahoma, Kingfisher has seen its identity shift in recent years as Oklahoma City's border has expanded closer and closer to its own and oil and gas have become the big moneymakers for the area. But that shift in character has not changed the community-oriented virtues that Kingfisher residents value, says City Manager Dave Slezickey.
"We're almost rural but not out in the middle of nowhere — it's a really good balance," he said. "It only takes 40 minutes to get to Oklahoma City, and it almost seems like the metro area is getting closer each day."
Slezickey oversees the water, wastewater and electric operations for Kingfisher. The six-person electric staff works hand-in-hand with him to keep the lights on for residents and serve as valued members of the community.
"It goes to our rural values that everyone works together here," he said. "Volunteering is such a big thing for us, and we enjoy helping out where we can. It helps that we have a city council and mayor that empowers us to play our part in keeping Kingfisher vibrant."
When he learned he was receiving the Association's Larry Hobart Seven Hats Award last year, Slezickey said that the seven core job functions reflected in the award — planning and design, administration, public relations, field supervision, accounting, human resources, and community leadership — only skimmed the surface of what he and other small utility managers do in a given day. "Only seven! I can think of five more we are constantly having to work on," he remembers joking.
"It was humbling to receive that award, and I could run down the list and see many ways in which teamwork has made me look good," he said. Slezickey takes pride in all that he's able to help his team do to succeed.
Of all his duties, he says, he takes the most pride in field supervision. Not content to sit in an air-conditioned office all day, Slezickey prefers to get out at every opportunity to visit with his crews in the field and talk through issues directly with his department heads as they tackle various priorities.
"They are the ones out there making all this work, so I want to ensure they know that I'm always there to get the resources they need to do their job better and easier."
"In a small community, people think that because you are the city manager, you have all the answers. It's far from it. You might be great at identifying all the problems, but you need your team and your community to find the right solutions to them," he said.
"You might have a small staff that is juggling many different priorities at one time, so you have to be able to rely on not just them but also your peers, colleagues and policymakers to develop goals and really work out ways to achieve them."