In Black River Falls, Wisconsin, older residents get groceries and meals delivered and their sidewalks shoveled during winters, when temperatures hover in the single digits – thanks in part to the Black River Falls Municipal Utilities. Students at the local high school earn utility-sponsored scholarships and work on robots with tools and material the utility donated, while veterans at American Legion Post 200 cook meals on appliances that the public power utility helped provide.
The Salt River Project in Phoenix, serving customers throughout the very different landscape of central Arizona, also prides itself on its service to those in need. SRP works diligently to reduce the number of drownings in the many swimming pools in the region and in the utility's several reservoirs. Students and teachers throughout the region get various types of support, including scholarships, classroom materials and special grants when the National Football League's Arizona Cardinals score a touchdown. SRP also supports several charities that help struggling customers. Arizona's first Hispanic American Legion Post, in one of Phoenix's oldest neighborhoods, gets the attention it deserves now with a new mural that the utility helped bring to life as part of an ongoing concerted effort to promote diversity, equity, and inclusion.
The work in the community by these two utilities is part of a steady stream of community service that public power utilities of all sizes in all parts of the country undertake, much of it creative and attention-getting. Since 1990, the Sue Kelly Community Service Award has recognized 199 endeavors, celebrating and honoring the many ways public power entities support improved quality of life for their community members. The utilities recognized by the American Public Power Association as winners of the award in 2022 included the Kansas City Board of Public Utilities in Kansas, Kissimmee Utility Authority in Florida, Lincoln Electric System in Nebraska, Tullahoma Utilities Authority in Tennessee, and Turlock Irrigation District in California.
Ranging from traditional service work and efforts to help struggling customers with their bills to supporting educational light shows, organic farms, and Little League baseball teams – here is a snapshot of the myriad ways public power utilities lift the communities they serve.
Recognizing Need
"As public power utilities, we are connected to our communities in many ways" said Casey Engebretson, general manager of Black River Falls Municipal Utilities. "When you have that connection, you want to be involved. We really look to effectively help our neighbors and build our communities."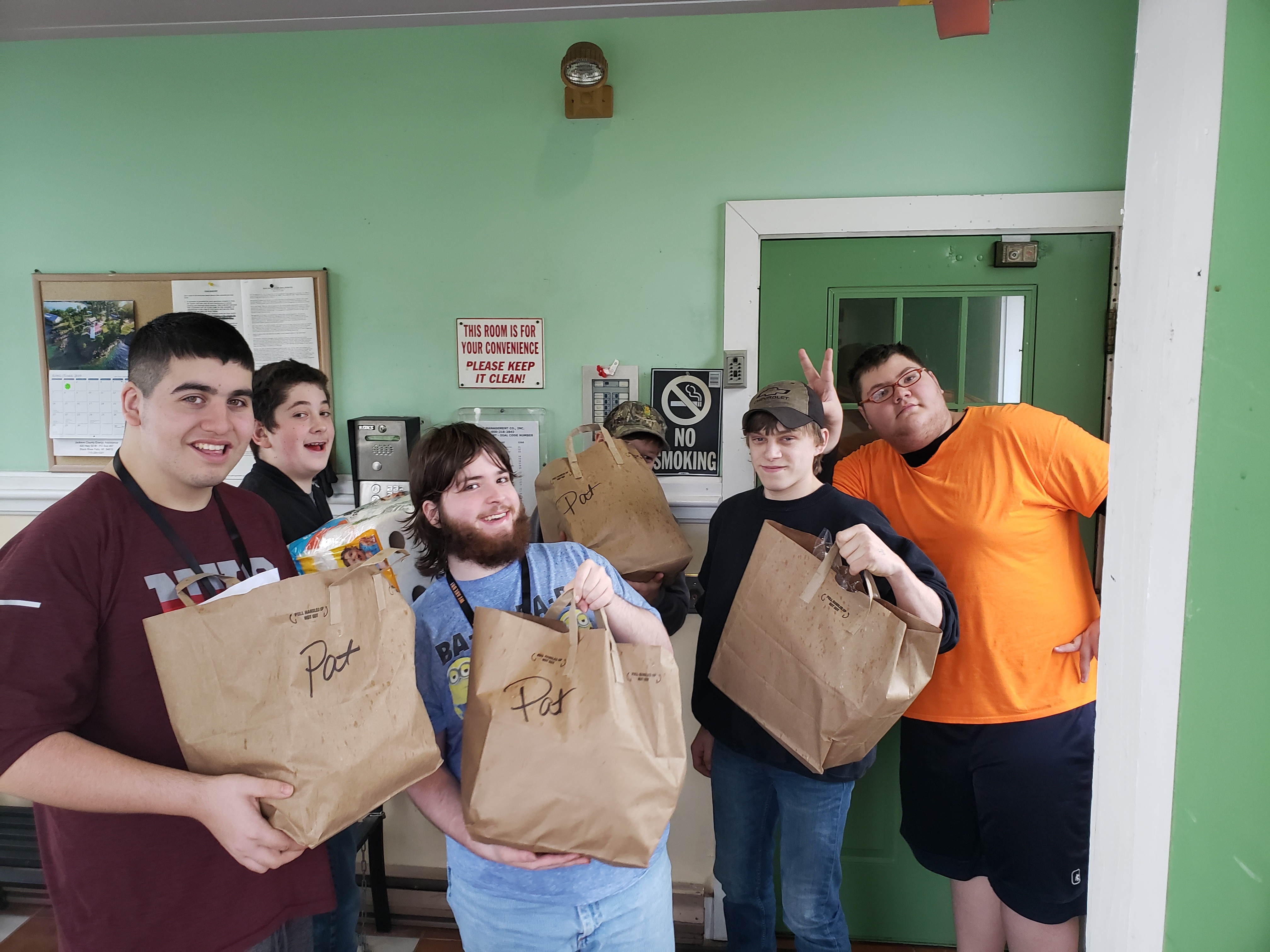 The utility in Black River Falls partners with the Jackson County Interfaith Volunteer Caregivers to support senior citizens. The interfaith group does what Engebretson calls "amazing work" with a few staff members in a cramped office in a local church. The utility and other local supporters are contributing funds and expertise to build the organization a new home in its own building.
"The work they do affects so many people. By supporting them and helping them build a new facility, we can have an impact throughout our service area," Engebretson said. The utility has also provided direct support for the organization's various programs, including a grocery delivery service.
In partnership with its wholesale supplier, WPPI Energy, BRFMU did extra work in the community during the pandemic to help businesses and individuals with their bills. It also helped local schools by providing laptops for remote learning.
SRP also stepped up community involvement with the onset of the pandemic. The public power utility provided $1.35 million to assist residents, including $500,000 to nonprofits like the United Way and the Arizona Community Foundation, which supports education, the arts, community development, health initiatives, and environmental concerns.
SRP also spends $1.3 million a year on education initiatives, including about $200,000 in direct classroom grants. One popular program provides two teachers with $500 grants each time the Arizona Cardinals football team scores a touchdown. The utility donated to the American Legion Post 41 to create an 18-by-45-foot mural that tells the story of the historic Grant Park neighborhood, where the Post is located. The community boasts a rich Latino culture and history.
Immediately following World War II, Latino veterans were shunned and "not truly welcome or treated in a friendly manner at other American Legion Posts in the Phoenix area, despite their military service to their beloved country," said Louis Olivas, senior commander at the American Legion Post. In 1946, Latinos created American Legion Post 41, the first Hispanic Post in Arizona and a hub for community events.
"This mural tells a story that no other Post can reflect on. If you are veteran, you are going to be touched, even if you didn't grow up in this barrio," said Olivas. "I went to SRP and asked for help because in my experience as a community activist, SRP has one of the strongest social conscience perspectives in our community."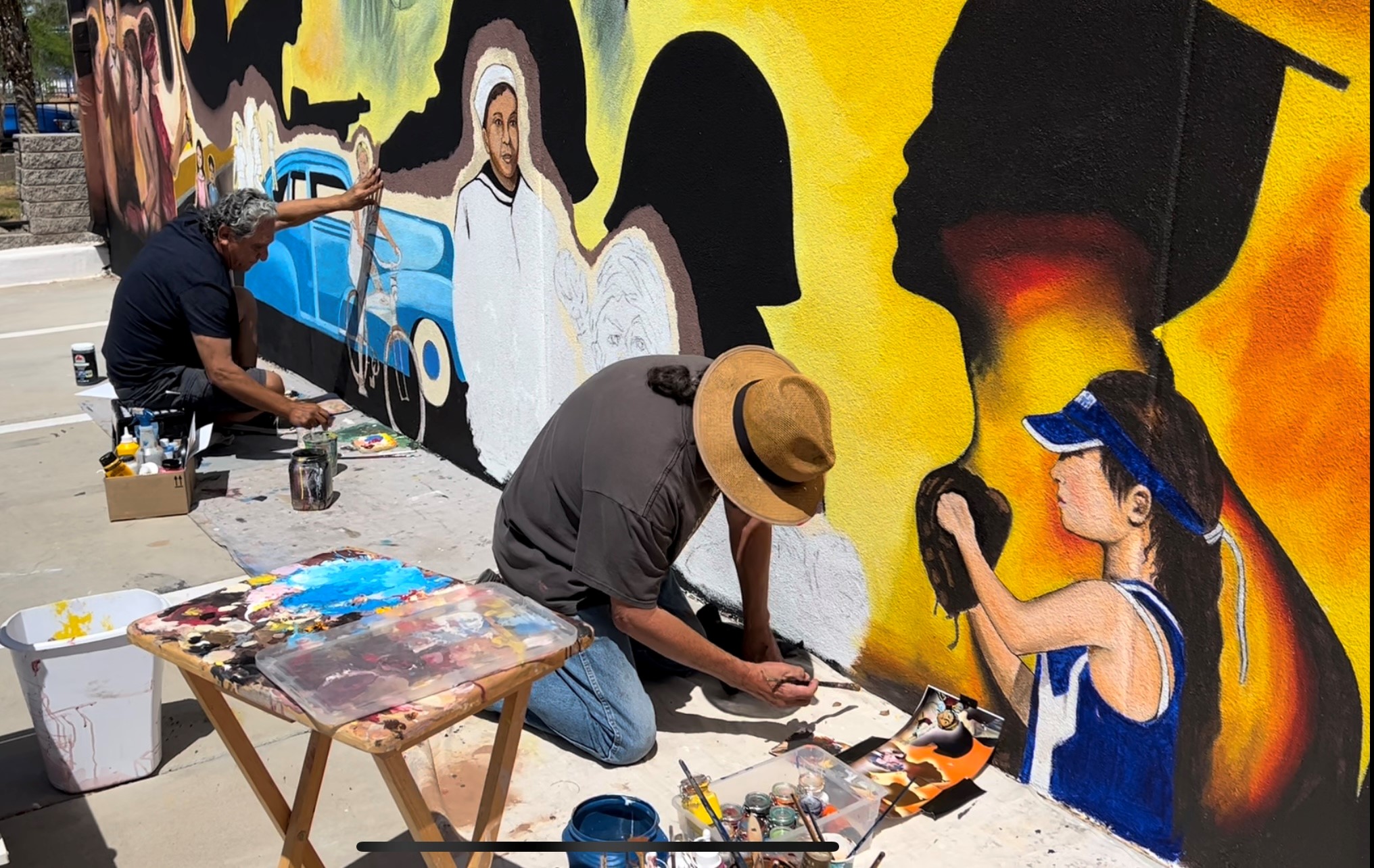 "At SRP, we have the privilege and duty of providing water and power to our community, along with the honor of supporting communities that are underserved," said Erika Castro, SRP's community engagement senior strategist. "The mural shows and tells the hard, beautiful and resilient story of a neighborhood that has often gone unseen or unheard."
The issue of children drowning is critical in Arizona, where the rate of drownings is twice the national average. It is the leading cause of death among children from age one to four, according to the U.S. Centers for Disease Control. Along with a program that provides fences around pools, SRP is working with Phoenix Children's Hospital to develop a drowning education program through medical providers in the state, according to Regina Lane Haycock, SRP's water safety community engagement strategist.
"As the largest provider of water to the Valley, SRP understands the importance of water safety. Most drownings take place in swimming pools and can occur silently and swiftly, which is why we work closely with cities and agencies around the Valley to help our community partners educate families about the importance of water safety," she said.
Kissimmee Utility Authority in Florida also was a recipient of the Sue Kelly Community Service Award for having participated in 17 community events in 2021 despite the pandemic, along with offering a successful Good Neighbor Round Up Program, scholarships to local students, and operating its 40-square-foot "Big Grill" at school, church, and community events.
Reinforcing Employee Efforts
SRP's historic commitment to community service also is evident in its President's Volunteer Spirit Awards, said SRP President David Rousseau. The awards recognize staff members for their service and provide $2,500 to their respective nonprofit partners. Last year, SRP employees and retirees volunteered more than 35,000 hours to nonprofit organizations.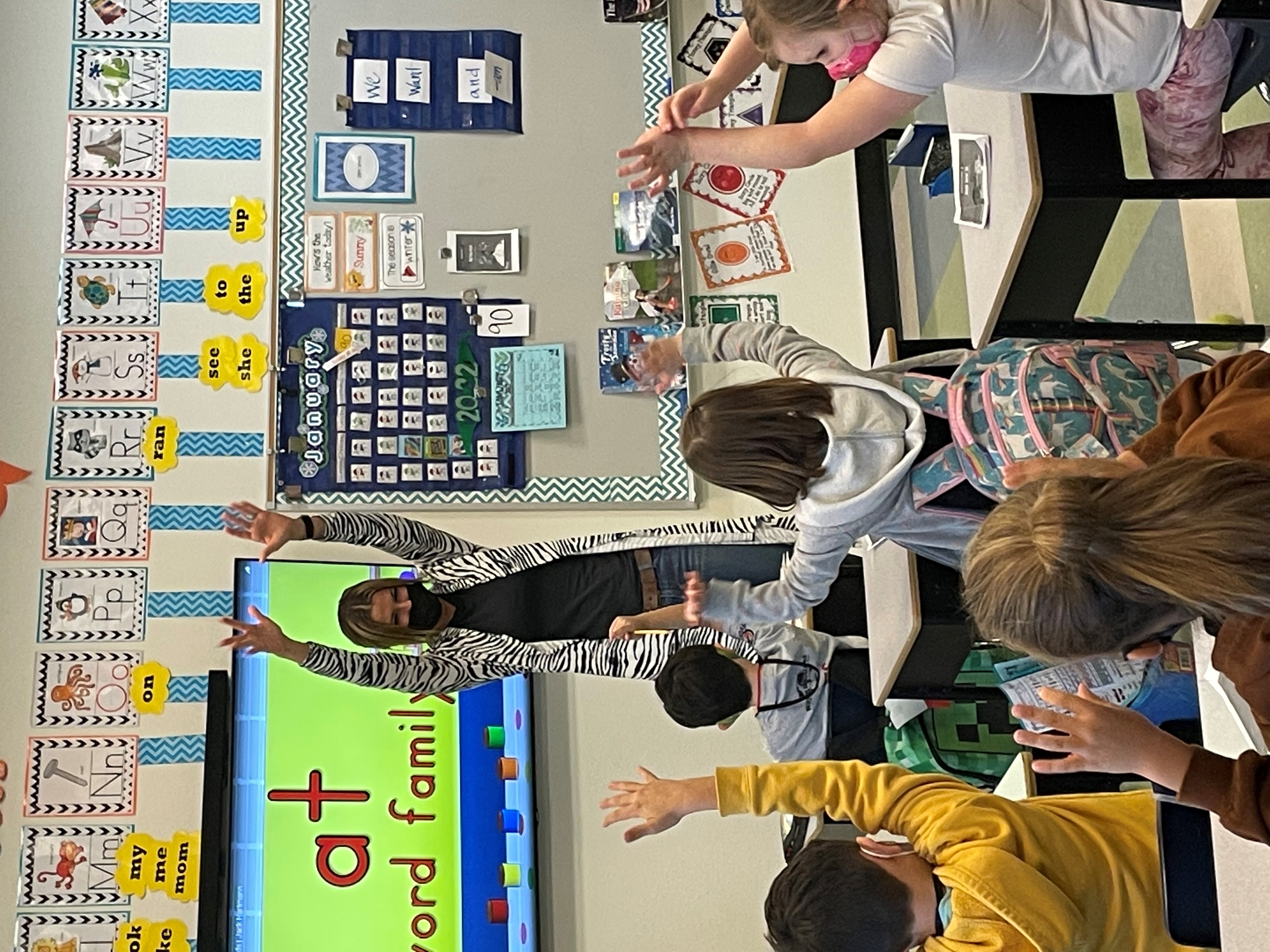 The staff members receiving the award this year backed youth sports, a women's support group that provides "education, mentoring and professional development skills necessary for women to obtain economic security for themselves," several social service organizations, and an effort to build a hospital in an underserved area.
Turlock Irrigation District in California formed Team TID, which now has become a nonprofit "employee giveback program with a mission of empowering employees to create meaningful change in the communities they serve through volunteerism, community development activities, and charitable contributions." It was one of the reasons the utility received the Sue Kelly Community Service Award in June 2022.
Team TID participation has benefited American Red Cross blood drives, local students by providing school supplies, breast cancer research, and local families with gifts and meals during the holidays. Since its inception, more than 500 employee volunteers have participated in activities that have benefited the community, raising more than $15,000 in funds.
The Kansas City BPU encourages employees to support community causes and charities. Staff members volunteered for more than 5,000 hours, serving 6,000 area children through the employee foundation. BPU also provides meals to needy families at Thanksgiving, puts on a community Easter egg hunt for area children, and backs an ethnic festival, a Black Achievers Award, a back-to-school fair, and other local activities. BPU also undertook numerous initiatives to help customers impacted by the pandemic, including flexible payment arrangement options and waiving late payment and reconnection fees.
Explosive Fundraising
City Utilities of Springfield, Missouri, raised nearly $10,000 for United Way of the Ozarks with an explosion. Five generators at the utility's James River Power Station were set to be retired and the utility decided to hold a raffle for the opportunity to detonate the explosives to demolish the four towering stacks. City Utilities dubbed the event "Blasting for the Better."
Other City Utilities community projects include a "Halloween Hustle" running event and a fundraiser during the holidays where those donating receive holiday lights. The utility also works closely with a local high school to keep students in school, learning life skills and transitioning to the workforce.
Along with receiving APPA's Sue Kelly Community Service Award, the Kansas City Board of Public Utilities was recognized locally as a "Corporate Champion" at a Philanthropist of the Year awards sponsored by Ingram's magazine and nationally with the American Business Awards for the "best corporate communication and corporate responsibility program." It also was the top winner in PRNews' 2022 Nonprofit Awards for social responsibility.
"As a nonprofit, public utility, BPU is customer-owned. We measure ourselves by how much money stays in the community, how we can provide reliable/dependable power and water, and the obligation we have to help our neighbors," said Bill Johnson, general manager at the BPU. "All BPU employees live and work in the community – we recognize that our efforts to improve, better, and assist our community benefit everyone."
A community golf tournament sponsored by the utility raised $40,000 ($680,000 since its inception) and its grants to a summer youth program help provide job skills training and mentoring to 1,500 youth each year. It also offers a Customer Hardship Payment Assistance and Utility Assistance program that provided $250,000 in assistance in 2021 and $2.5 million over the life of the programs.
Another Sue Kelly Community Service Award winner, the Lincoln Electric System, has raised more than $1 million for local parks, libraries, programs for seniors and other underfunded community organizations. Lisa Hale, vice president of customer services for LES, said the fundraising is one of several ways the utility is involved locally.
"LES believes in investing in the communities where we live and serve. It starts with providing safe, affordable, and reliable power, but extends into our employee giving, customer utility assistance program, educational opportunities, civic engagement, energy programs, and public events. We're truly local people serving local people," Hale said.
Enhanced Education
LES offers a wide range of financial support for struggling residents and holds an EV Ride + Drive event, which educates customers about electric vehicles and gives them an opportunity to drive one. Additionally, 2022 marks the 20th anniversary of LES's collaboration with local social service agencies to broaden its Energy Assistance Program. It also cosponsors, with the local zoo, a holiday light show – one of the largest light shows in the Midwest. That event provides a platform for educating the public about electricity and energy conservation.
Hetch Hetchy Water and Power and the San Francisco Public Utility Commission have provided six acres of land for The Hummingbird Farm, a community farm that teaches residents about water conservation and sustainable food practices and produces hundreds of pounds of organic food each year. It is staffed by local residents and serves as an education center and a place for community celebrations.
Another of the award winners, Tullahoma Utilities Authority in Tennessee, supports area families with a round up program and holds special events to encourage residents to drink tap water and use light tubes. A special Home Uplift Program is designed to support low-income customers whose residences may be older and less energy-efficient, providing funds, matched by the Tennessee Valley Authority, to help finance the cost of home energy efficiency upgrades.
Tullahoma Utilities and TVA also help fund STEM (science, technology, engineering, and mathematics) learning projects in local schools, with utilities employees frequently visiting schools to assist, learn what the students are doing, and discuss utility careers.