The U.S. Senate on March 12 confirmed James Danly to serve as a Commissioner at the Federal Energy Regulatory Commission by a vote of 52-40.
Danly, currently the general counsel at FERC and a Republican, will serve the remainder of the term left by the passing of FERC Chairman Kevin McIntyre in early 2019. The term expires June 30, 2023.
The Senate Energy and Natural Resources Committee on March 3 approved the nomination of Danly to be a commissioner at FERC by a vote of 12-8.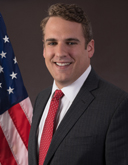 In January, FERC Commissioner Bernard McNamee announced that he would not seek another term at the Commission but said he would stay longer at the agency if needed. McNamee's current term expires at the end of June.
Cheryl LaFleur, who served as a Commissioner at FERC for nine years, departed the agency last summer and now serves as a member of the ISO New England Board of Directors.
With LaFleur's departure, the other Democratic seat at FERC remains open.
FERC Commissioner Richard Glick is a Democrat, while FERC Chairman Neil Chatterjee is a Republican.