Secretary of Energy Jennifer Granholm on Dec. 17 visited a Sacramento Municipal Utility District (SMUD) solar farm and battery storage facility in south Sacramento, Calif., as well as a SMUD facility that trains people to become highly skilled utility professionals.
Granholm was joined in her visit to the SMUD Power Academy by U.S. Rep. Ami Bera, D-Calif., and SMUD CEO and General Manager Paul Lau.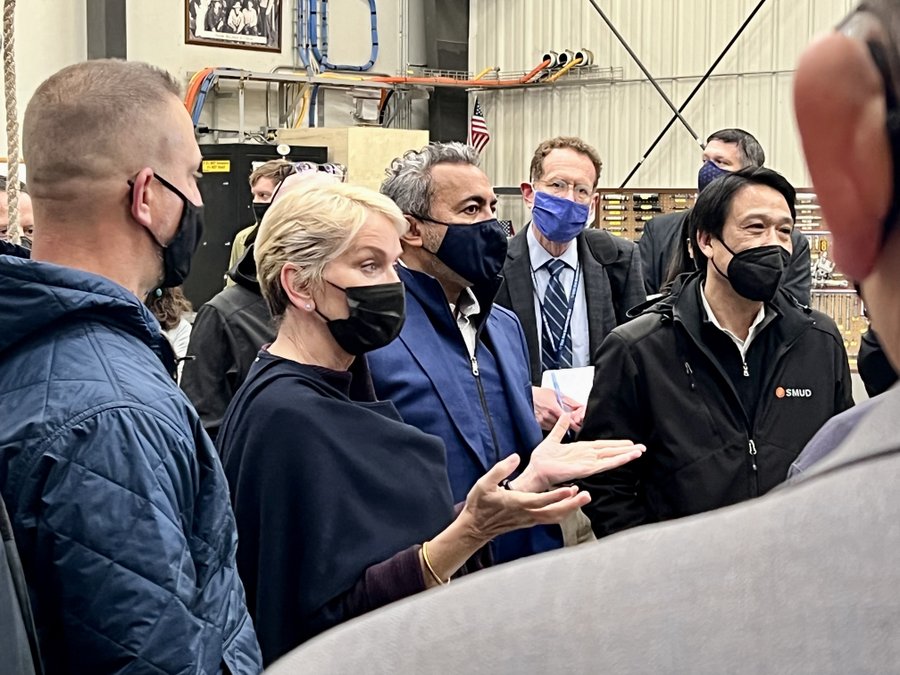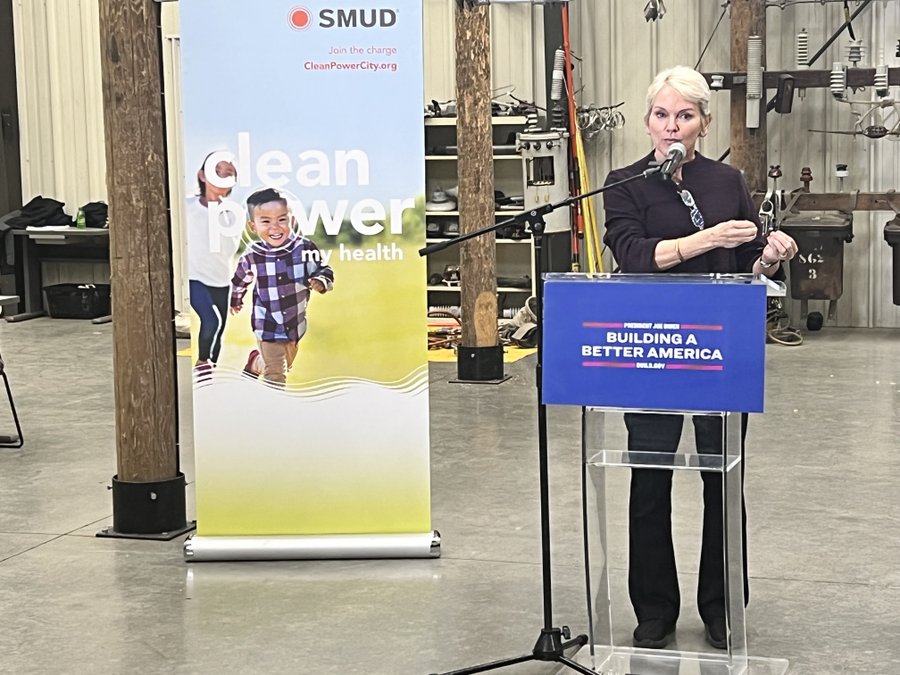 Each year, the training facility produces 500 skilled trade professionals through 12 apprenticeship programs, supporting regional workforce development opportunities.
Granholm also toured SMUD's Hedge solar farm and battery energy storage facility, along with Lau and Rep. Bera.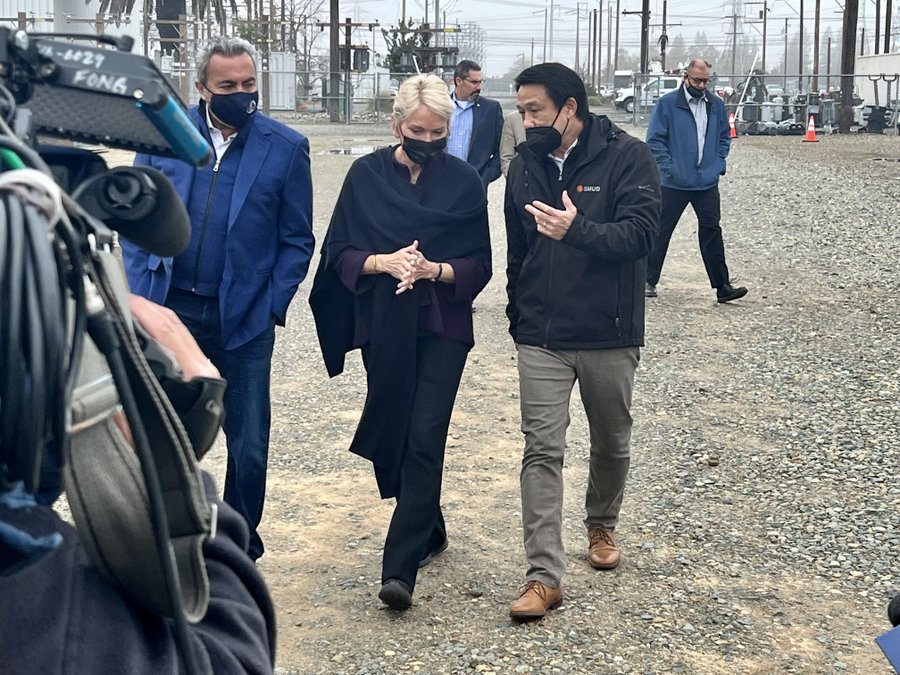 The energy storage units are part of SMUD's first utility-scale battery energy storage project -- and a major element in its 2030 Zero Carbon Plan.
The six units, which weigh about 52,000 pounds each, are part of a SMUD Energy Strategy, Research & Development department project that also includes a myriad of other SMUD employees from throughout the organization.
Combined, the lithium-ion batteries will generate 4 megawatts of electricity and store 8 megawatt hours of energy, which is enough to power 800 homes for 2 hours. Inside each of the 6 units are 3,840 battery cells stacked and connected together.
They will soon be fully operation, but SMUD will continue to gather and research data. SMUD will learn about the feasibility of utility-scale battery storage and the practicality of reserve power at a large scale for future grid integration into SMUD's Battery Energy Storage System, known as BESS.
According to SMUD, Granholm spoke about the criticality of achieving a clean energy future and the need for workers that can build the grid of the future, bringing good paying jobs.
She praised SMUD's leadership for setting an example for the nation to follow in both setting such an ambitious goal to achieve zero carbon by 2030 and in training the utility workers of the future through the Power Academy, SMUD noted.
Granholm said that SMUD's example "of how we can get" to clean, dispatchable baseload power "is what we want to take across the nation."
She also said that "if we want to build out all of this clean electricity, we have to build out transmission for that clean electricity. That means we're going to need the workers to be able to build that out." The example being set by SMUD "is to create good jobs for people to be able to install the kinds of technologies" including the transmission grid.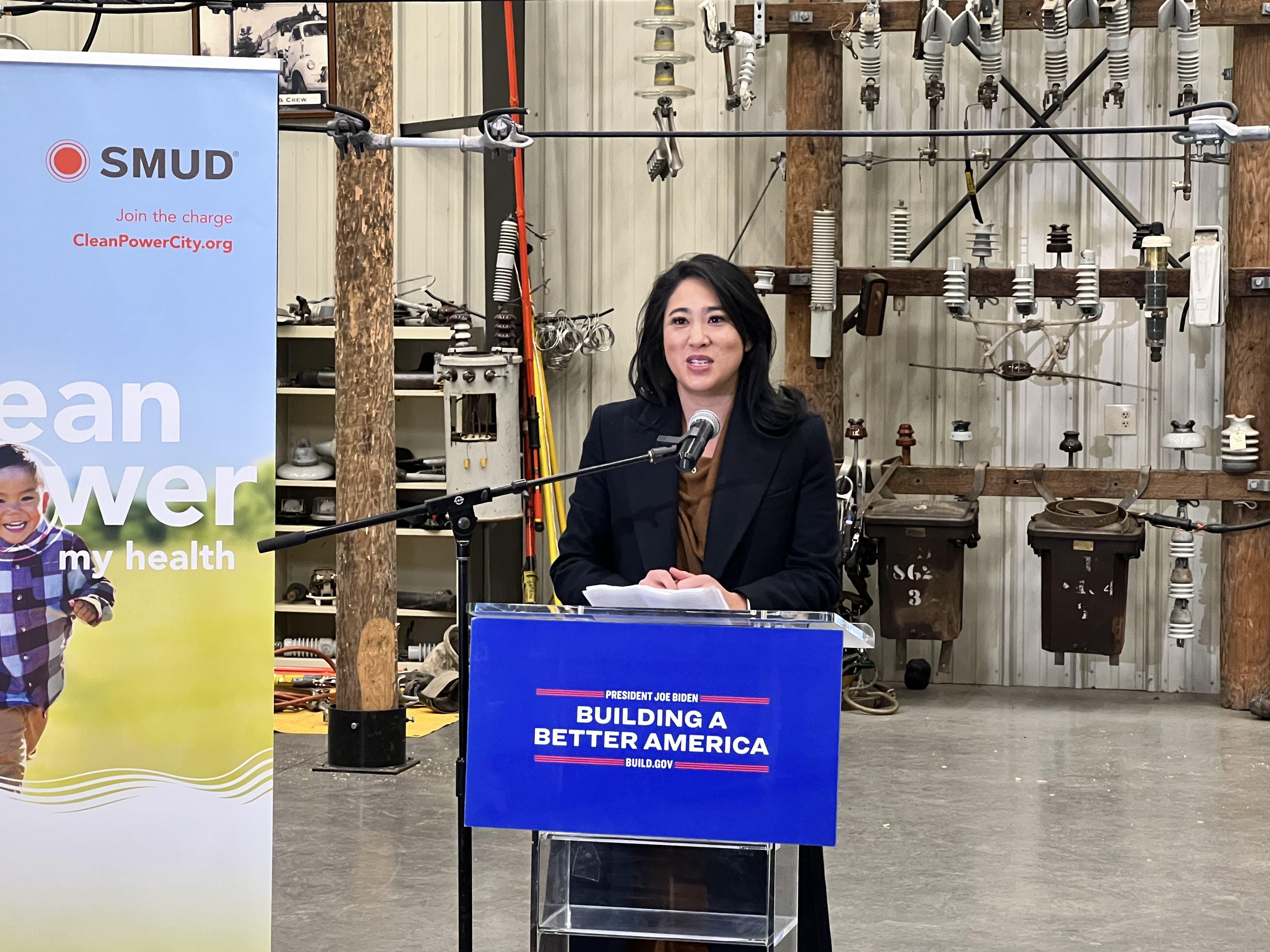 "It was an honor to give U.S. Energy Secretary Granholm and Congressman Bera a tour of SMUD's Hedge solar farm and battery energy storage facility and the adjacent Sacramento Power Academy," Lau said.
He thanked Secretary Granholm for recognizing SMUD's clean energy leadership.
"We're proud and excited to be pursuing the boldest clean energy goal of any large utility in the country -- to remove 100% of all carbon emissions from our power supply by 2030. The Secretary and I agree, we have to act with urgency to address the impact of climate change and create a clean energy future for all. And to get there, we'll need skilled utility workers in good-paying jobs," Lau said.
 
"That's why inclusive workforce development is a key part of our Zero Carbon Plan. Sacramento's Power Academy is training people to build and maintain the grid our clean energy future needs and will create good-paying jobs," he said.
Lau discussed SMUD's zero carbon plan in an episode of the American Public Power Association's Public Power Now podcast earlier this year.