Rep. Pete Olson, R-Texas, on Feb. 26 received the American Public Power Association's Public Service Award at the Association's Legislative Rally in Washington, D.C.
Olson was honored by APPA for exceptional leadership on numerous issues of importance to public power.
 
Olson was the lead sponsor of H.R. 1558, the Resolving Environmental and Grid Reliability Conflicts Act of 2015, which ultimately became law as part of a broader transportation bill. The law ensures that utilities are not forced to choose between conflicting legal obligations when acting to comply with emergency reliability orders from the Department of Energy.
 
He is also the lead Republican co-sponsor of H.R. 2548, the Hazard Eligibility and Local Projects Act, which would expedite the start of certain hazard mitigation projects while grant applicants await approval from the Federal Emergency Management Agency. That bill passed the House in December and a companion bill was recently introduced in the Senate.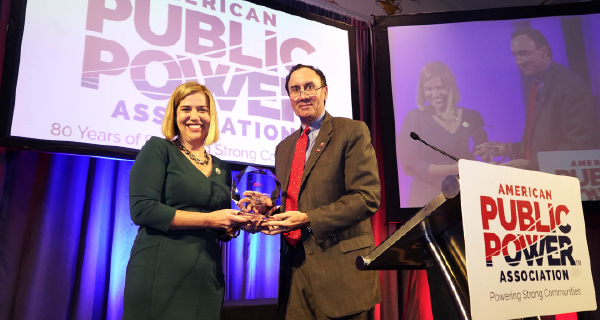 "Congressman Olson's leadership has been critical to public power," said APPA President & CEO Joy Ditto. "He truly understands and appreciates the importance of reliable and affordable electricity to the economy and is a champion for consistent, clear and commonsense legislation."
"It's an honor to be recognized by the American Public Power Association with their Public Service Award," said Olson. "The electric utility industry literally helps 'power' our nation; ensuring it is protected and performs to its full potential is a matter of both economic importance and national security.
Our work to ensure grid reliability in times of a power crisis is a legacy that I'm particularly proud of. I'm also proud to work to expedite hazardous mitigation projects in the wake of devastating natural disasters like Hurricane Harvey. It is humbling to know that APPA values my work on behalf of all Americans who rely on public power utilities. With responsible regulation, reasonable legislation and smart partnerships with organizations such as the APPA, we can ensure our nation's electric utility industry continues to thrive."