Rep. Mike Thompson (D-CA) on March 1 received the American Public Power Association's Public Service Award at APPA's Legislative Rally in Washington, D.C.
Thompson was honored by APPA for exceptional leadership on numerous issues of importance to public power -- particularly his vital role on the House Ways and Means Committee helping public power utilities obtain direct pay credits to develop cleaner energy resources.
Thompson has long cared about local governments, APPA said. For example, in 2017 he joined 122 Democratic and Republican colleagues writing in support of tax-exempt financing when the threat from tax reform loomed large. And in 2019, he was in the lead when the routine task of extending expiring tax provisions became a broader discussion of extending, expanding, and improving a host of energy tax credits.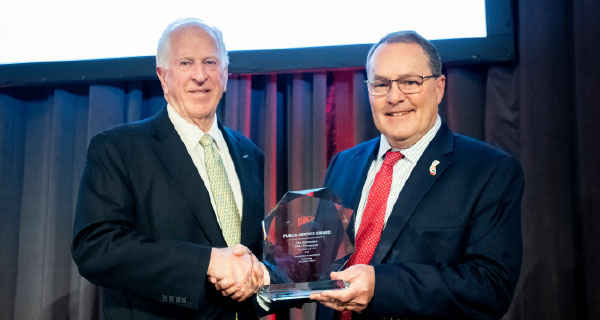 As a result of his leadership, the Renewable Energy Extension Act of 2019 evolved into the Growing Renewable Energy and Efficiency Now Act of 2020, which included a refundable, direct payment tax credit available to all utilities, including public power, APPA said.
This provision was repeated in the 2021 version of the bill, which Thompson shepherded into the Build Back Better Act of 2021, and, eventually, the Inflation Reduction Act of 2022, which was signed into law on August 16, 2022.
"Representative Thompson's leadership on the direct pay issue has been absolutely critical," said APPA Senior Vice President of Advocacy and Communications & General Counsel Desmarie Waterhouse. "The direct pay incentives that became law in the Inflation Reduction Act are truly game-changing for our industry. We are incredibly grateful to Representative Thompson for his role in pushing our industry forward while creating jobs and growing the economy."