A key component of our shared community is recognizing and amplifying what makes public power utilities exemplary — in serving their communities well and in delivering superior service.
For more than 60 years, the American Public Power Association has recognized individuals and utilities for demonstrating different aspects of excellence through national awards.
Here's a look back at the achievements of some of the earliest utility awardees and a look at the latest systems to earn these awards. This comparison shows both how much our industry has changed and how our core values remain the same. 
 
Investing in infrastructure
Since 1959, the System Achievement Award (now named the E.F. Scattergood System Achievement Award after the former leader of the Los Angeles Department of Water and Power and charter member of APPA's Board of Directors) has recognized public power utilities with a track record of sustained achievement and outstanding service to their customer-owners.
Three utilities were honored with the award in 1959: the Chelan County Public Utility District in Washington; Memphis Power and Light in Tennessee; and the Puerto Rico Power Authority.
A Public Power Weekly newsletter sharing news about the 1959 awardees noted that Puerto Rico was honored for its efforts "in the electrification and industrial development of the island," while Chelan and Memphis were both recognized for major generating projects, among other accomplishments.
"The Chelan district, which is building the huge Rocky Reach project on the Columbia River, was honored for its aggressive industrial development program, for promoting the high-use, low-cost concept of power use, and for its many contributions to the area it serves," noted the newsletter.
The project began in 1956 and opened commercial operations in 1961, with seven generators with a total nameplate capacity of 815,000 kilowatts. Later in the decade, after negotiating an amended project license with the Federal Power Commission, Chelan started construction to expand the plant's capacity to more than 1,250 megawatts — adding four more generating units.
Chelan's webpage on the project notes that no tax dollars were used to fund the project. A 1957 Public Power Weekly newsletter noted that Chelan sold a $250 million revenue bond issued at a dollar price of $96.50. The bond was to mature in 2013.
Reacting to the bond sale, Chelan's general manager at the time, Kirby Billingsley, said in the article that "the delays in negotiations, extending over many months, had resulted in a better price."
The Rocky Reach Dam continues to serve the community well, providing some of the lowest-cost power in the country, and offers recreational facilities and a Discovery Center (which is currently undergoing a major renovation) for the community to learn about the area's history and natural resources.
The PUD was recognized with the Scattergood System Achievement Award again in 2004, when it was close to completing a major upgrade and rehabilitation to the Rocky Reach project. The upgrade increased the capacity to 1,300 MW, improved the efficiency and reliability of the generators and turbines, enhanced security measures, and made the turbines more "fish-friendly."
In announcing the awards in 2004, APPA noted that Chelan "garnered national attention for its environmental initiatives, including a juvenile fish bypass system and habitat conservation plans for two hydroelectric projects on the Columbia River," adding that "President George W. Bush spoke highly of the conservation plans in a regional speech."
Keeping power public
Memphis' division of Light, Gas and Water was also recognized with a system achievement award in 1959, for "undertaking and completing construction of the Thomas H. Allen steam generating station as an alternative to the now-defunct Dixon-Yates scheme to bring private power into the Tennessee Valley Authority system."
An article marking APPA's 50th anniversary in the September-October 1990 issue of Public Power magazine described how Edgar Dixon of Middle South Utilities and Eugene Yates of Southern Company teamed up in 1954 on a contract to build a steam generating plant in West Memphis, Arkansas. The agreement would have allowed the two private companies to build the plant with public financing and then sell any power produced to TVA. Public power entities strongly opposed the contract.
APPA's general manager at the time, Alex Radin, said it "smacked of the same kind of abuse that Congress outlawed in 1935 when it passed the Public Utility Holding Company Act."
Gordon Clapp, then the chairman of TVA, said the contract would "squeeze the TVA into submission to private utilities."
After the city of Memphis announced it was building the Allen plant, the federal government canceled the contract with Dixon and Yates. The pair sought damages for the canceled contract, an action which ultimately concluded with a 1961 Supreme Court ruling that the government did not need to pay due to a conflict of interest when the contract was awarded.
Memphis began construction of the Allen plant in 1956, and it began operations in October 1959.
The city eventually sold the plant to the federal entity in 1984, according to TVA, where it stayed in operation until 2018. TVA replaced the Allen plant with a combined-cycle plant and solar array that continues to serve the greater Memphis area.
Infrastructure for a new era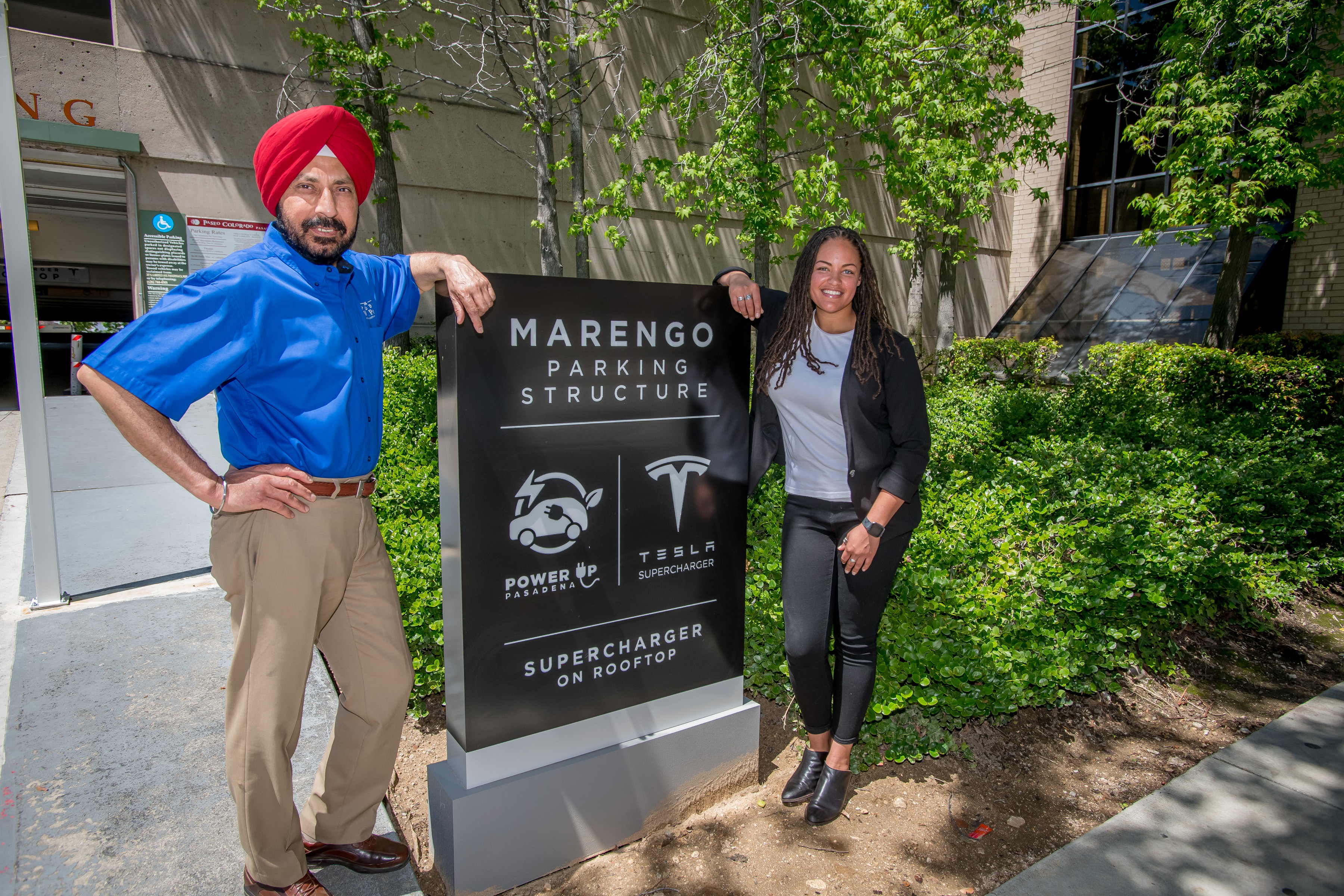 Much like the first recipients in 1959, the two 2020 recipients — Pasadena Water and Power and the Navajo Tribal Utility Authority — are being recognized for how investments in infrastructure are helping their communities thrive (read NTUA's story).
In California, PWP has propelled transportation electrification in the city through its Power Up Pasadena program. Kicked off in August 2018, the initiative began with the utility offering robust rebates and incentives for both residential and commercial customers to purchase electric vehicles and charging infrastructure. PWP expanded the incentives so that Pasadena residents with lower incomes can qualify for larger rebates on new or used EVs, and organizations that install public EV chargers in disadvantaged areas of the community can get more robust support.
The utility teamed up with other city departments to electrify part of its fleet and install EV charging stations at city-owned facilities. In June 2019, the city leased 38 Chevy Bolts that are used by employees of various city departments, including public works, fire, code enforcement, and planning.
Pasadena's initiative moved into the national spotlight when it opened the Marengo Charging Plaza in February 2020 in partnership with Tesla. With 44 fast chargers, the station is the largest public fast EV charging station in the U.S. PWP expects that the increased EV infrastructure will encourage further transportation electrification and provide more than $1 million in annual revenue.
The city has doubled its charging infrastructure since the initiative began, and PWP now has the distinction of having the highest percentage of customers who drive EVs among all southern California electric utilities.
"While Pasadena customers 50 years ago may not have considered their local utility a champion for green initiatives, invested in city improvement and a good neighbor to the community, they do now," Renae Plave, public information specialist for PWP, noted in the utility's nomination for the award.
Good neighbors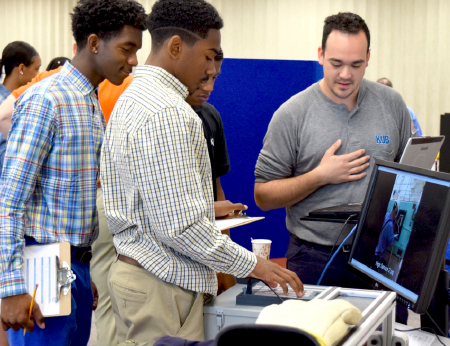 Public power utilities take pride in quality of service and quality of life for their communities. Since 1990, the Community Service Award has honored utilities that demonstrate commitment to the latter. The award was renamed in 2019 in honor of outgoing APPA CEO Sue Kelly.
In its inaugural year, four utilities were honored for the "good neighbor activities" they and their employees provided: Albany Water, Gas & Light Commission in Georgia; Clark Public Utilities in Washington; Memphis Light, Gas and Water in Tennessee; and Paragould City Light & Water in Arkansas.
Clark Public Utilities and Memphis Light, Gas and Water were recognized for substantial employee volunteer efforts. An article announcing the awards in 1990 noted that more than 500 Memphis employees collectively spent more than 20,000 hours volunteering for a variety of city projects.
The article noted that Albany was honored for its Operation KIDS program, which taught children to seek help from utility employees when in danger, and that Paragould won the award for a weeklong utility education program for eighth graders offered during the summer.
The five utilities honored with the award in 2020 exemplify how commitment to community is delivered in many forms. The 2020 recipients are CPS Energy in Texas; Crawfordsville Electric Light and Power in Indiana; Easton Utilities in Maryland; Glendale Water & Power in California; and Knoxville Utilities Board in Tennessee.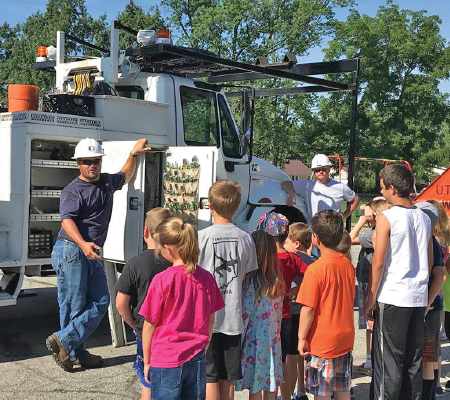 Continuing along the same lines as Albany and Paragould in 1990, Knoxville Utilities Board leads a variety of educational activities for students and other community members. For 25 years, KUB has partnered with a local high school in offering a 16-week program that helps students learn job skills and prepare for future careers. Students participate in sessions such as employer expectations, money management, and interviewing techniques. At the end of the program, students can interview for summer jobs at KUB and get connected with a mentor at the utility for career guidance. As of 2019, 433 students had completed the program, and 10 graduates of the program work at KUB full time.
The utility's educational outreach efforts go beyond the high school program to include demonstrations on safety and conservation. Employees built a high-voltage trailer that shows what happens when branches, balloons, or other items touch live electric lines as a fun, interactive way to teach safety around electricity. In 2019, KUB made more than 85 educational appearances, including attending local environmental events and hosting a safe digging breakfast with contractors and excavators. In partnership with TVA, KUB also offers energy and water saving workshops that feature interactive displays to show how small changes can impact monthly bills. In the last year, KUB has presented the workshop about 30 times, from locations including senior centers, places of worship, and charitable and municipal agencies that reach low- and fixed-income audiences.
In Indiana, Crawfordsville Electric makes a point to note that it does more than just provide service to the community — it is part of the community. Utility employees bring a demonstration kit to local schools to educate kids about safety and host events such as "touch a truck" or facility tours to invite community members in to experience different aspects of the utility's operations and history. The utility participates in community events and a local job fair each year to provide information about electric safety and energy efficiency and to raise awareness about career possibilities in public power.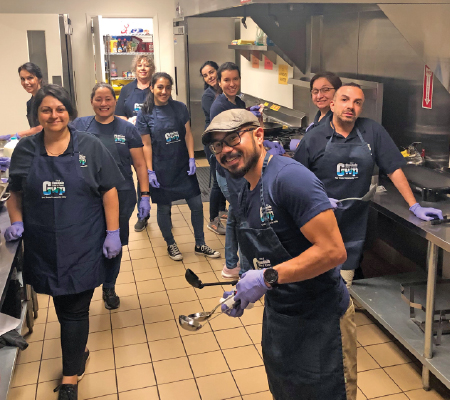 To mark the utility's 130th anniversary in 2020, the public power utility planned to host a variety of events to show its dedication to and appreciation for the people in the community. Planned events include a food drive, tree giveaways, movies in the park, open houses, solar park tours, community clean-up day and a school supply drive.
Employees of Glendale Water and Power in California act as ambassadors for the utility in the community, both on and off the clock. In addition to participating in community events on behalf of GWP, employees volunteer through its Dedicated Employees Volunteering Our Time & Energy, or DEVOTE, program. Volunteer efforts include preparing and serving meals at a homeless shelter, cleaning and organizing a local food pantry, and welcoming kids to the first day of school. In 2019, utility employees also donated to organizations and the school district to provide a variety of items, including school supplies, youth sports jerseys, food, and necessities for families transitioning out of shelter housing.
"GWP employees believe the power of human connection can help foster a more productive, innovative, and inclusive society, and by harnessing our collective power we help achieve lasting social impact for the greater good," Atineh Haroutunian, marketing and public benefits manager at GWP, said in the nomination form. "As an organization, it is important that we find ways to give back and contribute to our community that we serve."
Shining a light on a cause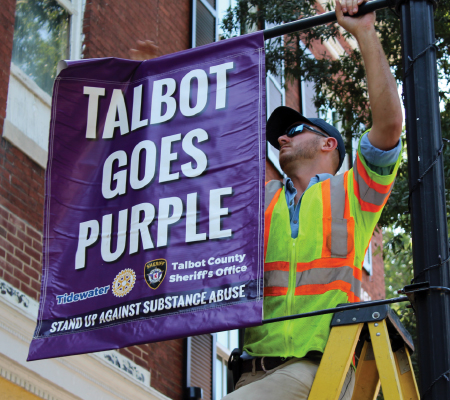 In addition to ongoing community service projects, employees of Easton Utilities in Talbot County, Maryland, took on a big role in 2019 to help raise awareness of the opioid epidemic facing many communities across the U.S., including their own.
The utility joined a local coalition called Talbot Goes Purple to raise awareness about addiction throughout National Recovery Month in September. The coalition consisted of the sheriff's office, local public schools, and other community entities.
The electric department was instrumental in lighting the town purple. Crews wrapped 152 poles with purple lights and added flood lighting to key landmarks, such as the courthouse. County Sheriff Joe Gamble praised the utility's involvement, noting that "We wanted to start a conversation, and those lights really got people talking." He added that once the lights went up, the group got "swamped with invitations to speak and people who wanted to know more." 
Employees participated in other ways, too. City and utility fleet vehicles displayed magnets highlighting the cause, and employees could add the magnets to their personal vehicles if they desired. All employees received a purple shirt, which they were encouraged to wear every Friday in September for a $2 donation to Talbot Goes Purple, and Easton Utilities matched all employee donations. Employees also attended brown bag lunch seminars to understand the epidemic and how it affects the community.
A holistic approach
According to the U.S. Census Bureau, the city of San Antonio has one of the highest poverty rates in the country. For nearly two decades, CPS Energy has partnered with local government entities on the Residential Energy Assistance Partnership to assist families. The program provides financial support for energy services more than 700 families each year, with a focus on elderly, medically dependent and low-income families with young children. Since 2002, CPS Energy has given over $1 million to the fund annually. Customers can donate to the program via their monthly bill. To raise additional funds, CPS Energy started hosting a competitive barbecue cook-off, called GrillsGiving, which allows the community to come together for a fun event and boosts awareness and support for the program. The fifth annual event, in November 2019, raised more than $73,000 for REAP. 
Beyond offering financial support to customers through REAP, CPS Energy also has a unique way to make its customer service more accessible and convenient.
The mobile Customer Response Unit, launched in 2013, uses a case management approach to advocate for and resolve customer issues beyond their electric and gas needs to include "water utility assistance, food security, pet care, housing support and any other needs that are preventing the customer from being sufficient and successful," CPS Energy noted in its nomination form. The CRU team partners with other service organizations in the city to determine how to seamlessly provide assistance to those most in need throughout the community.
"We don't just go into a home and look at it from an electric and natural gas perspective. We follow a compassionate customer care model, look at the whole family, and focus on individual circumstances to determine how we can better serve them," said KJ Feder, CPS Energy's interim vice president of community engagement.
Embracing innovation
For nearly 40 years, the Energy Innovator Award has been bestowed on creative utility programs that focus on improving energy efficiency, customer service, or efficiency of utility operations and resources.
Managed by APPA's Demonstration of Energy & Efficiency Developments program, nominations are reviewed by a distinguished panel of judges that have included members of Congress, commissioners from the Federal Energy Regulatory Commission, leadership from the Department of Energy and the national laboratories, and prominent researchers from universities and industry institutes.
The City of Palo Alto Utilities in California has earned the award nine times, first as one of the inaugural recipients in 1981 and most recently in 2019.
Its first award was for a program designed to spark interest in solar energy. The utility hoped that by educating customers, offering financing options, and connecting with operators of solar systems, it could increase solar generation to 10% of the city's mix by the end of the 1980s.
Today, the city, which has about 25,000 residential and 4,000 commercial electric customers, relies on a variety of zero-emitting resources and purchases carbon offsets so that the city's electricity and natural gas use are both carbon neutral, said Catherine Elvert, utilities communications manager for the city of Palo Alto.
Subsequent awards recognized the public power utility's efforts to engage customers in energy efficiency and demand response programs, a voluntary renewable energy program, and financing for solar installations in low-income households. In 2019, Palo Alto was recognized for its Genie House Call program, which bills itself as a resource for "all of a homeowner's efficiency needs."
"The City of Palo Alto Utilities strives to be the trusted energy provider and adviser for our community," said utilities director Dean Batchelor. "It is a priority for us to collaborate with our ratepayers, academics, other energy agencies, and the tech community here in Silicon Valley."
Elvert said that public-private partnerships have been critical in determining what technology will work best in the utility, and that the "incredible brain trust" in the area opens the door for the utility to explore innovative technologies and approaches to energy management. As an example, the utility is working with software company VMware on a microgrid project to test options for community resilience in the wake of a natural disaster.
"This collaborative approach has helped advance our innovation as a utility and, through these partnerships, furthered technological innovations that allow us to better serve our customers," added Batchelor.
The industry shift to being energy advisers goes beyond understanding or implementing new technologies, said Elvert, and is about how the utility shares information so that customers can "make informed decisions about energy choices." She stressed that the utility's approach to innovation has stayed true to its core as a public power utility to begin by thinking about what customers actually want.
Elvert said that innovation is important because the industry is constantly changing and customer values continue to evolve.
"As a public power utility, we are guided by the community's desire, because they have a voice at city council and at our boards and commissions," said Elvert. "We're not going to stop reaching forward — we're continuing to explore … [and] do what we can to meet our customers' needs on climate action and sustainability."
She pointed to advanced metering infrastructure as an example of a developing technology that can facilitate two-way communication between a utility and its customers.
"In everything we do, we remain true to our core mission of delivering safe and reliable energy at the best value for our customers' dollar," said Batchelor.
Elvert credits the utility's approach to innovation and finding efficiencies for helping keep costs down for customers in Palo Alto. The utility's rates are about 10% lower than those of utilities that serve surrounding communities, she said.
"The entirety of our programs, policies, investments, and incentives are being conducted under the umbrella of our commitment to operating a carbon-neutral energy portfolio," said Batchelor. "I am proud that we are able to pursue such a comprehensive approach to innovative utility programs and services despite being a relatively small utility."