Several public power utilities are assisting with restoration and recovery efforts in the wake of California's devastating Camp Fire, which began in early November and damaged investor-owned utility Pacific Gas & Electric's electricity grid.
Located in Butte County, Calif., east of Chico and north of Sacramento, the Camp Fire is the deadliest and most destructive wildfire in California history. It started on Nov. 8 and has caused 88 civilian fatalities, covered an area of about 153,000 acres and destroyed about 12,000 single-family homes and forced thousands to evacuate.
In a Nov. 29 update on the fire, PG&E said it continues to focus on assessing infrastructure, safely restoring power where possible, and helping customers recover and rebuild.
It noted that the California Department of Forestry and Fire Protection has said that the fire is 100 percent contained.
Public power assists with restoration
Several public power entities have pitched in to help with restoration work tied to fire damage.
One of those public power entities is Washington State's Snohomish County PUD. During the week of Nov. 26, Snohomish County PUD sent a team of 18 employees to assist in the recovery effort in the aftermath of the wildfire.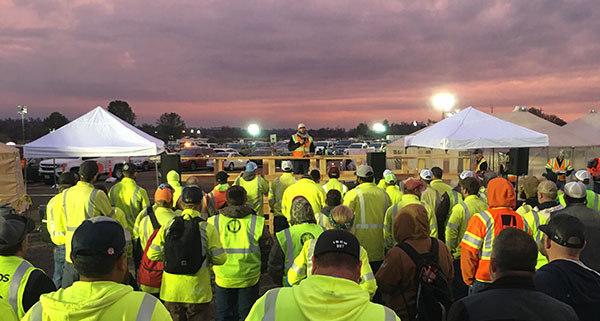 On Nov. 27, the group began work in Paradise, Calif., the epicenter of the Camp Fire. They joined a contingent of about 2,300 other utility workers from as far away as Florida, Alaska and Hawaii, the PUD noted.
Their initial work has focused on setting new poles. PUD tree trimmers also have helped with the significant effort to remove the countless dead charred trees throughout the 150,000-acre region.
The PUD said that safety briefings have been extensive, covering topics such as still-burning stumps, open wells and danger trees. PUD crews report there are so many danger trees, or charred trees that are prone to falling, that crews are not working past dusk.
Snohomish said that the team from Snohomish County, Wash., may be deployed for up to 60 days, but could be called back if Western Washington is hit with a major storm.
Another public power entity that is helping is California's Imperial Irrigation District. IID reported that late Monday afternoon, Nov. 19, three of its energy construction crews and one IID emergency response team headed to Paradise, Calif. to help that Northern California area recover from some of the most devastating wildfires in the state's history.
IID's crews will be on the job anywhere from 14-18 days to "do whatever is needed," said Tim Dickerson, energy construction and maintenance superintendent for the district's La Quinta division.
"It may be a lot of overhead work," Dickerson said, "but basically, we'll be setting poles and do distribution work when necessary," in an effort to restore electricity to the devastated area.
In total, IID is sending a team of 17 that includes energy line construction personnel, emergency responders and a mechanic.
PG&E also reported that along with Snohomish and IID, several other public power entities are supporting the utility's restoration and vegetation management efforts by providing mutual assistance support.
Those public power utilities are: Oregon's Eugene Water & Electric Board, California's Roseville Electric Utility and Oregon's Tillamook People's Utility District.
In a Nov. 26 tweet, Tillamook People's Utility District reported that crews were working in the Paradise, Calif., area replacing poles, transformers and wire to restore the main line in designated areas. "Well over 6,000 poles have been destroyed, approximately 1,000 of those have been replaced so far," it said.
PG&E said that mutual assistance crews from other utilities are on their way.
Public power also assisted in response to summer wildfires
This past summer, public power utilities in the West responded to California wildfires through state and regional mutual aid programs, assisting not only fellow public power utilities, but also investor-owned utilities.
The Carr Fire directly affected Redding Electric Utility (REU), a public power utility in northern California.
In response to the fire, REU put out a call for mutual aid from other utilities.
California utilities that sent crews to help REU restore its system include the following public power utilities: Alameda Municipal Power, Lassen Municipal Utility District, Modesto Irrigation District, City of Roseville Utilities, Silicon Valley Power, SMUD, and the Western Area Power Administration.
Other public power utilities that helped deal with the Carr Fire include Washington state-based Clark Public Utilities and the Los Angeles Department of Water and Power
PG&E over the summer dealt with dozens of wildfires, including the Mendocino fires, which included the Ranch Fire.
Imperial Irrigation District, Snohomish County PUD, Tillamook People's Utility District, as well as investor-owned utilities, sent crews to help respond to the fire.