Public power utility crews from several states have brought electricity to more than one hundred Navajo Nation families as part of a unique mutual aid initiative by the Navajo Tribal Utility Authority (NTUA) and the American Public Power Association to provide electricity to thousands of Navajo homes.
The Association has teamed up with NTUA to launch a pilot program called "Light Up the Navajo Nation." Over 130 volunteers from 27 utilities registered to be part of the Light Up Navajo pilot initiative.
Lineworkers from across the country are building electric lines for projects that will aim to connect hundreds of families during the event. The hope is that the pilot effort will serve as a successful model for future electrification projects.
"We are grateful that these electric line teams have volunteered to travel here to help us with our challenge to extend electric services to homes without," said NTUA General Manager Walter Haase. "We are equally appreciative to their communities and families that have supported this effort to help positively change the standard of life for our families who have been waiting years for electricity." The Navajo Nation is located in parts of Arizona, New Mexico and Utah.
Crews from across the U.S. are working side-by-side with NTUA lineworkers as part of the project.
The two-week trial run for the project started on March 25 and ended on April 6. During that time, crews from Illinois public power utility Rochelle Municipal Utilities connected a total of 20 families.
Lineworker crews participating in the initiative connected a total of 34 families during the first official week of the initiative (April 8-April 13). Those lineworkers were from Grand River Dam Authority (two crews), Heber City, Utah, and Littleton, Mass. During this week, crews from Rochelle Municipal Utilities focused on mainline construction.
During the week of April 15-April 19, a total of 36 families were connected by public power crews from Boylston and Littleton, Mass., Delaware Municipal Electric Corporation, Farmington, N.M., Piqua, Ohio, and Rochelle Municipal Utilities.
The following week (April 22-April 26) saw another 30 families connected as a result of the initiative. Crews from Farmington, N.M., Lawrenceburg and Scottsburg, Ind., Sterling and Littleton, Mass., Boylston and Painesville, Ohio and Wadsworth, Mass., helped to connect families during this week.
During the fourth week, an additional 32 families were connected which brings the current total to 152 families connected thus far. A total of 23.52 miles of transmission line has been completed as of May 5 and the work will continue through May 18.
David Hefner, who served as the GRDA lead in Arizona, said that "when I was a kid I lived with my great grandparents. We didn't have power."
He said that getting power for the first time "means you're not having to cut so much wood" or having to carry coal into a house. "You can turn a light on by flipping the switch on the wall," as opposed to having to look for a match to light a candle or a coal oil lamp.
Hefner said that many of the things "that we take for granted in the majority of the United States" are struggles "here on the reservation."
GRDA's Steven Willis talked about one family that a GRDA crew connected who had a sick child in need of refrigerated medicine. "We got them that power, they've got the refrigeration they need, and that's what I'm here for. I'm here to get as many people on as I can before I leave."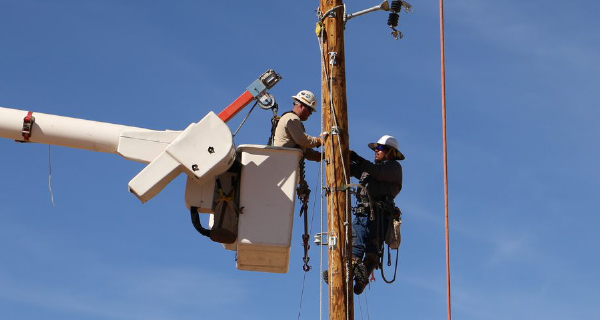 Brad Nosker with Farmington Electric Utility System in New Mexico said that "we have pretty rough summers and pretty rough winters. We've got a big temperature change from winter to summer that we go through, so we get to see how cold it is and how hot it is."
He said that to be able to bring power to Navajo Nation residents that don't have a heater in the winter and air conditioning in the summer, "it's a really good feeling to get to help them out."
"Power means having warm water. Power means walking in the door and simply what we take for granted – flipping on a light bulb, flipping on a switch – and so to these people that's something that's going to be new and it's exciting," said Piqua Power System's Kindric Link. "We're happy to be here to help them do that."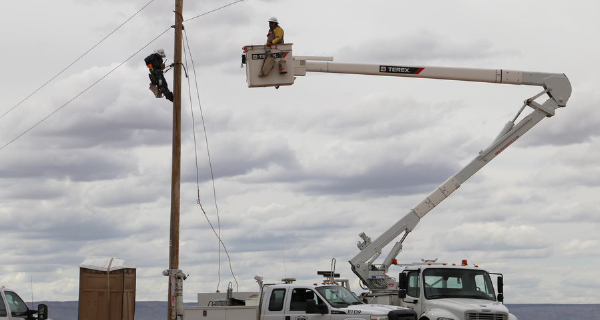 "To me as a lineworker, we're very eager to come and help connect people to the grid and try to have everyone have electricity and make sure that everyone has the standard of living that everyone would like to have," said Piqua Power System's Tyler Martin. "It's pretty awesome coming out here and helping these people out that are in dire need of it."
"It's different than storm restoration," said Scott Barakian of West Boylston Municipal Light Plant. "Some of these people have been waiting for years and years and the joy on their faces – it's emotional," he said. "People are happy."
Michael Hyland, Senior Vice President, Engineering Services at the Association, who recently made a trip to the Navajo Nation to see how the project was progressing, said that "the dedication of the lineworkers participating in the initiative is truly remarkable. I was also able to see firsthand what a difference Light Up Navajo is making in the lives of Navajo Nation residents."
"It overwhelms my heart" that people from all over the U.S. "are here to help me," said Navajo Nation resident Fannie Shorthair. "That is so neat. It makes me want to scream with happiness."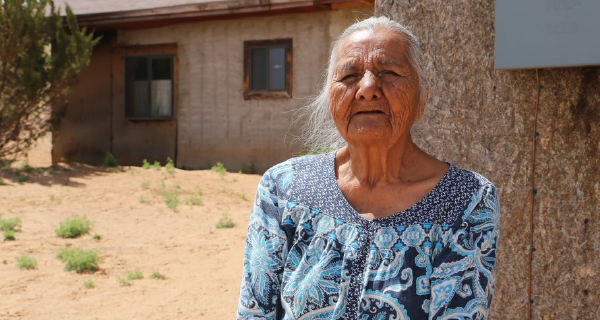 SRP, SMUD sent crews
Meanwhile, Arizona public power utility Salt River Project on April 27 sent two crews, comprised of 10 employees, to the Navajo Nation for three weeks of work connecting families as part of the initiative.
SRP's first wave of line crews departed Tempe on the morning of April 27 to begin setting miles of wooden distribution poles and stringing conductor through the vast Navajo Nation. Since starting work on May 29, two SRP line crews and a total of 12 employees worked 12-hour days and provided electricity to 10 homes as of May 3.
"I've been in the trade for 25 years and this is the first time we've ever done something like this," said Kyle Bridges, SRP line working foreman. "We sometimes provide new subdivisions with power, but this is completely different — these families have never had electricity before. To me it's monumental and groundbreaking. I'm happy to be a part of it."
Devayne and Rethema Kenny, who live near the community of Ganado, were among the families that were connected.   
"Since we have never had a fridge, it's been hard not having fresh food like fruits, vegetables and milk, especially when my 4-year-old wants something cold or fresh," said Rethema. "We are so grateful that our kids have a brighter future, and we can now raise them healthy and strong — and not living on dried and canned goods."
The second wave of SRP line workers was preparing to depart on Saturday morning, May 4, from Tempe to relieve the wave one crews.
"It's truly an honor to come here and do this for people and to be able to see their faces when the light goes on," said SRP's Stephen Frost.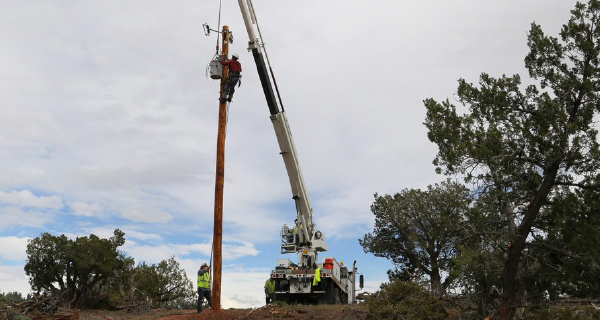 California public power utility SMUD on April 29 said that a crew of its lineworkers loaded up their rigs and hit the road on April 26 to take part in Light Up the Navajo Nation. The SMUD lineworkers will work until May 11, and then return to Sacramento.
"Through this partnership, SMUD will help improve the lives of Navajo families, many of whom will be connected to the electric grid for the very first time," said SMUD Chief Energy Delivery Officer Frankie McDermott. "We anticipate that Light Up Navajo will serve as a successful model for continued efforts to turn on the lights for all Navajo homes that hope to connect to the grid." 
NTUA received $125,000 DEED grant earlier this year
In 2018, the board of directors for the Association's Demonstration of Energy & Efficiency Developments program approved a $125,000 grant application submitted by NTUA, which was related to the Light Up the Navajo Nation effort.
In its application, NTUA said it would explore several options to survey and assess, within the Navajo Nation, the feasibility to electrify its Navajo Nation members.
NTUA said it would conduct feasibility studies to address the difficulties of providing electric line extension construction projects on the Navajo Nation.
For more information on the Light Up Navajo project, visit PublicPower.org/LightUpNavajo.