In the wake of Hurricane Ida, which made landfall in Louisiana over the weekend as a Category 4 hurricane, public power utility crews continued to assist with power restoration efforts in the Southeast as Ida shifted to a Tropical Depression.
The Department of Energy (DOE) in an update said that as of 7:00 a.m. EDT on August 31, there were approximately 1.1 million customer outages due to Ida, with approximately 1 million outages in Louisiana.
DOE said that as of 5:00 a.m. EDT on Aug. 31, Tropical Depression Ida was 185 miles southwest of Nashville, Tennessee, moving northeast at 12 MPH, with maximum sustained winds of 30 MPH.
"Considerable heavy rain and flooding threats will continue to spread from the Tennessee and Ohio Valleys into the central and southern Appalachians and Mid Atlantic through Wednesday," DOE said.
DOE noted that utilities are conducting damage assessments and restoration efforts as conditions permit. Damage assessments are expected to take three days and estimated restoration times will be established once damage assessments are complete, the federal agency said.
Utilities in the impacted area pre-staged crews, equipment, and materials and mutual assistance networks have been activated to support restoration efforts as needed. A large number of public power utilities from several states sent crews to Louisiana prior to the arrival of Ida.
Many of those crews were set to assist Louisiana public power Lafayette Utilities System (LUS) in its recovery efforts. For example, mutual aid crews from the City of Tallahassee, Fla., deployed Saturday to arrive in Lafayette Sunday morning before the storm to assist LUS. With LUS receiving little to no impacts from Ida, the City of Tallahassee was redeployed to the City of Houma, La.
LUS on Aug. 31 reported that a team from LUS is in Houma doing damage assessment as well as line and tree trimming crews from Tallahassee, North Carolina's Greeneville Utilities Commission, the City of Statesville, N.C., the City of High Point, N.C., the City of Wilson, N.C., Oklahoma's Grand River Dam Authority, Nebraska's Lincoln Electric System, the Town Tarboro, N.C., and North Carolina's Wake Forest Power that pre-staged in Lafayette for Ida.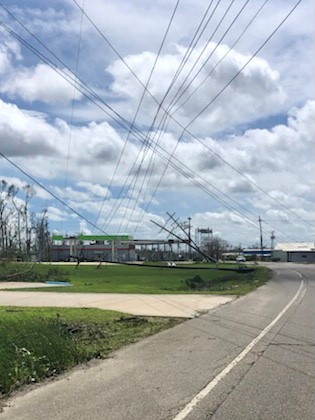 Crews from Thomasville, Ga., were deployed to St. Martinsville, La., initially, released Aug. 31 and then asked to assist Houma.
Brandon Wylie with Electric Cities of Georgia (ECG) has been assisting in Morgan City, while ECG Training and Safety Specialist Calvin Vallee has been helping out in St. Martinsville. On Sept. 1, they both will be traveling to Houma. Wylie is Director of Safety and Training at ECG.
Crews from the Georgia public power communities of Griffin and Calhoun were deployed to Morgan City, La.
ECG is a non-profit organization providing strategic and technical services to 52 public power communities with utility operations. Calhoun and Griffin are members of ECG.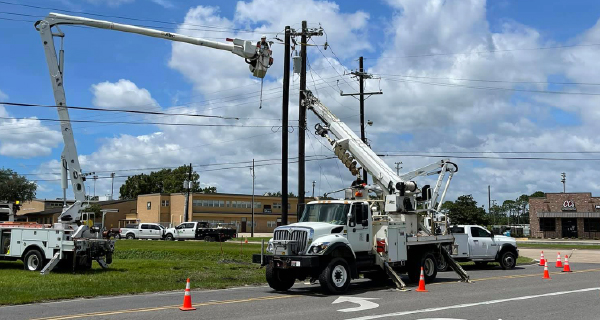 Meanwhile, Nebraska's Omaha Public Power District on Aug. 31 said it was sending 15 employees to Baton Rouge, La., to help with power restoration in the aftermath of Ida.
OPPD's team – including four, three-person line crews, two transportation mechanics, and one field supervisor – left Monday at noon and are expected to arrive in Baton Rouge this evening. They will work with investor-owned Entergy Louisiana.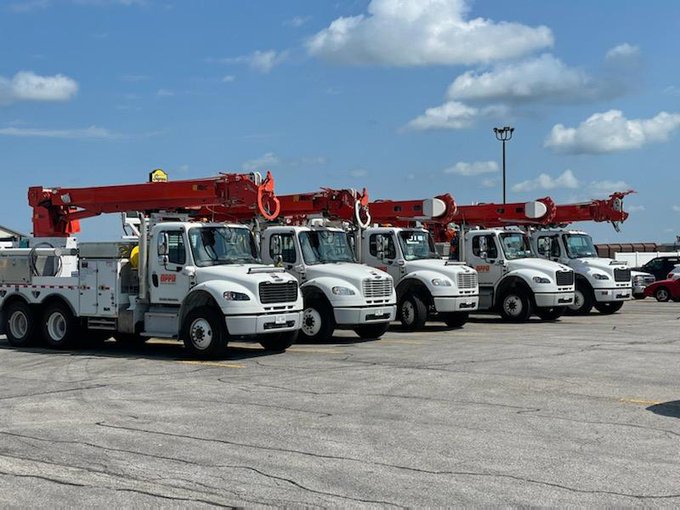 "Our linemen are happy for the opportunity to provide mutual aid support," said OPPD Papillion Center Manager Eli Schiessler, who is overseeing the effort. "It's particularly gratifying to be able to help another community, given the level of support we have received from other utilities this year in our service territory."
Meanwhile, a 16-man contingent of line technicians and supervisory staff from Nebraska Public Power District (NPPD) will be hitting the road on Tuesday, journeying to Baton Rouge to provide mutual aid and restore power.
The contingent from NPPD will be utilizing a variety of equipment used in restoration efforts, with a commitment for two weeks to assist in restoring power for Entergy.
NPPD crews were expected to arrive Thursday to begin assistance.
Meanwhile, the City of New Smyrna Beach, Fla., and Fort Pierce Utilities Authority sent mutual aid crews to assist utilities personnel in the City of Plaquemine, Louisiana. The Florida public power utility teams were set to deploy on Sunday to arrive in Plaquemine Monday to begin restoring power once the storm passes. Plaquemine said that as of 6 pm, Aug. 30, power had been restored to almost all of the city's utility customers.
Crews from the following Florida public power utilities were released and are on their way back to Florida: JEA, Lakeland, Orlando, Kissimmee.
Meanwhile, a caravan of Missouri-based public power utility crews headed to Mississippi to help Southwestern Electric Cooperative to get the power back on.
The effort involves 32 lineworkers from seven Missouri Public Utility Alliance (MPUA) towns -- crews from Missouri cities of Carthage, Higginsville, Independence, Lebanon, Nixa, Palmyra, and Poplar Bluff.