As with public power communities across the country, Metropolis, Ill., and Blue Earth, Minn., have taken a variety of steps to help their residents avoid exposure to COVID-19.
Metropolis is home to Superman and Lois Lane, while the Jolly Green Giant resides in Blue Earth. Well, to be more precise, Metropolis is where you can find statues of Superman and Lois Lane, while a 55-foot tall statue of the Jolly Green Giant proudly stands watch over Blue Earth.
Now, those statues are being utilized in the ongoing fight against the pandemic.
Metropolis
Although the annual Superman Festival in the municipality of Metropolis, Ill., had to be cancelled due to the COVID-19 pandemic, Metropolis and Metropolis Electric Department employees have been working hard to keep everyone safe during this challenging time.
Metropolis, which is home to Superman, includes a large statue of the superhero. As a way in which to remind city residents of the importance of wearing personal protective equipment (PPE) during the pandemic, the city's public power utility recently placed a protective facemask on the statue.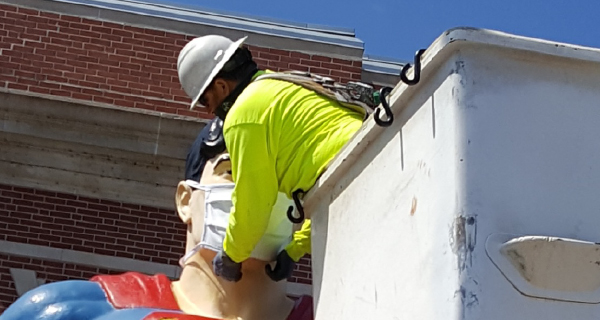 A protective mask was also placed on the statue of famed news reporter and Metropolis resident Lois Lane.
When asked how the placement of the masks on the statues provides an example of how a public power community and utility work hand in hand to benefit its residents, Metropolis Mayor Billy McDaniel noted that Superman and Lois Lane are leading by example.
The masks on the statues will be removed once COVID-19 restrictions have been lifted.
When asked to detail what the city of Metropolis and the Metropolis Electric Department are doing to protect the community from exposure to COVID-19, McDaniel mentioned the wearing of proper PPE and social distancing.
Along with wearing the proper PPE and maintaining a safe distance from each other when possible, workers at Metropolis Electric Department are regularly sanitizing their work and break areas throughout the day, the mayor noted.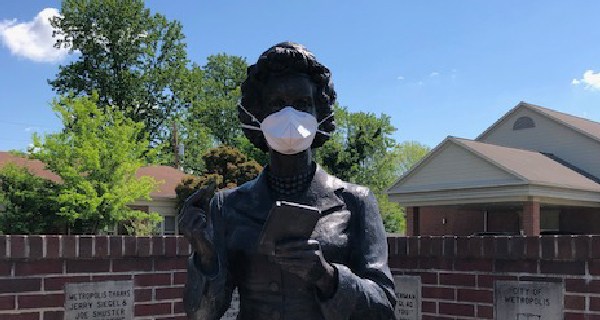 The Superman Festival, which was originally scheduled for the weekend of June 13, draws thousands of visitors each year.
Metropolis is a member of the Illinois Municipal Electric Agency (IMEA) and the Illinois Municipal Utilities Association.
Blue Earth
Meanwhile, in Blue Earth, workers from Blue Earth Light & Water (BELW) assisted with placing a mask on the Jolly Green Giant statue.
Tim Stoner, general manager at BELW, said that as a community partner, "we always attempt to assist the chamber and city with 'dressing the giant'" and in this case it made sense to bring awareness to personal protection.  
Stoner said that as a public power utility, BELW "believes that every effort should always consider the communities best interest. Building additional awareness to a real threat is a worthwhile cause."
Stoner also detailed what actions BELW is taking to ensure the safety of its workers and customers in response to the COVID-19 pandemic.
"Early on BELW understood our COVID 19 approach must identify customer and staff safety," Stoner noted.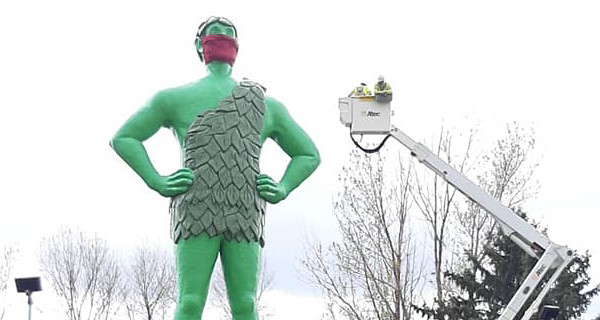 With respect to BELW customers, the utility formally addressed policy to:
Restrict customers disconnects for non-payment by extending the Minnesota cold weather rule for disconnects

Waive late fees

Increase the arrangement parameters for payment plans
As for BELW staff, Stoner said the utility did the following:
Closed the office to the public to limit exposure, requested all business to be electronic or completed through our drive thru

Asked staff to work from home

Dispatched all staff from home, while maintaining a single representative form each department onsite

As business picked up, required sanitization, PPE and social distancing. 

Breakrooms were enlarged to account for distancing

Limited person to person contact, only to be completed with safety measures in place
"Our largest issue has been the procurement of PPE supplies," Stoner said.
He said that overall, "the staff is constantly thinking about keeping each other safe while we keep the lights on."