Restoring electric service to the U.S. Virgin Islands, after two Category 5 hurricanes laid waste to the power system there in September, is not a quick or easy task.
But many hands — including mutual aid crews from public power utilities on the U.S. mainland — are making progress at methodically building back the power distribution and transmission systems on St. Thomas, St. John, St. Croix, and the other islands that make up the U.S. territory.
The Department of Energy and the Western Area Power Administration have also played key roles in assisting with recovery and power restoration efforts.
DOE personnel remain deployed in the U.S. Virgin Islands through the agency's Emergency Support Function (ESF-12). The initial deployment for ESF-12 personnel was Sept. 3, 2017.
The DOE notes on its website that the purpose of ESF-12 is for the DOE to facilitate the reestablishment of damaged energy systems and components when activated by the Secretary of Homeland Security for incidents requiring a coordinated federal response under the Stafford Act.
A blog posted on the DOE's website offers a detailed "day in the life" of the Bonneville Power Administration's Ron Alexander, an ESF-12 volunteer who deployed to St. Thomas in the U.S. Virgin Islands.
Meanwhile, in response to a Federal Emergency Management Agency request, the DOE in September activated support from WAPA to provide emergency power restoration to the U.S. Virgin Islands, as directed by FEMA.
WAPA crews recently wrapped up activities helping to restore the backbone of the electrical grid after several months of deployment on the islands.
Mutual aid crews come from across the mainland to help
Plenty of people have come from far away to help. Mutual aid crews organized by the Florida Municipal Electric Association departed on Nov. 21 and 22 for the islands, and the Northeast Public Power Association said Nov. 21 that it had 70 workers in the Virgin Islands from more than 20 different public power utilities that are members of NEPPA.
Those NEPPA member utilities are: Town of Danvers, Holyoke Gas & Electric, Wallingford Electric, Paxton Light Dept., Littleton Light, Groton Utilities, Westfield Gas and Electric, Holden Light, Templeton Light, Norwich Public Utilities, Wakefield Municipal Light and Gas, Concord Municipal Light Plant, South Hadley Electric Light, Town of Groveland, Town of Middleton, Sterling Municipal Light Department, Georgetown Municipal Light Department,  Hingham Municipal Lighting Plant, Burlington Electric, Braintree Electric Light Department, Stowe Electric, Taunton Municipal Lighting Plant and Ashburnham Municipal Light Plant, which donated one of its bucket trucks to the U.S. Virgin Islands Water & Power Authority.
Both mutual aid efforts were coordinated by the American Public Power Association and the U.S. Virgin Islands Water and Power Authority.
"A lot of the work that will be needed is laterals — service drops — the connection that goes to the person's house," said Sam Rozenberg, the Association's engineering services security manager. St. Croix and St. John still need the most work, he noted.
Scott Edwards, general manager of Littleton Electric Light and Water Departments in Littleton, Massachusetts, led the effort to find volunteers among members of the Northeast Public Power Association to travel to the Caribbean islands to help their sister public power utility.
Edwards was part of the first wave of public power personnel from NEPPA that arrived in the Virgin Islands in mid-October. They stayed for three weeks. A second group arrived after that, and Edwards led a third wave that was scheduled to be there for an additional three-week shift, from Nov. 27 to Dec. 15.
The New England crews drove their trucks to Ft. Lauderdale, and the vehicles — two dozen line trucks, two mechanics trucks and six supervisors' trucks — were shipped from there to St. Thomas. It took a week for the trucks to arrive, Edwards said. The linemen did not travel with their trucks, but arrived by plane.
Edwards said the storm damage that he saw was worse than when he was in the islands 22 years ago.
The first week that the New England crews were there, they stayed on a cargo ship that was rented by the Federal Emergency Management Agency, he said. After that, the linemen had lodging on a cruise ship rented by FEMA.
The linemen have been working 12 to 14 hours a day, Edwards said. He described the work day this way: "Wake at 5 a.m., start work at 5:45, work until 6 to 7 p.m., then back for dinner, bed, then start all over again." That goes on for three straight weeks for each of the waves.
In an interview with the Sentinel & Enterprise in Fitchburg, Mass., Edwards described the work this way: "One pole at a time."
He said that for the first two weeks the crews had enough materials to work with, but then they began to run short of some items. The power restoration effort continues to be hampered by shortages of material, he told Public Power Daily Nov. 21.
The Association is working with its members, as well as cooperatives and investor-owned utilities, to assist USVI-WAPA to fulfill materials needs.
Some buildings are beyond repair and some need roofs, he noted.
Asked how people in the Virgin Islands were dealing with the lack of electricity, as well as lack of other essentials such as drinking water and food, Edwards said the islanders were taking the situation in stride and were handling it "surprisingly well — much better than we would handle it" at home in New England.
"This has been a rewarding mission of our NEPPA utilities," Edwards said. The public power crews "have all performed in a professional and highly productive manner, which I knew they would."
"Scott has done a nice job of coordinating hurricane response efforts in the Virgin Islands," said Michael Hyland, the American Public Power Association's senior vice president of engineering. "I have worked with Scott and the Northeast Public Power Association team throughout the recovery process and their dedication to the restoration effort has been truly remarkable."
On Nov. 21-22, 31 public power personnel from the City of Tallahassee electric utility, Ocala Electric Utility, City of Homestead electric utility and the Fort Pierce Utilities Authority headed for St. Croix, the Florida Municipal Electric Association said. They brought with them more than 30 bucket trucks, pickup trucks, trailers and other pieces of equipment, which floated to St. Croix via barge from Palm Beach. The public power crews flew to St. Croix to meet the trucks.
Personnel from Florida's Lakeland Electric have also been deployed.
With only about 25 percent of the island's power restored at the time the Florida crews left, St. Croix was the first priority, but the public power personnel also were prepared to assist with restoration efforts on St. John and St. Thomas, which were hit hard by Hurricane Irma.
"After Hurricane Irma tore through nearly the whole state, Florida utilities were the grateful beneficiaries of mutual aid from utilities all across the country," said FMEA Executive Director Amy Zubaly.
"We are honored to have this chance to return the favor and help our neighbors in the U.S. Virgin Islands get their lights and their lives back to normal," said Zubaly in a Nov. 21 news release. "And, we deeply appreciate the service and dedication of these public power lineworkers who are leaving their families behind during Thanksgiving to assist."
Other public power utilities have also sent personnel
Other public power utilities have also sent personnel. Those utilities are South Carolina's Santee Cooper, Oklahoma's Grand River Dam Authority and the Nebraska Public Power District.
In addition, several members of the Missouri Public Utility Alliance have also sent personnel. Those utilities are: Independence Power & Light, City of Harrisonville, Mo., Columbia Water & Light, City of Hannibal, Mo. and Macon Municipal Utilities.
Personnel from Wisconsin's public power utilities also recently deployed. Those Wisconsin public power utilities are: Reedsburg Utility Commission, Two Rivers Water & Light, Marshfield Utilities, Fennimore Utilities, Arcadia Electric Utility, Rice Lake Utilities, and Clintonville Utilities. Personnel from Municipal Electric Utilities of Wisconsin will also be deploying. MEUW is the state association representing the interests of Wisconsin's locally owned, locally controlled municipal electric utilities.
"Public power utilities are stepping up to the plate to help get the lights back on in the Virgin Islands. These efforts are yet another example of how the mutual aid process is such an effective tool when it comes to power restoration," said Hyland.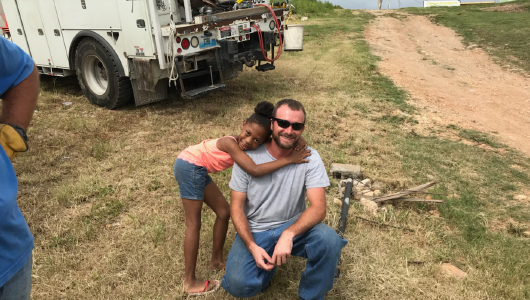 WAPA, DOE activities
WAPA, one of the federal power marketing administrations, on Nov. 30 said that a few dozen of its power line workers had returned from the U.S. Virgin Islands after restoring the backbone of the electrical grid there.
As the first deployed line crews to arrive, WAPA employees were tasked and paid by the Federal Emergency Management Agency to repair about 25 miles of transmission lines on St. Thomas following Hurricane Irma's landfall on Sept. 6, WAPA noted. When WAPA crews completed their deployment on Nov. 29, 40 percent of the power system had been restored, energizing more than 20,000 residents who had been without power since Sept. 6, it said.
WAPA noted that in the U.S. Virgin Islands, the St. Thomas transmission system powers both St. Thomas and neighboring St. John, together home to more than 55,000 people. Restoring the transmission system had to occur before smaller electrical lines to homes and businesses could regain power.
In all, 36 WAPA power system experts from nine states deployed starting Sept. 17. The volunteer crews rotated deployments with 25 of them in the U.S. Virgin Islands at any given time. A few worked the entire mission, missing Halloween and Thanksgiving with their families.
"When we first arrived, we could only see about a dozen lights on the island from the ship, energized by individual generators," said WAPA lineman Kai Bothwell from Phoenix, Ariz., who was on island from Sept. 27 through Oct. 27. "By the time I left, the majority of the lights were on across that side of the mountain. It was a real sense of accomplishment."
Employees worked 12- and 13-hour days, seven days a week in mountainous jungle for more than two months, WAPA noted. The crews lodged in docked ships, first in a merchant marine vessel and later in a retired cruise ship.
The deployment was WAPA's first assignment outside the continental U.S.
"I am so proud of the people who volunteered to deploy away from their families and also the team at home who supported them," said WAPA Administrator and CEO Mark Gabriel. "They are dedicated and committed to our mission and our core value of serving like your lights depend on it."
WAPA is also supporting U.S. Army Corps of Engineers power recovery efforts on Puerto Rico. Since mid-October, three engineers have deployed to serve as subject matter experts.
Julio Rhymer testifies at Capitol Hill hearing
In September, the Virgin Islands "faced the phenomenon of two back-to-back Category 5 hurricanes within two weeks," said Julio A. Rhymer Sr., who at the time was executive director and CEO of the Virgin Islands Water and Power Authority, noting that a Category 5 hurricane has sustained winds of 157 miles per hour or greater.
With Hurricane Irma, there were cases "where winds were sustained at about 190 mph," he told a House hearing in early November.
The Water and Power Authority's distribution and transmission facilities "were, plain and simple, destroyed" by the catastrophic winds of the two powerful hurricanes, he told the lawmakers.
Rhymer spoke at a Nov. 2 hearing held by the House Energy and Commerce Committee on the topic, "The 2017 Hurricane Season: A Review of Emergency Response and Energy Infrastructure Recovery Efforts."
With assistance from FEMA, Navy ships have been providing sleeping quarters for crews who have come from the mainland to help restore power, he said, since many hotels and guest houses remain closed because of major damage from the storms.
The physical damage is severe, Rhymer said, and so is the financial impact to the Virgin Islands utility.
He made a plea for funding for the day-to-day operations of the Water and Power Authority and for future hardening of the electric system.
Rhymer thanked Congress and President Trump for the disaster relief measure that gives $36.5 billion to USVI and Puerto Rico.
He also noted the Water and Power Authority was seeking a Community Disaster Loan. The governing board of the Virgin Islands Water and Power Authority on Nov. 8 authorized Rhymer to apply for a FEMA Community Disaster Loan in the amount of $75 million.
Rhymer said the Virgin Islands utility wants to reinforce its electric system by putting more of it underground; by moving away from wooden utility poles and using more composite poles; and by building microgrids. The first microgrid will be on St. Croix, he noted.
Latest on restoration efforts
The Virgin Islands Water and Power Authority on Nov. 27 published an electrical restoration schedule for the following two weeks detailing areas where crews will be restoring service.
With additional manpower and equipment on-island, additional shipments of materials and supplies expected in both districts, the Authority said it remained committed to its previously stated goal of energizing 90% of all areas by Dec. 25.
The ten percent that will not be energized by that time "will represent those customers who simply cannot be restored due to structural damage to their homes/businesses, those who have opted not to rebuild, or those who have relocated from the Virgin Islands," the Water and Power Authority said in a news release.
In a Dec. 13 update, the Department of Energy said that as of December 11, the U.S. Virgin Islands Water and Power Authority reported approximately 21,885 customers (44.03%) remain without power within the territory. 
As of December 12, there are approximately 835 supplemental personnel assisting with restoration efforts across the U.S. Virgin Islands, the DOE reported.