Jim Bernhard, founder and partner of private equity management firm Bernhard Capital Partners, recently outlined his firm's plans for managing the electric division of Louisiana public power utility Lafayette Utilities System, as well as the firm's broader strategy to invest billions of dollars in public power systems across the Southeast U.S.
In early April, Lafayette Mayor-President Joel Robideaux signed a non-binding letter of intent authorizing Baton Rouge, La.-based Bernhard Capital Partners to review LUS' electric division for a possible $526 million transaction that would privatize the utility's electric division. Under discussion is a management contract for the LUS electric division.
In remarks made in an Aug. 23 speech to the Lafayette, La., Rotary Club, Bernhard said that the firm was almost done with its due diligence and that a final proposal would be submitted to Robideaux in September.
Plans for other public power utilities in the region
Bernhard also used his speech to outline the firm's plans for other public power systems in the region beyond LUS.
"We are going to invest in about $15 to $20 billion in municipal utilities throughout the Southeastern part of the United States," Bernhard said. Bernhard Capital Partners would manage public power systems through a subsidiary called NextGen Utility Systems.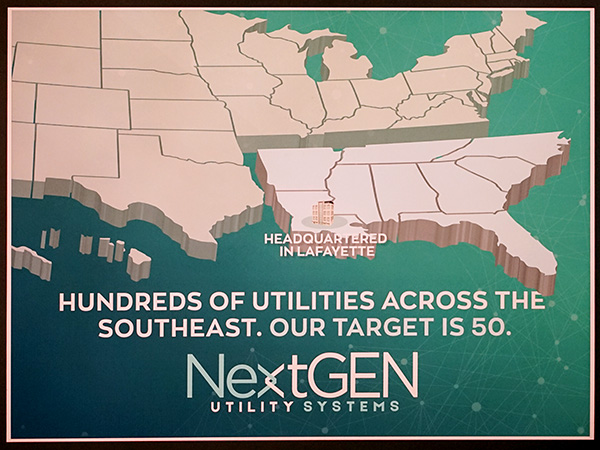 Local news outlets in Lafayette have reported that Bernhard Capital Partners envisions including a privatized LUS electric division as part of what would eventually become a Fortune 500 company with its headquarters in Lafayette, although Bernhard noted in his speech that a second city that he would not name is also under consideration for the location of the headquarters.
"We would be the largest utility – larger than Entergy – at the end of five years," Bernhard said in his speech.
Investor-owned utility Entergy, which is headquartered in New Orleans, La., is a Fortune 500 company with revenues of approximately $11 billion, and 30,000 megawatts of generating capacity.
In outlining what the final proposal will include, Bernhard said that it was never the firm's intent to purchase LUS assets. He said that when Hurricane Katrina hit the grids of Entergy and another Louisiana-based IOU, Cleco, the ratepayers paid for the repairs, "so we don't want to own the assets."
When public power utility system assets are affected by hurricanes such as Katrina, the Federal Emergency Management Agency will cover 90 percent of the repair payments, Bernhard said, "so why would we ever want to pay more?"
Bernhard asserted that under the plan, rates would hold steady for the next three years and he also said that LUS debt will be paid off, "so your balance sheet should improve and your credit rating should increase."
The private equity firm would like a vote on the proposal by the city council, as well as voters in Lafayette, Bernhard noted.
In his remarks, Bernhard detailed what he said the private equity firm has found so far with its review.
Referring to Terry Huval, who recently retired as director of LUS and LUS Fiber, Bernhard said that thanks to Huval, when "the switches needed to come on, your lights came on." Bernhard said that "service has been very, very good from what we've seen and a lot of that's because of Terry's direction for a long period of time and he should be proud of that."
In late July, Robideaux appointed Jeffrey Stewart as interim director of LUS until a permanent director is named. Stewart, who most recently served as the engineering and power supply manager for LUS, has worked for the utility system for more than 17 years.
At the same time, Bernhard asserted that there are other aspects of LUS that need to be improved. In particular, Bernhard argued that the safety record for LUS could be improved, although he did not specifically reference the LUS electric division.
LUS has a solid track record of reliable electric service. The utility notes on its website that as compared with Louisiana Public Service Commission goals, LUS customers typically experience fewer outages than other customers throughout Louisiana.
And LUS has been recognized by the American Public Power Association for reliability several times. In 2017, LUS achieved a Platinum-level Reliable Public Power Provider (RP3) designation from the Association, the second highest RP3 award level. The RP3 program recognizes utilities that demonstrate high proficiency in reliability, safety, workforce development, and system improvement. Utilities keep the RP3 designation for three years.
In a recent interview with the Association, Bruce Conque, a member of Lafayette's City-Parish Council, said LUS is a utility with one of the most reliable systems and offers some of "the best rates and certainly the best customer service you will find anywhere in the state and we'll compare it to the rest of the South, and those are three aspects that you only find, in my mind, in community-owned utilities."
Bernhard in his speech also asserted that "some things need to be invested in" for LUS, mentioning cybersecurity specifically.
LUS already complies with certain North American Electric Reliability Corporation (NERC) Critical Infrastructure Protection (CIP) standards. The NERC CIP standards are aimed at improving the cyber and physical security of electronic systems that manage electric grid operations.
These mandatory standards require organizational, operational, and procedural controls to mitigate risk to bulk electric system cyber systems. LUS complies with NERC CIP standards and takes additional cyber measures to protect its system.   
Huval in early 2017 detailed the myriad ways in which LUS has proactively guarded against cyberattacks.
The video of Bernhard's speech is available here.
Bernhard started The Shaw Group in 1980s
Bernhard started The Shaw Group in the mid-1980s and served as the CEO, president and chairman of the company.
"In 1986, J.M. Bernhard Jr., our chairman, president and chief executive officer, and two colleagues, founded Shaw as a pipe fabrication shop in Baton Rouge, Louisiana," The Shaw Group noted in an annual report filed with the Securities and Exchange Commission.
By 2013, The Shaw Group had grown to become a Fortune 500 firm with fiscal year 2011 annual revenues of $5.9 billion, offering a wide range of engineering, construction, equipment, environmental and manufacturing services across the energy arena.
In February 2013, The Shaw Group was acquired by Chicago Bridge & Iron in a $3 billion transaction.  
After departing the Shaw Group, Bernhard formed Bernhard Capital Partners with Jeffrey Jenkins, who served in a number of executive roles at the Shaw Group from 2003 to 2013. Several other former executives from the Shaw Group now work at Bernhard Capital Partners.