Planning for Light Up Navajo III, which will connect Navajo Nation families to the power grid, is underway. Public power utilities are encouraged to consider participating in Light Up Navajo III, which will start in the spring of next year.
The American Public Power Association (APPA) is working with the Navajo Tribal Utility Authority (NTUA), based in Fort Defiance, Ariz., to help volunteers continue to bring electricity to families in need.
Light Up Navajo III is scheduled to take place from April through June of 2022.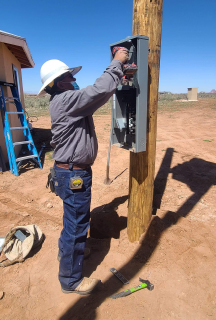 "This project has become a godsend for so many families that are waiting for the day to be able to store fresh food in a refrigerator, to be able to turn on the lights when the sun goes down and the young ones can do their homework without using a flashlight," said NTUA General Manager Walter Haase. "It is our hope that our sister APPA companies will send their crews to help bring positive change. For every family we connect, there is another one waiting."
In 2019, NTUA partnered with APPA to create an innovative, pioneer project called Light Up Navajo. The goal was to connect Navajo homes to the electric grid. There were 138 visiting line workers who traveled to Navajo Nation for the six-week pilot project. Electricity was extended to 233 regional families. The success of the pilot project paved a path for future Light Up Navajo projects.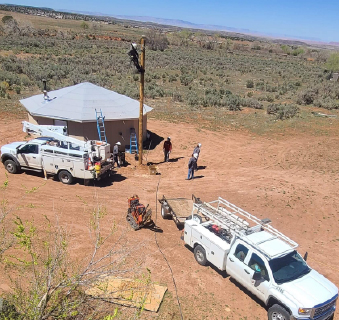 In August 2019, NTUA officials said there would be another year of "Light Up Navajo" based on the outcome of the pilot project. NTUA was preparing for Light Up Navajo II for spring 2020. However, citing growing uncertainty tied to the COVID-19 pandemic, NTUA postponed the Light Up Navajo II project in 2020.
In an August 2021 episode of APPA's Public Power Now podcast, Delaware Municipal Electric Corporation's Kimberly Schlichting, Gary Johnston of the Lewes Board of Public Works in Delaware, and Joshua Little of the Town of Smyrna, Delaware, discussed the Light Up Navajo project.
Interested public power utilities should contact [email protected] for more information on this important event.