The Orlando Utilities Commission is setting up a highly granular weather monitoring system that will be used to help make dispatch decisions as real-time weather changes affect the output from solar panels as well as customer load.
OUC, a municipal utility serving about 250,000 customers in the Orlando, Florida, area, has a diverse power plant fleet at its Stanton Energy Center that includes natural gas, coal, landfill methane gas and solar energy.
OUC's customers use close to 8 million megawatt-hours a year and the utility has a goal of supplying 20 percent of its retail needs by 2020 from sustainable resources such as solar, nuclear and energy efficiency. Last year, OUC said it plans to add 108.5 MW of solar by 2020.
Looking further ahead, Orlando has a goal of being 100 percent renewable by 2050, with city buildings getting all their electricity from renewables by 2030.
When considering clean energy options, "solar is the solution in Florida," said Justin Kramer, OUC emerging technology engineering project manager.
But moving towards higher solar penetrations means dealing with solar fluctuations, according to Kramer.
When clouds roll through central Florida, solar output can change by 70 percent in a matter of minutes and even seconds, Kramer said.
To get a better awareness of pending solar fluctuations and changes in load, OUC is installing about 25 weather stations in key spots around its service territory, Kramer said.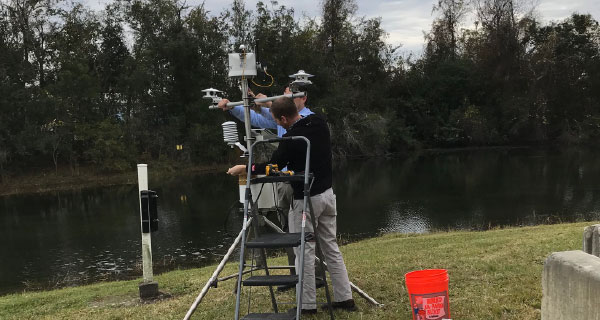 "We will know which solar arrays are about to be clouded and make dispatch decisions based on analytics," he said, noting that changing cloud cover also affects the amount of electricity used to run air conditioners.
In the future, OUC may add skycams to its web of monitoring stations to gain additional information about changes in cloud cover that can affect solar output and load, he said.
OUC has already bought the weather stations, including three stations that provide especially high levels of granular information, and is starting to install them this month.
OUC is working with the Department of Energy's National Renewable Energy Laboratory on the pilot program.
Separately, OUC expects to develop two battery storage projects this year that will help the utility handle fluctuations in solar output and shifts in load, according to Kramer.