In normal times, Justin Kramer is the supervisor of emerging technologies at Orlando Utilities Commission (OUC) in Florida. In these decidedly unnormal times, he has taken on some new duties.
Kramer is donating his time and resources, and some of OUC's resources, to help healthcare workers battling the COVID-19 pandemic.
Kramer originally offered to make face shields for the public power utility using two 3D printers, his own and one in the emerging technology department where he works at OUC.
But the public power utility's safety and cleaning teams did not need the type of face shields that can be made on 3D printers. So, Kramer approached Orlando Health Orlando Regional Medical Center, a longtime OUC community partner.
"I reached out to Orlando Health by email, offering them what we had and the ability to print more of them," Kramer told OUConnect, the utility's blog. "The offer was, 'I could do this, let me know what you need.' They said they'd take whatever we've got."
So far, Kramer has made over 175 face shields and delivered over 150 to Orlando Health. "We are trying to get up to 250, but it depends on the duration of the crisis," he said. There are signs the need is slowing down, but the hospital wants to be sure to have extra face shields on hand. "We are working closely with the hospital," Kramer said.
OUC has a 3D printer that it uses to print prototypes for items it might need, such as protective cover or mounts for instruments. Kramer also has his own 3D printer at home.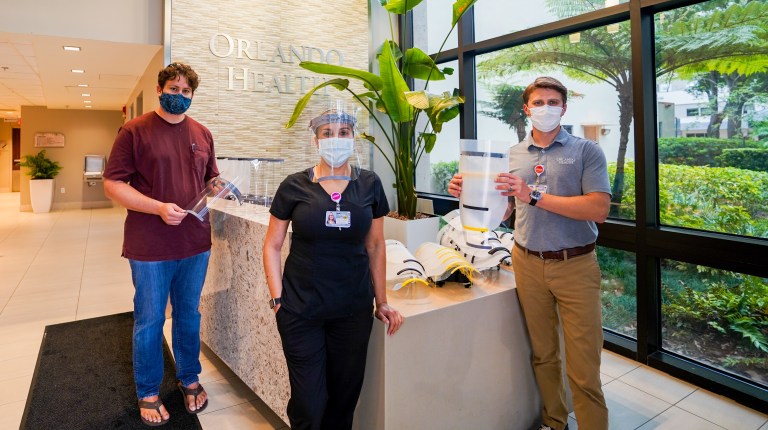 Kramer and his colleague Rubin York, emerging technologies project engineer at OUC, use the 3D printer to manufacture the mounts that hold the actual face shield in place. It is difficult to make a transparent material with a 3D printer, so Kramer buys sheets of plastic and cut and trim them to fit the design. Sourcing the raw material for the printer is trickier, Kramer said. "With changes in how supply chains are working, there are limits on materials," he said.
When online supplies from Amazon ran out, Kramer turned to plastic shops for the plastic sheets needed to make the cover. Supplies of the elastic used to hold the face shield in place also ran out, so Kramer found a different material, but then had to redesign the shield.
In addition to face masks, Kramer and his team – which includes two neighbors with 3D printers, as well as York – are making "ear savers" on 3D printers. An ear saver is a small, flat plastic strip that that attaches to the elastic ear loops of a face mask. After a long shift, healthcare workers say the elastic of a face mask can irritate and even dig into the skin behind the ear. An ear saver, in effect, extends the elastic loops so the face mask can be held in place behind the head.
The ear savers are being used both at OUC and Orlando Health. So far, Kramer and his team have delivered over 200 ear savers.
In addition to shields and ear savers, Kramer has assembled a team of volunteers to make surgical style face masks. That effort involves less cutting-edge technology. It was more an exercise in supply chain logistics.
The fabric for the face mask is similar to polyester. It is Halyard H600, a two-ply spun polypropylene, that hospitals use to hold instruments while they are being sterilized in an autoclave.
Hospitals usually discard the material after it used, but the University of Florida Health's department of anesthesiology realized that the autoclave changes the structure of the fabric, making is almost as effective as an N95 respirator that can block a high proportion of airborne, germ carrying water droplets. The material can also be put in the autoclave and sterilized again, allowing a face mask to be used up to 10 times.
Normally, the fabric would end up in the waste stream and, originally, Kramer was using that waste. Now, he is sourcing sheets of fabric directly from the hospital.
The fabric is then cut and assembled into kits that include enough straps made of  Halyard material and copper strips, which hold the mask tightly over the nose, to make 25 masks. The kits go to volunteers who sew the parts together to make face masks.
The labor for the entire process, cutting the fabric, assembling kits, delivering kits, sewing face masks, and collecting and delivering the finished masks to the hospital is all volunteer. Kramer assembled the volunteer labor force and figured out the logistics of the supply chain by posting requests on social media and email in his local community of Harmony, south of Orlando.
In addition, the logistics are designed to reduce how many times the materials and finished products are touched along the way. "We are trying to make sure people don't get sick," Kramer said.
So far, the team has made more than 650 face masks with another 250 being made and another 400 ready to be assembled in kits and shipped to sewers. "It is amazing how the community has come together to support the effort," Kramer said.
In addition to his time and effort and aside from a small amount of OUC purchased plastic, Kramer is funding the effort out of pocket. He declined to say how much he has spent on materials but, he said, "it is worth it. It is a good opportunity to do something for the community."